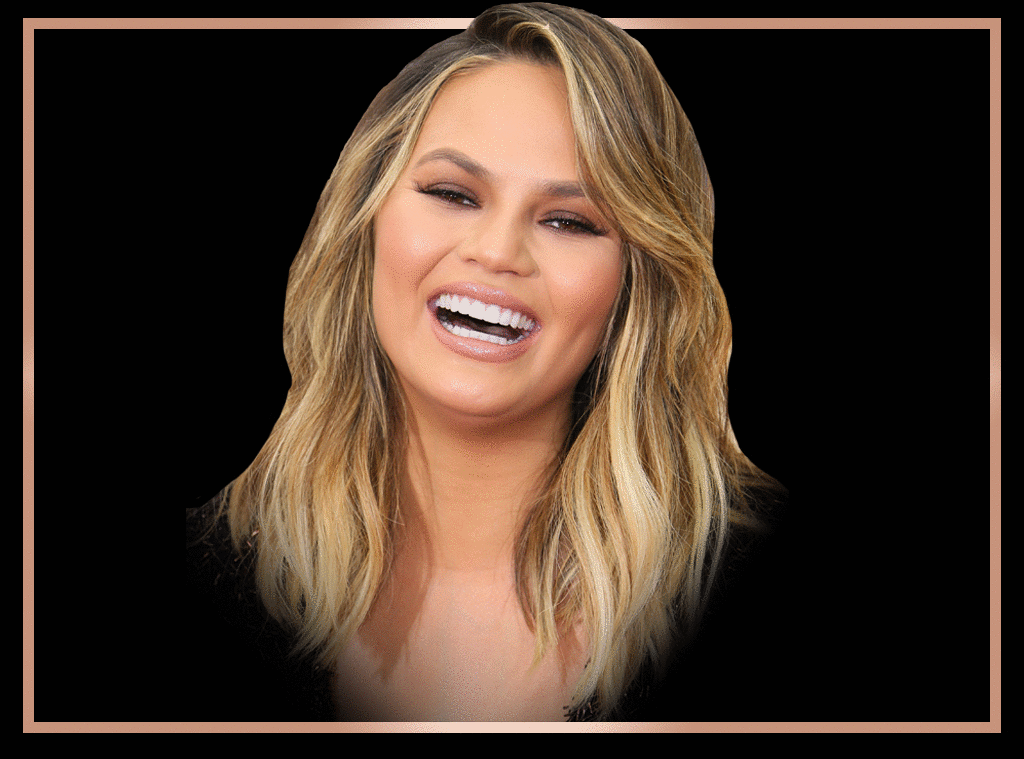 There might not be a literal queen of Twitter, but in our minds, Chrissy Teigen would win that title time and time again.
Her social media feed is full of everything we love and it continually makes us laugh, so really, what more could you want?
The supermodel and cookbook maven takes on pop culture, adds in her two cents about food topics, trolls her husband John Legend, and gives us life with anything she posts about her daughter Luna and son Miles. It's basically social media gold and most of the time we're not worthy of her insight and humor.
When Teigen isn't talking about her food obsessions—which really is our favorite part of her feed—she frequently talks about the moods and feelings that come with pregnancy and just everyday life struggles and observations, which is too funny.
Since Teigen is a finalist for E! People's Choice Awards Social Celebrity of 2018 category, we are giving fans what they want to celebrate...Teigen's best and most absurd moments on Twitter and Instagram, duh!
After reading through all of Teigen's hilarious tweets and Instagram moments you should start following her immediately.
If you're already on the Teigen Twitter/Instagram train then we salute you, because you are truly living your best life!
PS: tune into the 2018 People's Choice Awards next month to see if the mother of two does in fact take home the trophy for this category. She so deserves it!
TV Time
Whether it's commenting on her favorite TV shows or tweeting about live TV events—AKA the time Legend was in Jesus Christ Superstar—Teigen takes TV seriously, and yes, she is our spirit animal. Need proof? While her husband was playing Jesus in the TV musical in April, she made jokes throughout it and predicted who would die...based on style. "I have a feeling whoever has the deepest V will be crucified," she tweeted. Her usual TV banter however has to do with The Real Housewives and we totally respect that.
Foodie Paradise
When it comes to food, Teigen loves it all. She posts pictures of amazing meals—she has two cookbooks, so she knows her stuff—but also pokes fun at food finds, talks about her ice cream obsessions, and creates parallels to Chili's and we love it. One of our favorite tweets would be the time she told her Twitter followers exactly what she had eaten in a day and it was glorious. "2 White Castle frozen (I cooked it though because I'm a chef) cheeseburgers and 1.5 andouille sausage hot dogs with ketchup mustard and onions awesomely grilled by my husband and 3 cheez-its luna dropped on the floor," she shared.
Celebrities are Always Fair Game
Since the mother of two is friends with a lot of celebrities you'd think they'd be off limits for her funny tweets and observations, but you'd be wrong. In fact, Teigen likes to poke fun at her celeb pals and it makes us feel closer to her somehow. Plus, she has the greatest insight into celebrity life like the time she said what we were all thinking about Dwayne "The Rock" Johnson's workout regiment. "My favorite thing is when people give @therock advice about his workouts on Instagram as if it's just not working for him," she wrote. LOL, this is spot on.
Who Says You Can't Troll Your Spouse?
Teigen and Legend have one of the most coveted relationships in Hollywood, because let's face it, they are perfect together and their Twitter moments makes us love them even more. When the model isn't praising her husband for his cooking efforts, she's subtly shading him or flat out trolling him, which is hilarious. Take all the times she has called him Arthur the cartoon character because, well, he is. Or, the time that she tweeted, "I always have a note in my pocket that says 'John did it' just in case I'm murdered because I don't want him to remarry #truelove #tips."
Pregnancy Brain
Being pregnant means wild cravings, semi-awkward talking points and interesting observations about one's body and Teigen has talked about them all…in a way that only she can do. Luckily for us, Twitter existed during both of her pregnancies, which has led to some interesting "pregnancy brain" type tweets over the years. While pregnant with Luna for example, Teigen tweeted, "no one told me i would be coming home in diapers too." When she was about to have Miles she made us all laugh with this hilarious tidbit: "my doctor suggests I not attend wrestlemania. she thinks I might get too excited and have a wrestlemania baby."
Warning: Adorable Children
OK most of her posts of Luna are just adorable, but when Teigen adds in her dog, we can't help but smile even bigger. Plus, now that little Miles is a part of the family we get a double dose of cuteness and humor with every post and we're not worthy.
Fashion Faux Pas
Nothing is off limits for the 32-year-old celebrity on Twitter, not even her dislike for any man wearing sandals. We agree with this whole conversation and topic and there's nothing more to say on the matter.
Life's Biggest Questions
Not every one of Teigen's tweets has a purpose or a specific category, instead they are general questions or topics that we also have feelings about. She just gets us and we love her for it. For example, her thoughts on things that annoy her on Instagram are totally relatable. "Things I am *unreasonably* bitter about on Instagram: you, standing on the edge of an infinity pool. the flowers you received. you, showing your boobs but the caption is not something simple like 'I like my boobs' it's something deep and uncorrelated. your alive dog (mine died)," she tweeted in April and we can't stop laughing about it.
Now that you've laughed loudly at work and started to follow Teigen on all forms of social media, make sure to mark your calendars for the 2018 People's Choice Awards, which airs this month!
You wouldn't want to miss the star potentially winning this award, would you?