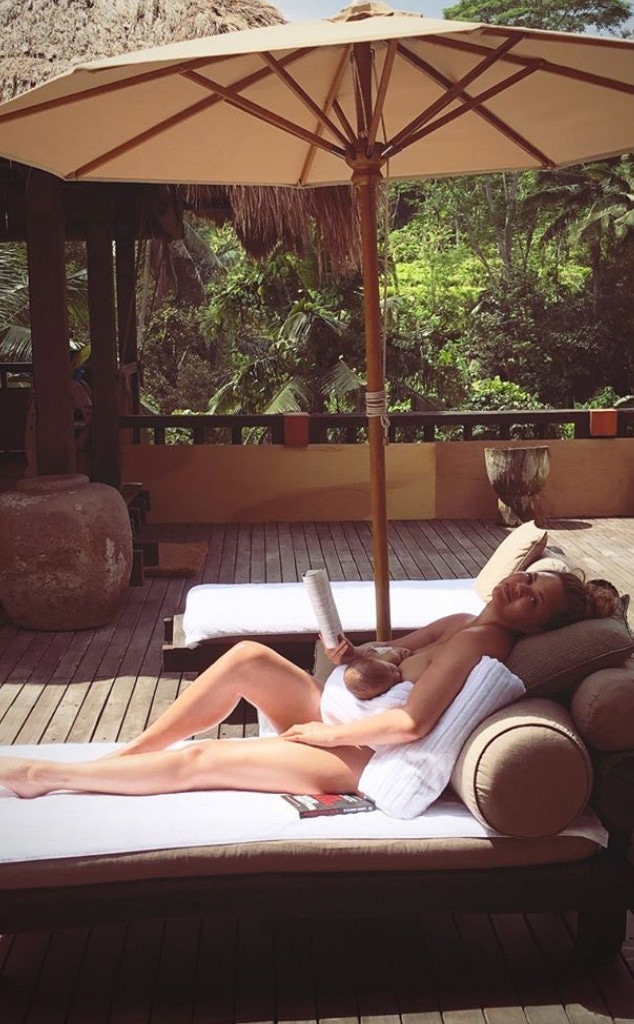 Instagram
Chrissy Teigen fans know that the model and Lip Sync Battle host isn't afraid to show off her body on social media. 
Today, Teigen posted a video of her stomach while wearing a bathing suit with the caption "mom bod alert!" She also tweeted a headless picture of herself standing next to husband John Legend. The family, including 2-year-old daughter Luna and baby son Miles, is enjoying a beautiful vacation on the island of Bali.
Teigen's "mom bod" reveal didn't end just with that video. As an avid Instagram user, Teigen called out the social platform in another tweet. She said, "Instagram is crazy. I think it's awesome people have killer bodies and are proud to show them off (I really do!!) but I know how hard it can be to forget what (for lack of a better word) regular ol' bodies look like when everyone looks bonkers amazing."
In another tweet, the model then went on to discuss body confidence and what it all means to her: "also I don't really call this "body confidence" because I'm not quite there yet. I'm still super insecure. I'm just happy that I can make anyone else out there feel better about themselves!"
Much of Teigen's appeal is her self-deprecating humor and her relatability to us mere mortals. Teigen has posted a number of photos of herself breastfeeding, many of which receive a plethora of criticism in the comment threads. In typical Teigen fashion, however, she is quick at laughing it off and clapping back at any shamers.