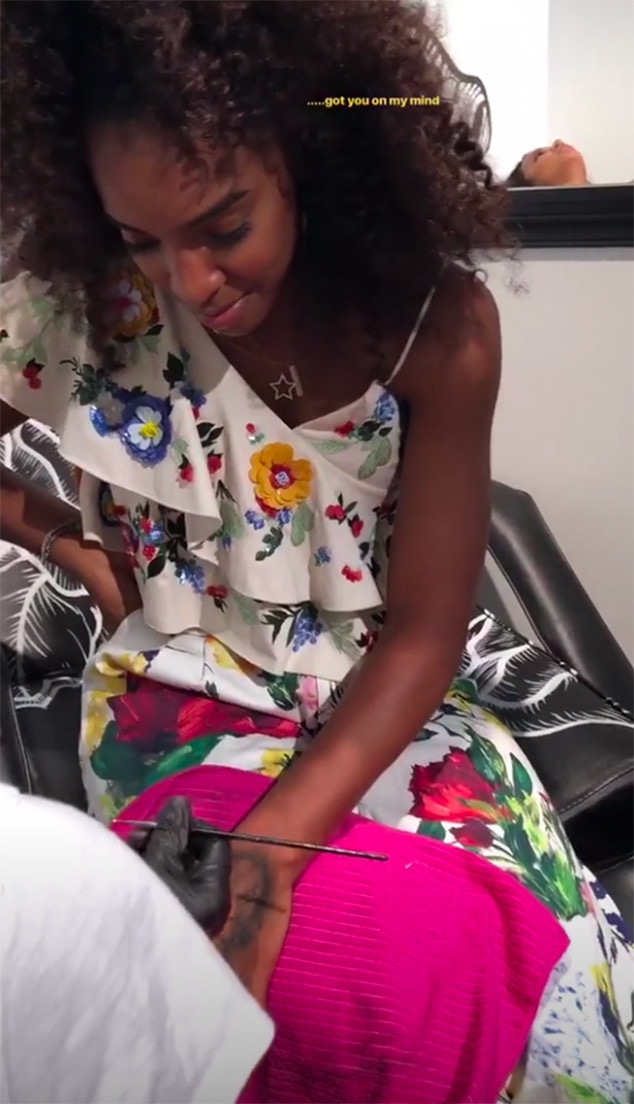 Instagram
Kelly Rowland showed her support for Demi Lovato on Wednesday by getting a temporary matching tattoo of the "Confident" singer's lion ink.
The former Destiny's Child member posted a picture of her getting the tattoo on Instagram Stories and captioned it "got you on my mind." She also shared a picture of the tattoo sketch and wrote "@ddlovato I [heart] you."
Rowland got the new ink in Chicago at 29Rooms—Refinery29's annual exhibit of style, culture and creativity. That tattoo parlor, named the Power Parlor, was actually created in collaboration with Lovato. 
"We all have our own form of battle scars, a reminder of what we've overcome," the event's website read. "Inspired by Demi's own tattoos that celebrate her resilience, step into this temporary tattoo and turn your personal journey into art. Adorn yourself with a message of courage and self-confidence, and let your ink empower you to move forward in the face of any challenge. @ddlovato." 
Lovato's lion tattoo is featured prominently on her left hand. The "Sorry Not Sorry" singer debuted the design in April 2017.
Matt Winkelmeyer/Getty Images for InStyle
The suspected overdose came about a month after Lovato released "Sober"—a tune in which the artist sings about relapsing. She had celebrated six years of sobriety in March.
Lovato, who has previously gone through treatment for her struggles, had previously opened up about her sobriety battle during a 2011 interview with E! News.
"It's a daily journey and it's definitely going to be a struggle that I'll have to deal with for the rest of my life," she said at the time. "Sometimes I think, 'Why couldn't I have been normal?'"
She then added, "I'm not going to be perfect, but...if I can make it through the day, that's all that matters."