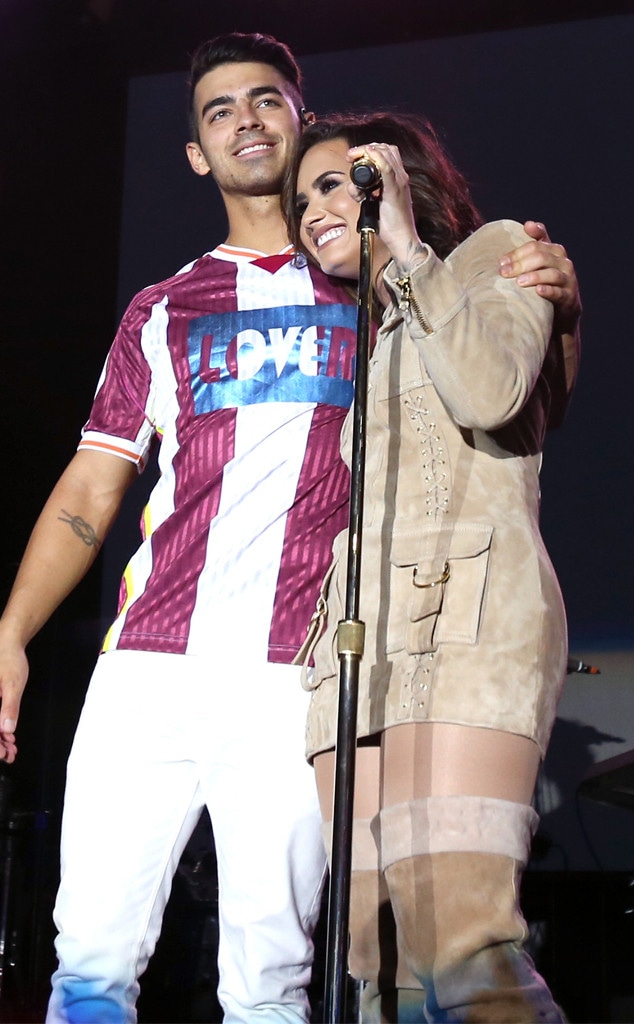 Jonathan Leibson/Getty Images for Marriott
Joe Jonas is reaching out to Demi Lovato. 
Hours after news of the pop star's apparent overdose and subsequent hospitalization broke, the former Disney Channel star took to Twitter with a message for his close friend and ex-girlfriend. 
"Like all of you I am thinking of @DDLovato right now," Jonas wrote. "She needs our prayers and support. We all know how strong you are Demi. #prayfordemi" 
Kevin Jonas, a former member of the Jonas Brothers and Demi's Camp Rock co-star, has yet to address Tuesday's shocking update. As of now, Lovato remains hospitalized at Cedars-Sinai Medical Center in Los Angeles. An eyewitness told E! News exclusively that her mother and 16-year-old sister are by her side as she continues receiving treatment. 
Demi and Joe briefly dated in 2010, but have remained in each other's lives ever since. The DNCE rocker referred to Demi as "family" in a 2016 interview with E! News, noting, "We've known Demi for so many years. We're performed with her, toured with her. She's just incredible... I don't think of her as an ex. We're really good friends. We've gone through so much together and we're really close now."
In fact, the Jonas Brothers are credited for helping Demi get sober for the first time. As the singer's manager, John Taylor, revealed in her Simply Complicated documentary, "It was actually the Jonas Brothers waving the flag, and saw Demi veering in a different direction." 
Aside from Joe, 25-year-old Demi has received an outpouring of support from fellow friends and peers in the entertainment industry. In fact, his brother Nick Jonas posted the following message to his longtime friend.
"Like all of you I am reeling at the news about Demi. All of us love her and need to pray for her to get well. She is a fighter."
Ellen DeGeneres tweeted, "I love @DDLovato so much. It breaks my heart that she is going through this. She is a light in this world, and I am sending my love to her and her family." 
Best friend Ruby Rose also shared, "My whole heart and my whole soul is with @ddlovato today. I adore you and so does the entire world. You will fight this and you will come out of it even stronger. Addiction is powerful beyond measure, but you can defeat it. I love you."