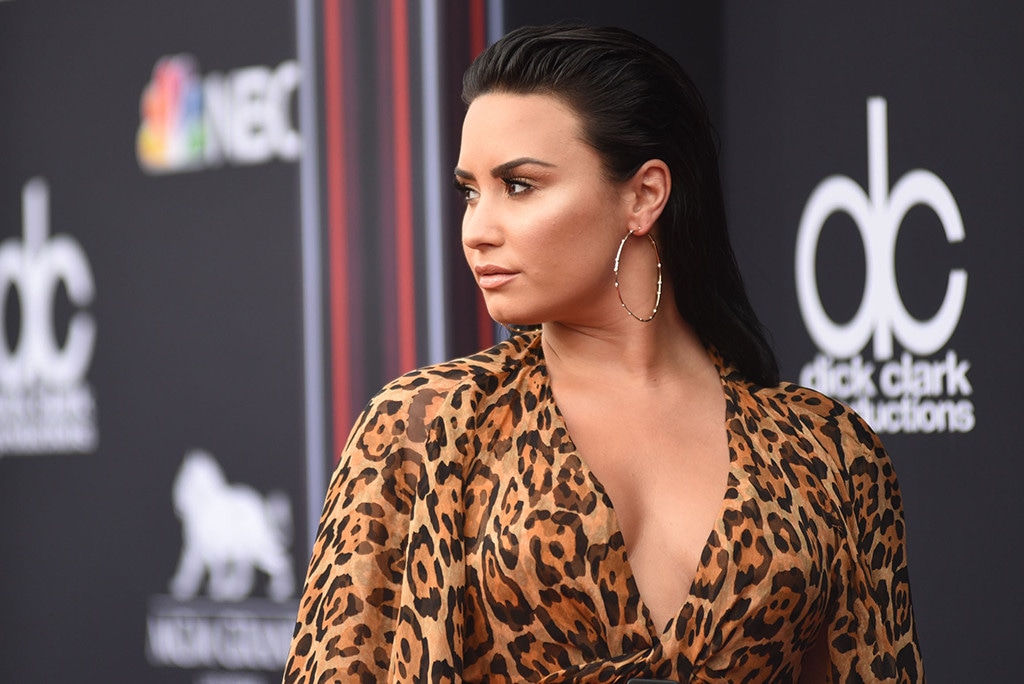 Brian Friedman/NBC
News of Demi Lovato's apparent overdose has rocked Hollywood, leaving fans with more questions than answers. Here, E! News takes a deeper look at the superstar's hospitalization.
A spokesperson for the Los Angeles Fire Department told E! News Tuesday they "transported a 25-year-old female patient to a local hospital," while the Los Angeles Police Department confirmed both divisions had "responded to a medical emergency" near her Hollywood Hills home; NBC News reported Lovato was taken from her home to Cedars Sinai Medical Center.
(For privacy reasons, the LAFD and LAPD would not reveal the woman's identity.)
First responders who were called to the "Sorry Not Sorry" singer's home used naloxone, an opioid-overdose antidote, to reverse the effects of the overdose, multiple sources told NBC News. TMZ originally reported she had overdosed on heroin, but then backtracked, saying it was another drug; a source close to Lovato told E! News the singer did not overdose on heroin. Audio of the emergency call, obtained by TMZ, revealed she was unconscious upon their arrival. Lovato allegedly refused to tell police and first responders what drugs had caused her overdose, according to The Blast; LAPD officers collected an "item of evidence" related to illegal drugs that are not typically associated with heroin, the website claimed. A spokesperson for the LAPD later confirmed to E! News Lovato is not under any form of criminal investigation.
Lovato celebrated a friend's birthday in West Hollywood Monday, TMZ reported. After her hospitalization, famous friends like Ellen DeGeneres and Nick Jonas voiced their support on social media, and Live Nation announced Thursday's show in Atlantic City has been canceled.
E! News exclusively revealed her mom and sister are currently by her side in the hospital. 
In a statement issued late Tuesday night, the "Heart Attack" singer's publicist said, "Demi is awake and with her family who want to express thanks to everyone for the love, prayers and support. Some of the information being reported is incorrect and they respectfully ask for privacy and not speculation as her health and recovery is the most important thing right now."
On Wednesday, July 25, Jason Mraz confirmed he and Lovato would no longer be performing in Toronto later that weekend. "My sincerest apologies to my fans and to the fans of Demi Lovato," the "I'm Yours" singer told his followers on Twitter. "We wish her good health and recovery."
Christopher Polk/Getty Images for NARAS
That same day, E! News obtained exclusive images of Wilmer Valderrama, Lovato's ex-boyfriend of six years, visiting her at the hospital. A source said the 38-year-old NCIS actor spent over two hours inside the medical facility and described his demeanor as "very down."
Over the weekend, Valderrama and other family members continued to stay by Lovato's side as doctors monitored her progress. But by Monday, despite expectations of a full recovery, it was revealed the pop star was sick and suffering from extreme nausea and high fever. She remained in the care of medical experts for a sixth consecutive day, and as a source said, "Demi's manager Lauren and her mom are still trying to figure out a post-hospital rehab plan."
Meanwhile, several of Lovato's closest friends broke their silence on her health crisis.
On Sunday, Aug. 5, Lovato broke her silence on her overdose via an open letter published on Instagram. "I have always been transparent about my journey with addiction. What I've learned is that this illness is not something that disappears or fades with time. It is something I must continue to overcome and have not done yet. I want to thank God for keeping me alive and well," she wrote. "To my fans, I am forever grateful for all of your love and support throughout this past week and beyond. Your positive thoughts and prayers have helped me navigate through this difficult time. I now need time to heal and focus on my sobriety and road to recovery. The love you have all shown will never be forgotten and I look forward to the day where I can say I came out on the other side. I will keep fighting." An insider previously told E! News she was expected to leave the hospital in the near future and head straight to rehab.
Lovato, who celebrated six years of sobriety in March, seemingly revealed last month she had relapsed. In the ballad "Sober," Lovato sang, "Mama, I'm so sorry I'm not sober anymore / And daddy, please forgive me for the drinks spilled on the floor / To the ones who never left me / We've been down this road before / I'm so sorry, I'm not sober anymore." The emotional song was released two months after fans speculated she was drinking again. At the time, different versions of the same photo were posted to separate Instagram accounts: In singer Hayley Kiyoko's picture, Lovato held a cup containing a yellow liquid—and in the other shot, the cup was blurred out. "I don't have to defend anything," she said on Instagram, "but it was Red Bull."
Watch:
Dr. Drew Pinsky Talks Demi Lovato's Overdose & Recovery
In light of Lovato's current hospitalization, a source revealed to People, "Things have been a total mess for months. She and her team severed ties, and they played a large part in getting her sober years ago. She hasn't been in a good place." Meanwhile, another insider told the magazine the pop princess "has been fighting depression and anxiety for quite some time" and "is still in such a dark place. She was sober for a while, but not completely sober for six years."
Dr. Drew told E! News that in the days following her admission to the hospital, "The main thing is for her to reassemble her team and look at what kind of support she needs, if she's ready, and get a plan together." As an addiction medicine specialist, he recommended putting her "in a program" since she has shown success in that form of treatment. "It's about focusing on health and well-being," the doctor said. "It's a lot and it all has to be done for someone to get better."
Lovato first entered treatment in 2010, where she was treated for addiction, bulimia and self-harm; it was there that she was diagnosed with bipolar disorder. Lovato later admitted to relapsing after she left the rehab center—so, she entered a sober living facility for a year. "I wasn't working my program. I wasn't ready to get sober," she said in Simply Complicated, a YouTube documentary released in 2017. "I was sneaking it on planes, sneaking it in bathrooms, sneaking it throughout the night. Nobody knew." For years, Lovato continued doing drugs in secret. "I went through like 20 sober companions. I was either craving drugs or on drugs," the diva revealed. "I was not easy to work with. It's embarrassing to look back at the person I was."
In the last eight years, Lovato has spoken candidly about her experiences, becoming an advocate for addiction and mental health issues. "I wish that more people can understand from a point where it's not a choice to have an addiction," she told NBC's Today in 2015. "And with bipolar disorder, it's a chemical imbalance and it's something that you have to figure out your own treatment with your own team. In order to do that, it takes time." In 2016, the "Tell Me You Love Me" singer became a co-owner of the CAST Centers in L.A. "How many 24-year-olds own their own treatment center?" her longtime manager, Phil McIntyre, wondered on CBS This Morning. "But then to leverage her position in pop music to do so much good is just incredible."
Last year, Lovato was honored with the "Spirit of Sobriety" award in Beverly Hills. "Every day is a battle," the Camp Rock 2 actress said at the time. "You just have to take it one day at a time."
Whether Lovato resumes her world tour Sept. 20 in Mexico City remains to be seen. Either way, her family, fans and friends are hopeful she'll be on the road to recovery after she's discharged.
(The singer's reps have not said how long she will remain in the hospital.)
Lovato spoke about her sobriety struggles in a 2011 interview with E! News to promote "Skyscraper," her first single since leaving treatment. "It's a daily journey and it's definitely going to be a struggle that I'll have to deal with for the rest of my life. Sometimes I think, 'Why couldn't I have been normal?'" At the time, Lovato acknowledged there would be bumps in the road: "I'm not going to be perfect, but...if I can make it through the day, that's all that matters."
(This story was originally published Wednesday, July 25, 2018 at 7:10 a.m. PST.)