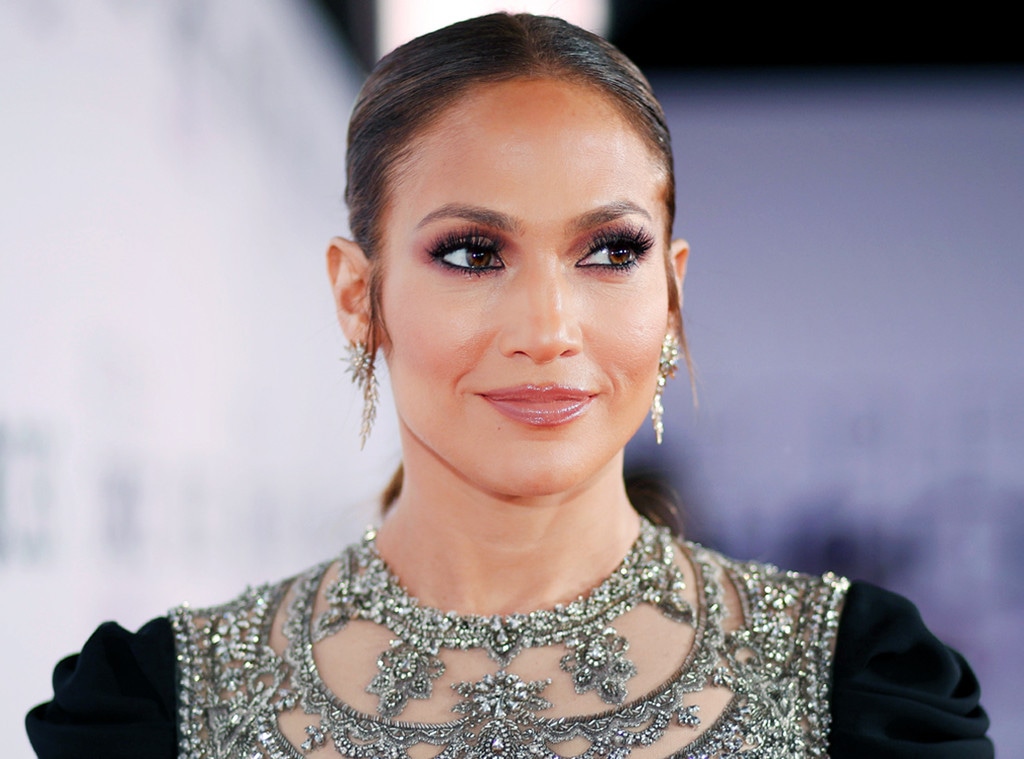 Christopher Polk/Getty Images
Appearing as youthful in your forties as you did in your twenties is impressive. Looking even younger? That's some Benjamin Buttons-style magic. 
Ask your standard celebrity how they maintain an ageless appearance and you're likely to get a rote answer about drinking lots of water, using sunscreen and getting plenty of sleep. (All arguably important when it comes to skin care.) 
But Jennifer Lopez swears her secret potion boils down to the power of positive thinking. And since she's turning 49 today and looks like that, we're inclined to listen.
Stitched onto a pillow at her estate in L.A. Bel-Air neighborhood are the words, "I am youthful and timeless at every age," a phrase she repeats to herself several times a day. "It sounds like clichéd bulls--t," she recently admitted to Harper's Bazaar, "but it's not: Age is all in your mind. Look at Jane Fonda."
And, okay, she also guzzles water, enjoys regular facials and is "a firm believer" in sunscreen. "She really leans in to the big fundamentals," boyfriend Alex Rodriguez explained to Harper's Bazaar, "like getting her rest, eight to 10 hours. She doesn't drink, doesn't smoke. She lives a very clean life."
A disciplined one at that. Because despite a schedule that would fell mere mortals—the multi-hyphenate juggles producing and appearing on three TV shows with a film career and a Las Vegas residency that will wrap this September—she exercises a minimum of five days a week to maintain her famed curves. (You know, the same ones some misguided manager once instructed her to shed.) And skipping out on a scheduled session is not an option. "Sometimes I work too late the night before and I'm like, 'Ugh, I can't do this,'" the mom of 10-year-old twins Max and Emme admitted to Us Weekly. "But I tell myself, 'Just do it. It's only an hour.' It's just talking yourself off the ledge of being a lazy bum." 
We're going to go ahead and assert that's a phrase that's never been applied to Lopez. Even her boyfriend, a retired professional athlete, marvels at how hard she trains. "We work out together all the time," he told E! News of the former track star last year. "She is a fitness enthusiast and she's a much better athlete than me. She does all types of workouts which I don't try to keep up."
Ms. Do It All subscribes that same line of thinking to her fitness. Depending on the day, you might spot her sweating with Rodriguez at the hot yoga-bootcamp blend TruFusion, which the sports analyst invested in last year, or running alongside him, waiting for her moment to best the baseball player in a sprint. "He and his friends laugh at me," she told Harper's Bazaar, "but in my head I really believe I can."
Other days, she calls in the pros. With a bicostal lifestyle she relies on the wildly varying methods of trainer David Kirsch in New York and Tracy Anderson in L.A. While filming her role as corrupt NYPD detective Harlee Santos in Shades of Blue (the third and final season is airing now) "I do Kirsch," she told E! News. "It's a different feel. It's more lifting and doing core stuff and planking and all of that." 
At NYC's Madison Square Club, Kirsch (he's also trained Heidi Klum and Kate Upton) leads her through a full-body routine using free weights, medicine balls, TRX straps and resistance bands. If Rodriguez has tagged along, they double up with partner exercises such as two-person sit-ups passing a medicine ball and partner pushups along with reverse crunches, dumbbell rows and triceps extensions. 
In Las Vegas, her grueling Planet Hollywood show seems reason enough to skip a workout. Presumably she's torching enough calories dancing her way through hits such as "Let's Get Loud," "On the Floor" and "Booty" to feel okay with ditching the gym. But the World of Dance executive producer tells E! News she actually uses her morning session as pre-performance warmup. "Because it's a physically demanding show, think of it like a basketball player, they do a morning practice and then at night, they have the game," she explained. "We do the same thing. We have our morning workout. We don't kill ourselves, but we get loose, the body gets ready to move around because you just can't get out there and shock yourself." 
This is where Anderson's dance-based method comes into play. "With Tracy it's more dance choreography-type stuff," noted Lopez, with a side of toning using light weights. 
No matter the workout, she appreciates its effectiveness and efficiency. "For me, who doesn't want to be in the gym three hours or two hours," she said, "they get it." In an hour or less, she insisted, "They get it done. They understand the body." 
Perhaps most crucially, Lopez understands how to fuel her 5-foot-5 figure. Twenty-plus years in Hollywood ingrains in a person a certain low-sugar, no-caffeine, no-alcohol, low-fun type of diet. So despite an affinity for chocolate chip cookies and ice cream, she keeps it clean, or, as Anderson describes it, all organic, "very well thought out, with the balance of very high-quality proteins and a lot of nutrient-dense food." 
That often means a protein shake for breakfast, salmon and salad (piled high with veggies like broccoli, zucchini and peppers) for lunch and protein-heavy Latin food for dinner. "I like pork and chicken," she told Us Weekly, "especially Puerto Rican style!" And like any good celebrity, she totes fruits and vegetables around for snacks. "I do try to eat right," she told People, "and I don't always want to." 
That discipline has helped her avoid caffeine (she sips decaf coffee in the morning) and alcohol for years—two indulgences she labels as skin-wreckers. 
The rest of her beauty routine is tried-and-true. She avoids the sun and certainly never submits herself to the harmful rays sans SPF. Before bed, the L'Oréal Paris spokeswoman always removes her makeup and layers on a night cream and for cleansing purposes she relies on "glycolic acid to get that healthy glow and clear skin," she told People. 
When it comes to maintaining that glow, fans wouldn't be faulted for believing rumors she lathers herself up with $325 a pot La Mer but she confessed on an episode of Watch What Happens Live that it's actually Dr Hauschka's Rose Day Cream from her local Whole Foods. As she told In Style, "I am pretty low-key when it comes to my day to day beauty routine."
Jamie McCarthy/Getty Images
For those looking to go full J.Lo, she now has a capsule collection with Inglot Cosmetics—a mix of lipsticks, eyeshadow palettes, bronzers and highlights that she recommends using with a light touch. "People want to see your natural beauty shining through," she stressed at an April launch event. 
She enhances hers with regular mediation, swearing that it can help anyone look, while maybe not Lopez-esque, certainly the best version of themselves. "I also definitely think beauty comes from within—you have to have keep your mind, soul, body and spirit in sync," she offered up to In Style when asked for her best advice. (Though her top tip remains her non-negotiable eight hours of shut-eye per night.) "When you are happy and feel joy and love," she said, "you radiate beauty."
So maybe that's the true secret of it all. After a few stumbles in the romance department, Lopez does seem to be living her best life with Rodriguez, the athlete who grew up mere miles from her Bronx neighborhood and seamlessly entered her life last year with daughters Natasha, 13, and Ella, 10, in tow. 
With four divorces between them, the duo insist they're not in any rush to become Mr. and Mrs., but their attempts to bat down rampant rumors of an impending engagement are half-hearted at best. And Lopez's decision to release a song titled, of all things, "El Anillo" (translation: The Ring) felt like a not-so-subtle hint, though she insisted to E! News, "I don't like to pressure anybody for anything."
Because when you're a quadruple-threat multi-millionaire whose fame has permeated every inch of the globe, there's no need. Lopez simply has no qualms about being upfront when it comes to what she wants. 
"Women get more confident as they get older," she detailed to W magazine last year. "Men in their 20s are very confident and cocky, and women are super insecure. And then it flips: Men get super insecure, and women get comfortable in their own skin, in a way that makes them more beautiful." 
Back when she was transitioning from In Living Color Fly Girl to Selena star to Jenny From the Block, "I never appreciated my body or my looks," she admitted. "Now I'm like, 'Look at me! Look at you!'"
We get it, Jennifer. We're in awe, too.