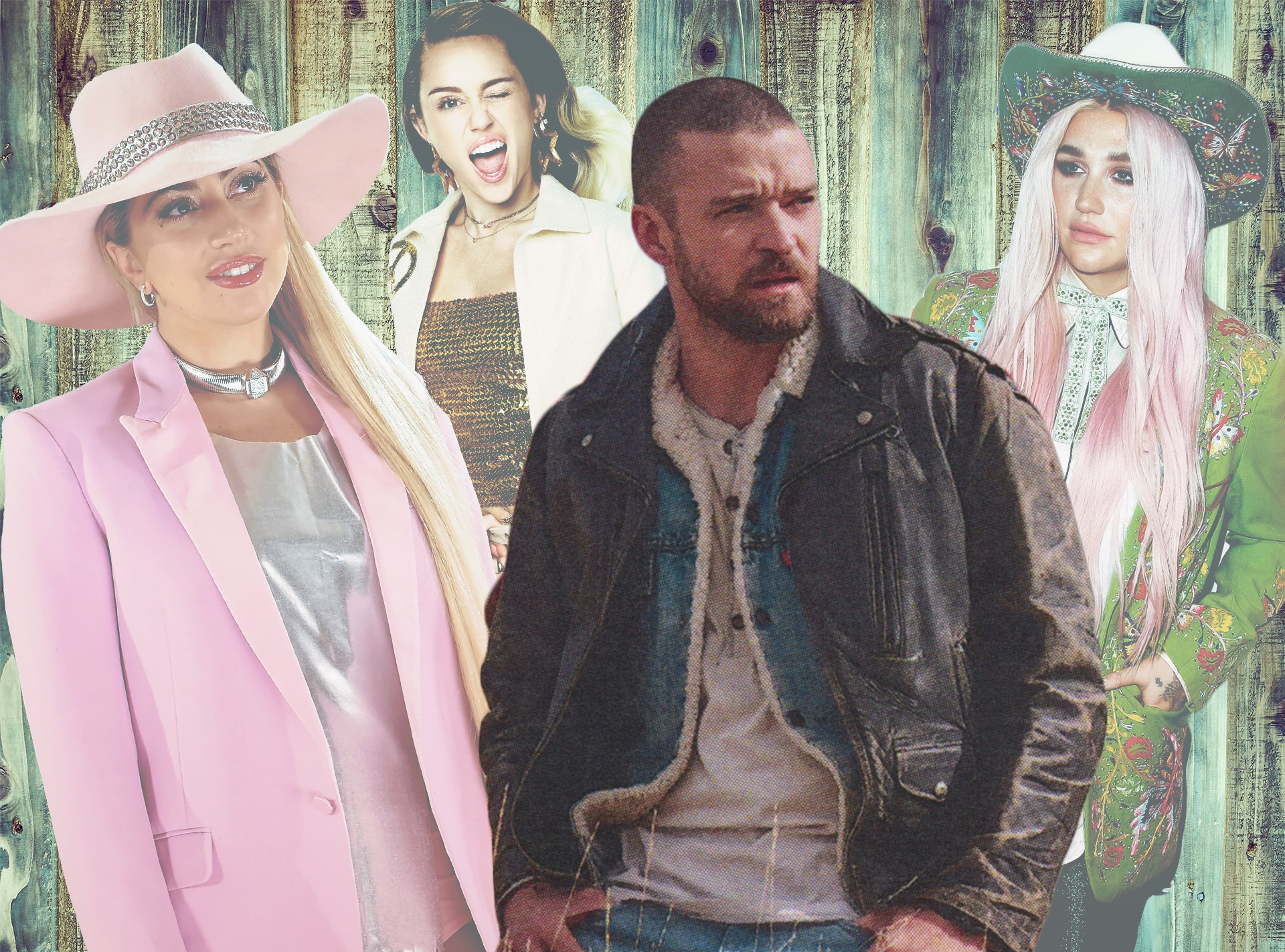 Melissa Herwitt / E! Ilustration
Call it the Joanne effect.
When Lady Gaga released her fifth studio album in the fall of 2016, no one expected the pop diva behind dance floor fillers like "Poker Face," "Born This Way" and "Applause" to make a hard detour into Americana-courting, country-inflected folk-pop-rock pastiche, but that's exactly what we got. The pink cowboy hat donned on the album cover that came to define the era in her career was no random fashion choice. Rather, it was indicative of the singer's decision to country-fy every genre she dabbled in on the record, as if each track was sporting a pink cowboy hat of its own.
However surprising Gaga's make-under was—and make no mistake, to some die hard fans who'd fallen in love with the diva's outre fashion and unparalleled electropop, the move was perplexing, to say the least—no one could've predicted that she was merely the beginning of a trend in pop music that's still kicking up dust today.
The first signal that a handful of pop music's biggest names would be following in Gaga's footsteps in an attempt to connect with "this girl in the middle of the country somewhere crying her eyes out in the field," as she revealed to E! News she had in mind when crafting Joanne, came in May of 2017 when Miley Cyrus debuted "Malibu." Attempting to rebound from setbacks both personal (her 2015 experimental album, Miley Cyrus & Her Dead Petz, was a bona fide flop) and political (she'd campaigned for Hillary Clinton in the 2016 presidential race), Cyrus began crafting an album that her father, Billy Ray Cyrus, told Billboard was "Miley leaning into her roots more than I've ever heard."
For Cyrus, Younger Now, which was released in late September, was an attempt to reach across the aisle, so to speak, and court country music fans who didn't agree with her politically and, despite her Tennessee roots and godmother Dolly Parton, couldn't take her seriously as a country artist. "This record is a reflection of the fact that yes, I don't give a f--k, but right now is not a time to not give a f--k about people," she told the music media outlet. "I'm ­giving the world a hug and saying, 'Hey, look. We're good—I love you.' And I hope you can say you love me back."
Despite her protestations that the hippie-country chic vibe was "who I am right now," as she told Harper's Bazaar, and the stylistic choice to pay tribute to Elvis Presley in the music video for the album's title track and most of her promotional appearances, the attempt to get country music fans (or even her once-devoted pop fan base) to say they loved her back never gained much traction. Debuting to middling reviews, with at least one critic slamming the output as her "least honest album ever," Younger Now only sold 45,000 copies in its first week, ranking as one of the lowest first-week tallies by an established pop artist in recent years. By the end of October, Cyrus announced that she would release no further singles from the album, nor would she be planning a tour. It was clear that this latest era in the young artist's career was effectively over.
Live Nation Entertainment
Around the same time, a more successful country-influenced reinvention was taking place, as Kesha began her powerful Phoenix-like rise from the ashes. Five years after the release of her second studio album (2012's Warrior), the singer once known for her "Tik Tok" party-pop antics was finally emerging out the other side of some serious personal battles, which saw her enter into treatment for an eating disorder in 2014 and take music producer Dr. Luke to court in an ugly and still on-going legal fight to be released from her contract on his Sony-backed Kemosabe Records after a decade of what her lawyer called "mental manipulation [and] emotional abuse," suing the producer (whose real name is  Lukasz Gottwald) for sexual assault and battery.
With legal proceeding preventing the musician from releasing anything new, Kesha embarked on a world tour in the summer of 2016 that saw the singer perform country and rock reworkings of her hit singles, hinting at things to come. And by June of 2017, with Sony having assured Kesha that she could produce a new album without Dr. Luke (though he would still profit from its release, as it still carried the Kemosabe Records imprint), her triumphant first single, "Praying," was released. 
While the single, which would earn the critical consensus of bring the artist's most authentic song ever as well as a Grammy nomination for Best Pop Solo Performance, didn't bear many hallmarks of country-influenced pop, the ensuing album, Rainbow, was littered with tracks clearly inspired by who Kesha referred to as her "true" musical influences: Dolly Parton, T. Rex, The Rolling Stones and Iggy Pop.
Look no further than lead track "Bastards," the rollicking "Boots," the Johnny Cash-haunted "Hunt You Down," or the Dolly Parton cover "Old Flames (Can't Hold a Candle to You)," which comes with an assist from Parton herself. This was Kesha, perhaps for the first time, leaning into what actually interested her musically while she worked through the pain that had come to encompass the past few years of her life.
"I feel like myself for the first time ever," she told Rolling Stone in October, after the album debuted at No. 1 in August. "And I made a record I'm extremely proud of, from the bottom of my guts – I excavated the most gnarly lyrics that were so difficult for me. And people still like it! It's really beautiful, and it's very healing. I feel like I'm being seen for what I actually am, and people are OK with it."
People were more than OK with it. Critics greeted Rainbow with what Metacritic would classify as "universal acclaim," while the the Recording Academy would give it a Best Pop Vocal Album Grammy nod and fans would help it earn a Gold certification by December, denoting sales of 500,000 copies. Kesha had been unshackled from the image Dr. Luke had foisted on her, and even if she still isn't quite out from under his thumb, she had finally been permitted to show the world all she had to offer. And it worked.
Of course, talk of this pop-gone-country trend would be incomplete without turning to Justin Timberlake's big return ahead of his Pepsi Super Bowl LII Halftime Show performance with his fifth studio album, Man of the Woods. In the lead up to the release of the album's first single, the Tennessee-native began setting the stage for what was to come. "It sounds more like where I've come from than any other music I've ever made," he told The Hollywood Reporter before the project even had a title or release date. "It's Memphis. It's Southern American music. But I want to make it sound modern — at least that's the idea right now."
Just two days in 2018 came the album trailer, revealing the Man of the Woods title and Timberlake's outdoors-y new look. "This album is really inspired by my son, my wife, my family, but more so than any other album I've ever written, where I'm from," he said in the video, released on Twitter, as imagery of horses running and wide open fields passed by. "And it's personal." Wife Jessica Biel, appearing in a cowboy hat, can be heard saying, "It feel like mountains, trees, campfires. Like Wild West," as someone strums a fiddle. All signs pointed to this being Timberlake's long-rumored country album.
And then came "Filthy."
Released just three days after the album trailer, the project's lead single, with its skittering Timbaland beat and its lyrics demanding the listener to "put your filthy hands all over me," felt entirely out of step with what Timberlake had been advertising. How was this track, which felt like a limp leftover from his FutureSex/LoveSounds days, inspired by his family or where he came from? Were we being Punk'd? What was going on here?
A second trailer would see Timberlake describe the project as "modern Americana with 808s," while gushing about "Southern guitars and that sound that feels like heritage." Two days later, as if on cue, second single "Supplies" would drop and fly in the face of what the singer was preaching. It wasn't until the third and fourth singles arrived, the Chris Stapleton-featuring "Say Something" and the album's title track, respectively, that we finally got the first examples of what he'd been promising. And then, odder still, while previewing tracks on Twitter ahead of the album release, Timberlake told fans, "By the way, the album is named after my son, OK? His name means 'of the woods,' so stop telling me I'm making a country album." Excuse us?
As Man of the Woods dropped on February 2, it became clear that Timberlake was right, this wasn't a straight-up country album, and not only because of the inclusion of "palette cleanser" "Filthy" and "Supplies." But it sure is something adjacent to it. Let's call it fiddle-funk.
While, as of press time, it was still too early to have any sales figures, it's clear that Timberlake has left critics slightly perplexed. The album's Metacritic score stands at 57 out of 100, with one review labeling the singer "a song-and-dance sham on the faux-folksy" album. Ouch.
With pop music's sudden fascination with all things Americana (and perhaps more likely, with reaching a middle American audience who's been vocal about feeling ignored by mainstream entertainment), it's clear this trend isn't done just yet. Even Australian-born international pop star Kylie Minogue, someone whose entire life couldn't seem further removed from the American South, is dabbling in the country-influenced waters. For her upcoming fourteenth studio album, Golden, the majority was recorded in Nashville, a town that she admitted "had a profound effect on" her. The music video for lead single "Dancing" even finds the Aussie songstress doing her best line-dancing boot scooting boogie.
But as more and more musicians find themselves drawn to the country music scene, their chances for success will rely on one thing: Authenticity. And as the last year has proven, that's harder to come by than some clearly think. Modern pop artists live and die by their ability to reinvent themselves, but sometimes even the best reinvention artists stumble. And while that might sound like the impetus for a great country song, for some, it might be best to just know when to fold 'em. Or better yet, know when to walk away.