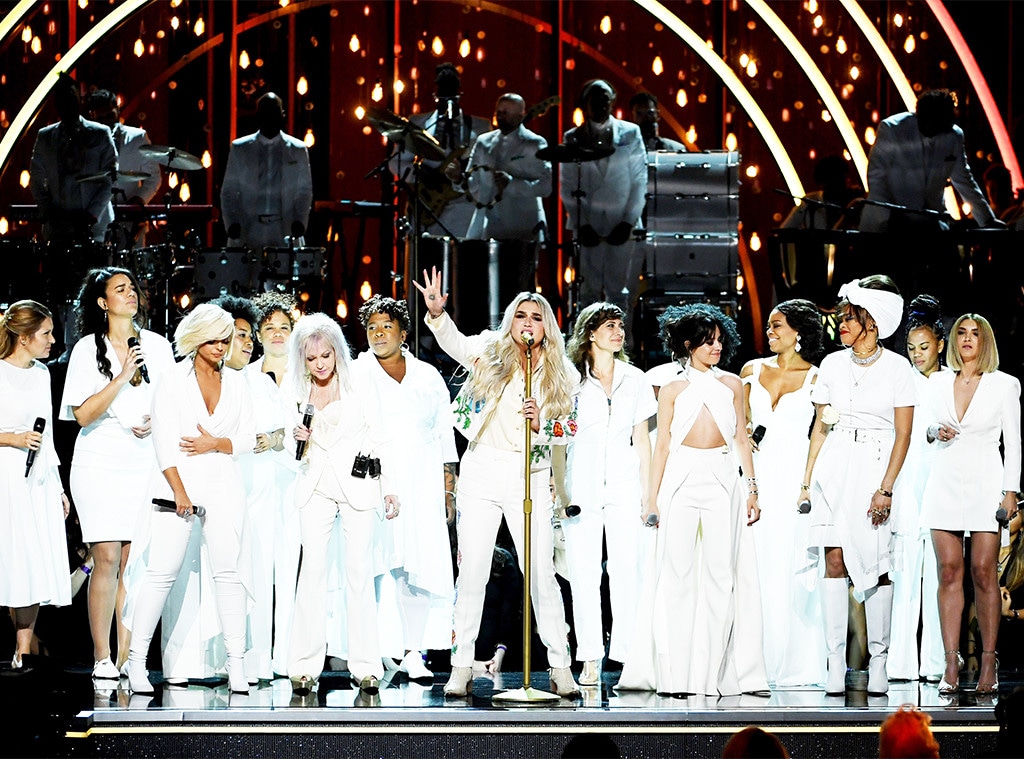 Kevin Winter/Getty Images for NARAS
Kesha got emotional as she took to the 2018 Grammy Awards stage on Sunday to perform her hit "Praying," a song dear to her heart amid years of personal and legal turmoil.
Dressed in a white pantsuit with floral sequined designs, Kesha was joined onstage by Cyndi Lauper, Bebe Rexha, Andra Day, Camila Cabello and Julia Michaels, as well as members of the Resistance Revival Chorus, all dressed in white. She and the other women had a tearful group hug at the end.
Janelle Monae had presented Kesha's group performance by saying she was "proud to stand in solidarity as not just an artist, but a young woman with my fellow sisters in this room who make up the music industry" and mentioned the Time's Up Movement to help victims of sexual harassment. She called Kesha a "fearless" two-time Grammy nominee who had inspired many "when she spoke her truth on her album, Rainbow."
Kesha's new music was released amid a more than three-year legal battle with producer Dr. Luke (real name: Lukasz Gottwald), in which she claimed sexual assault and battery and sought to invalidate her recording contracts with him. He filed a countersuit for defamation and in 2016, she dropped her sexual abuse claims.
"Thank you to the @RecordingAcad, the women on stage with me tonight, and everyone who has supported me through this whole journey," Kesha tweeted after her performance.
Rainbow, Kesha's first major record in five years, was nominated for a Grammy, while "Praying" was nominated for Best Pop Solo Performance. They marked the first Grammy nominations for the singer.
Watch:
Kesha - 2018 Grammys E! Glambot
A day before the Grammys, Kesha took to Twitter to reflect on her personal journey to healing.
"When I wrote 'Praying,' with Ben Abraham and Ryan Lewis, I just felt as if I had gotten a huge weight off of my shoulders," Kesha said. "It felt like an emotional raw victory for myself, one step closer to healing. I never could have known what would've happened these past few years."
"I just want to say that I needed this song in a very real way," she said. "I'm so proud and nervous and overwhelmed to be performing it at the Grammys on Sunday, and if you need it, I hope this song finds you."
Kesha had said on Good Morning America last year, "I think this record has quite literally saved my life. And I hope you guys like it and I hope you can hear it and I hope it helps people."