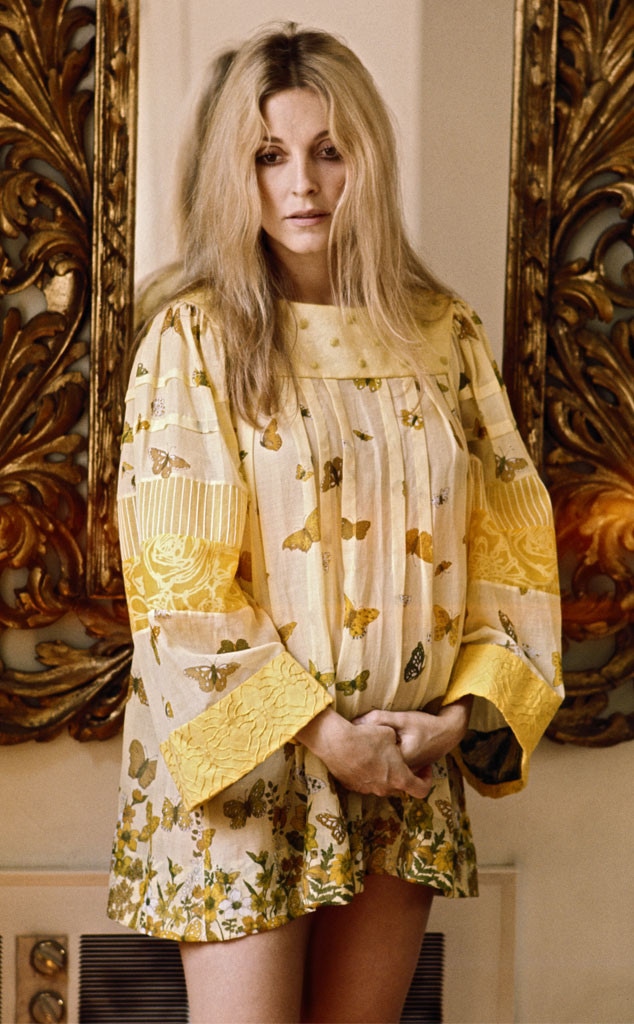 Terry O'Neill/Hulton Archive/Getty Images
On Aug. 8, 1969, Sharon Tate was a beautiful, B-movie actress best known for The Fearless Vampire Killers, Valley of the Dolls and a handful of episodes of The Beverly Hillbillies.
On Aug. 9, 1969, Charles Manson turned her into the biggest star in Hollywood.
By a horrible twist of much-documented fate, the 26-year-old starlet became the most famous victim of the so-called "Manson Family" when several followers of the manipulative, magnetic cult leader murdered almost everyone they found at 10050 Cielo Drive, a sprawling but isolated property tucked into a hillside in Los Angeles' Benedict Canyon.
Tate and her husband of a year a half, Rosemary's Baby director Roman Polanski, were renting the property from talent manager Rudi Altobelli for $1,200 a month. Manson, a musician who aspired to worldwide stardom, had been to the house before, when it was temporarily occupied by record producer Terry Melcher, his girlfriend Candice Bergen, who had put up the Christmas lights that were still decorating a fence on the property, and musician Mark Lindsay. After exchanging some sort of discouraging words about his music with Melcher, the 34-year-old Manson, who stood all of 5-foot-2, left with a grudge. Melcher and Tate had spoken on the phone about the lease transfer that previous February, but they had never met in person.
Susan Atkins would later say that she and Patricia Krenwinkel, Charles "Tex" Watson and Linda Kasabian were dispatched to Cielo Drive to kill whatever "piggies" were at the house.
Instead, an eight-and-a-half-months-pregnant Sharon Tate was there, along with her friends, celebrity hairstylist and Tate's former boyfriend Jay Sebring, coffee heiress Abigail Folger and her boyfriend Voytek Frykowski, a pal of Polanski's from Poland.
Watch:
Margot Robbie Wore Sharon Tate's Jewelry On Set
They had eaten dinner earlier in the night at El Coyote, a Mexican restaurant on Beverly Boulevard that's still there. The fifth victim that night, Steven Parent, was also in the wrong place at the wrong time, shot to death in his car in the driveway after showing up to visit the property's caretaker, William Garretson, who was initially arrested as a suspect since he was the only living person found at the scene—and who insisted that he didn't hear a thing.
The grisly killings—Tate was stabbed 16 times and hog-tied from a ceiling beam, the other end of the rope wrapped twice around Sebring's neck; Atkins wrote "pig" on the front door in Tate's blood; Frykowski was stabbed 51 times—shocked and appalled an entire city, from the law enforcement who saw the scene up close to the media to every single L.A. resident, particularly the famous ones.
The terror multiplied the next night, when supermarket owner Leno LaBianca and his wife Rosemary were murdered in similar brutal fashion at their home at 3301 Waverly Drive in Los Feliz.
"Rise" was scrawled on the wall in Leno's blood, the word "war" had been carved into his stomach and there was an ivory-handled carving fork sticking out of his belly. "Death to pigs" was written on the wall and "Helter skelter"—like the name of the Beatles tune, though it was misspelled "healter"—was written on the refrigerator, also in blood.
Cue the panic.
A famous person had been murdered—and not just murdered, slaughtered—in her home, and because Tate had the recognizable name, the crimes of Aug. 9, 1969, were immediately dubbed the "Tate case" by law enforcement, and collectively the crimes are known as the Tate-LaBianca Murders. That, combined with the never-ending obsession with Manson—which spiked again around the summer 2019 release of Quentin Tarantino's Once Upon a Time...in Hollywood and the 50th anniversary of the killings—turned Tate into one of the most famous murder victims of all time practically overnight. It was said that the only murder to receive more media coverage up till then was the 1963 assassination of President John F. Kennedy.
And with all that fascination, some of the reporting was bound to get wildly out of hand, even with no Internet to help it along. For instance, a towel that had been thrown across Sebring's face was reported in different instances as having been either a white or black hood, prompting multiple theories about what that could mean. 
Tate's family lamented the coverage, remembering Sharon as a promising actress and glowing presence in their lives who was overjoyed to be starting a family of her own.
"The world lost an amazing set of philanthropists," her sister, Debra Tate, told ABC News in March 2017, referring to the group at Sharon's house that ended up dead. "They definitely would have been the movers and the shakers in this industry."
In the months before Manson and his murderous followers were apprehended, seemingly every big name in Hollywood worried that he or she was next—mainly because no one knew what was going on. Was Tate targeted? Or was Polanski, who was in London finishing up a film before the birth of their child? Authorities found 6.9 grams of marijuana in a baggie in a living room cabinet. There were 30 grams of hashish in the nightstand in the bedroom where Frykowski and Folger were staying, along with 10 amphetamine tablets. Was this a party that turned deadly when a drug-addled reveler freaked out? Or a drug deal gone wrong?
Sebring, who was poised to become a household name, had an impressive celebrity clientele that included Steve McQueen, Paul Newman and Warren Beatty. McQueen didn't participate himself but reportedly advised person or persons unknown to go through Sebring's house to clear out any potentially reputation-damaging items (i.e. drugs). Incidentally, Sebring had lived at 9860 Easton Drive, the former home of Jean Harlow—who died tragically at 26, like Tate—and her husband Paul Bern, who committed suicide in the house two months after he married the Bombshell star.
The cops were initially pretty keen on a drug angle, but the carnage remained inexplicable.
Were the killers some crazy hippies, as the people who were particularly suspicious of the counterculture might think? Were they Satan worshipers? Hitmen? Just plain old homicidal maniacs? And LaBiancas murders aside, were they targeting celebrities?
Hulton-Deutsch Collection/CORBIS/Corbis via Getty Images
As relayed in Manson prosecutor Vincent Bugliosi and Curt Gentry's Helter Skelter, the seminal book on the case which was adapted for TV movies in 1976 and 2004, Mia Farrow, the star of Rosemary's Baby and a friend of Sharon's, was said to be too afraid to go to her funeral. Frank Sinatra reportedly went into hiding. Tony Bennett moved from a bungalow at the Beverly Hills Hotel into one of the inner suites. Jerry Lewis installed an alarm system complete with closed-circuit TV in his house. McQueen started keeping a gun in his car.
Two hundred guns were sold at one Beverly Hills sporting goods store in two days. The price of a good guard dog went from $200 to $1,500. Anyone who could afford private security hired more private security. Connie Stevens later said that the murders "scared the daylights out of everyone."
The overarching theory of the case that helped put Manson in prison for the rest of his life though he wasn't present for these killings has since come into question in subsequent accounts of the crimes. But at trial Bugliosi laid out Manson's motive: That the killings were intended to trigger a race war—some members of the Black Panther Party had called cops "pigs," for instance, and he meant for African-Americans to be blamed for the Tate-LaBianca deaths—and that he'd inferred all the instructions he needed from the Book of Revelations and, more recently, the Beatles' White Album.
Regardless of what he thought (which remained hard to pin down), Manson was without question a frustrated musician, one who'd brushed paths and even socialized with important people in the business, such as Dennis Wilson of the Beach Boys and Neil Young—who, in fact, liked Manson's music and told a record exec he knew about the aspiring singer-songwriter not too long before the murders.
The Harvest artist wrote in his autobiography Waging Heavy Peace about a gathering at his house: "After a while, a guy showed up, picked up my guitar, and started playing a lot of songs on it. His name was Charlie. He was a friend of the girls and now of Dennis. His songs were off-the-cuff things he made up as he went along, and they were never the same twice in a row. Kind of like [Bob] Dylan, but different because it was hard to glimpse a true message in them, but the songs were fascinating. He was quite good."
Michael Ochs Archives/Getty Images
But though history is full of what-might-have-happened forks in the road, Manson, a career criminal who had spent half of his young life in jail for various offenses and who had an additional chip firmly lodged on his shoulder due for many reasons starting in childhood, did indeed hold sway over a flock of impressionable young people, mostly women, who were looking for something and found it in him. 
The cops had been back and forth to Spahn Ranch, a dusty, abandoned Western-themed movie set where the Manson Family was squatting when the murders were committed, for various other crimes—an Aug. 16, 1969, raid turned up a massive weapons cache—but it was a bout of bragging that did them all in.
Susan Atkins had been arrested along with Manson and 22 others in early October 1969 when Inyo County authorities conducted a three-day raid on the latest Manson hangout, Barker Ranch, located in the desert near Death Valley, on suspicion of a host of charges including arson and grand theft. (Manson had also been arrested during the Spahn raid.) During that time, two girls who had been hiding in the bushes a few miles away from the ranch approached officers and said they needed help, that they were trying to flee.
L.A. authorities had been looking for one of the girls, Kitty Lutesinger, because she was the girlfriend of Bobby Beausoleil, their main suspect in the July 25, 1969, murder of music teacher Gary Hinman. Beausoleil had disappeared from Spahn Ranch and Lutesinger, who was 5 months pregnant when she made contact with police, had no idea he was in jail on suspicion of murder.
Talking to authorities on Oct. 12, Lutesinger said that Atkins had gone with Beausoleil to Hinman's house on Manson's orders, to collect money from him. Word at the ranch was, some sort of fight ensued and Hinman was killed. Lutesinger recalled a conversation with Atkins and several girls in which Atkins said she had stabbed a man several times in the legs.
On Oct. 13, investigators questioned Atkins, who said she and Beausoleil stayed at Hinman's house for two days, basically holding him hostage, before Beausoleil ultimately stabbed him to death. Atkins was also booked on suspicion of murder. She didn't mention Manson.
On Oct. 15, the Los Angeles Police Department, which was investigating Tate-LaBianca, finally checked in with the Los Angeles Sheriff's Office, which had the Hinman case, to see if they had any similar crimes. As it turned out, "political piggy" was written in blood on the wall at Hinman's place. On Oct. 20, the sheriff's office relayed Lutesinger's recollection of Atkins' claims to LAPD detectives, because Hinman hadn't been stabbed in the legs; rather, Voytek Frykowski had.
Investigators eventually interviewed Lutesinger on Oct. 31, 11 days later.
Meanwhile, Atkins—who was booked under the name Sadie Mae Glutz—was having a grand old time in jail telling her cellmate at Sybil Brand Institute, Ronnie Howard, as well as another prisoner who knew Howard, Virginia Graham, pretty much everything about the murders. (Graham and Howard would both testify for the prosecution at trial.)
Keystone-France/Gamma-Keystone via Getty Images
Among the things she told Graham: the names on a list of celebrities who were going to be murdered, including McQueen, Sinatra, Elizabeth Taylor, Richard Burton and Tom Jones, and how each one was going to be killed.
There was never any proof other than Atkins own ravings that such a list actually existed.
Talent scout Gregg Jakobson had met Manson at Dennis Wilson's house (Dennis died in an accidental drowning in 1983 when he was 39) in 1968, and in turn—impressed by the "whole Charlie Manson package" as an artist, as he told the cops—introduced Manson to Melcher, who was living at 10050 Cielo Drive at the time. Melcher was unimpressed.
According to Atkins, per Helter Skelter, Tex Watson had told her on the night of the Tate murder that they "were going to a house up on the hill that used to belong to Terry Melcher, and the only reason why were were going to that house was because Tex knew the outline of the house." 
Asked by Bugliosi what Tex told them they were going to do once they got there, Atkins replied, "To get all of their money and to kill whoever was there." The prosecutor asked, "It didn't make any difference who was there, you were told to kill them; is that correct?" 
"Yes," Atkins said.
In 1971, Bugliosi successfully prosecuted Manson, Watson, Atkins, Krenwinkel and Leslie Van Houten for the Tate-LaBianca murders, winning multiple first-degree murder convictions for all, including seven for Manson. He wasn't at the Tate house but he did lead Watson, Atkins, Krenwinkel, Van Houten and Linda Kasabian to the LaBiancas' home, where he went in first, tied up the couple and then left.
All five were sentenced to death, but the sentences were commuted to life in prison when a California court ruled the death penalty unconstitutional. (It has since been reinstated, though the state hasn't executed a prisoner since 2006.)
Kasabian, who by all accounts didn't participate in the physical act of killing, was Bugliosi's star witness. As the only member of the Family who had a valid driver's license, she ended up along for both rides.
The still-terrifying story of these murders continues to breath posthumous life into Sharon Tate's short movie career, the actress eternally remembered as a great beauty who had her whole life ahead of her before she ended up playing the starring role in one of the most storied crimes of all time. But it was Manson who became the larger-than-life figure, the boogeyman who was too crazy to be taken seriously once he was safely behind bars, but who was an unassuming villain who destroyed dozens of lives when he walked free.
The house on Cielo Drive remained standing for years. Trent Reznor recorded the 1994 Nine Inch Nails album The Downward Spiral in the house, though he said he didn't actually know the property's provenance when he first decided to move in.
"The house didn't feel terrifying so much as sad—peacefully sad," Reznor told Entertainment Weekly at the time. "But that could just be my own insanity." The house was torn down not long after Reznor moved out, toward the end of 1993.
California Department of Corrections and Rehabilitation
Watkins and Krenwinkel remain behind bars. Atkins died of cancer in prison in 2009. When the parole board refused her request for compassionate release, Debra Tate, who over the years has fought against the possibility of parole for any of the killers, was there to see it. Van Houten, who was 19 when she took part in the LaBianca murders, has been recommended for parole multiple times, but whoever's been governor of California at the time has ruled against it. Former Gov. Jerry Brown called her "unacceptable risk to society."
And throughout, the fascination with Manson—his absurd yet fascinatingly detailed philosophy, his hold over his "Family," the terrifying magnetism that turned him into, as Rolling Stone called him when the magazine put him on the cover in 1970, "the most dangerous man alive"—never abated. His face is on T-shirts and songs he wrote have been recorded by artists including Marilyn Manson, the Beach Boys, the Lemonheads and Guns N' Roses. In 2014 a 26-year-old woman who had been visiting Manson in prison was poised to marry the 80-year-old mass murderer—they obtained a marriage license, but it expired after 90 days of inactivity.
Countless books—both nonfiction accounts and fiction inspired by true events, such as Emma Cline's 2016 novel The Girls—films and TV shows have probed the mind of Manson and his followers. The 2016 Lifetime movie Manson's Lost Girls examined the saga from the women's perspective, but it all came back to their Svengali. The NBC series Aquarius first introduced Manson in 1967 as a longtime antagonist for a LAPD detective played by David Duchovny, leading up to the murders in 1969, then the Netflix series Mindhunter showed how the FBI profiler played by Jonathan Groff considered Manson to be a big get—as far as interview opportunities with infamous killers got. Jeremy Davies, Matt Smith and Damon Herriman are among the actors who've played him—Herriman in both Mindhunter and Once Upon a Time...in Hollywood.
Perhaps because no one could ever truly understand Charles Manson in life, and the Tate-LaBianca murders were so bizarre and brutal, and so random, writers and directors and actors have just done with him what they could. Tarantino opted to rewrite Sharon Tate's fate altogether, providing an infinitely more satisfying outcome.
Bugliosi, who also authored nonfiction tomes about JFK's assassination and the O.J. Simpson murder trial, died in 2015. He attributed the enduring lure of the Manson murders as a topic of discussion to a number of factors.
"The single most important is that the murders were probably the most bizarre in American crime, and people are fascinated by things that are strange and bizarre," he told the Los Angeles Times in 2009. "It's not the brutality—they were extremely brutal murders, but like you say, there have been more brutal murders. Not the prominence of the victims. Another reason—the very name 'Manson' has become a metaphor for evil, and evil has its allure."
And not even Manson's death—in 2017 of natural causes, at the ripe old age of 83—helped break the spell he still managed to cast for all those years from a prison cell.
(Originally published Nov. 19, 2017, at 9:54 p.m. PT)