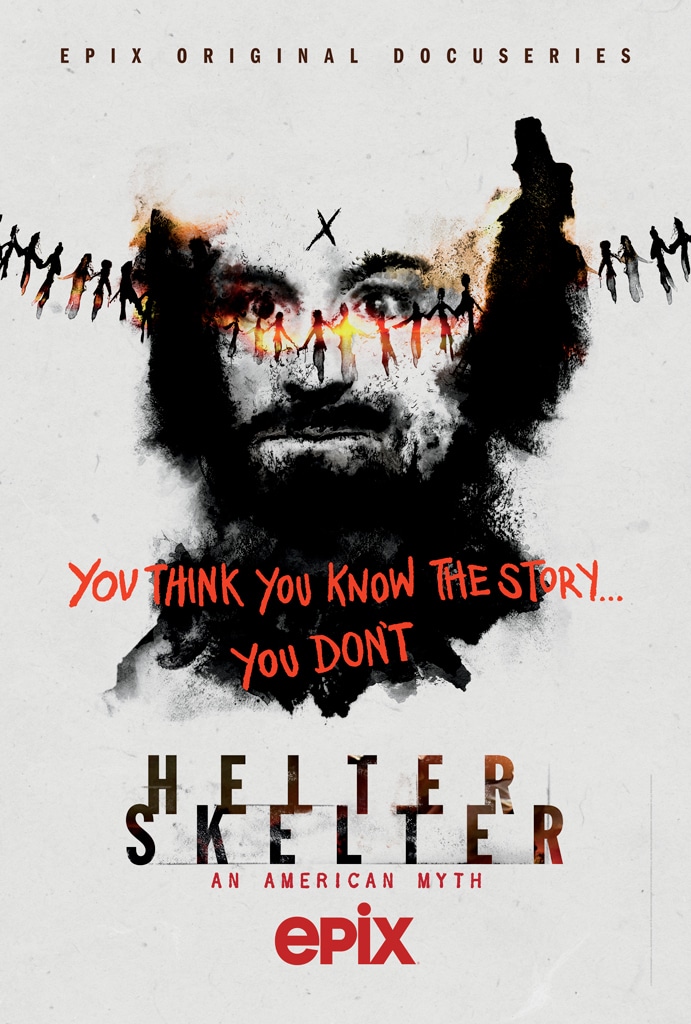 Epix
What more is there to say about Charles Manson?
He has been one of the most talked about figures in American culture for half a century due to two nights of senseless brutality in August 1969, in which seven people were murdered by five members of what the media first called the "Manson Family."
Murders that Manson, as their leader, was also judged to be responsible for and which resulted in him being locked up for the rest of his life.
Last year marked the 50th anniversary of the Tate-LaBianca murders and saw the release of a slew of new books, TV specials and films, most notably Quentin Tarantino's Once Upon a Time... in Hollywood, which featured a better version of events that insisted on Sharon Tate's star continuing to rise as the decade, which played host to some of the lowest lows and highest highs in this country's history, started to peter out.
In real life, however, the deaths of Tate and six others marked one of those depressing lows and the fascination with what Manson wrought has outlived the man himself.
But though 2019 was as good a year as ever for keeping his memory alive, it was another bad year for the idea of Manson being some larger-than-life figure, a criminal mastermind whose whacked-out plan to trigger a race war that he dubbed "Helter Skelter" (after the song on the Beatles' White Album, which he felt was laced with subliminal messages speaking right to him) compelled his followers to kill.
Helter Skelter: An American Myth, a six-part series premiering tonight on Epix, sets out to further deconstruct the Manson story, digging into the reality of the diminutive conman who was in and out of reform school and then jail at an early age—a guy who, considering his background, "was doomed," as a former neighbor of his family in McMechen, W.Va., puts it in the show's second episode.
If you know nothing about Manson and his crimes, this is an eye-opening, thorough place to start. And if you know everything about the case... well, it depends on how you define everything.
Even series director Lesley Chilcott, an executive producer of An Inconvenient Sequel: Truth to Power and a veteran filmmaker whose work includes the documentaries Codegirl and Watson, didn't originally buy the idea that there was more to say when she was first approached about the project.
Executive producer Eli Frankel "is one of the many people obsessed with this story," Chilcott told E! News in a recent interview, and when he reached out to gauge her interest her initial response, admittedly, was, "'Oh, the Manson story again?'"
But by the time Frankel was done laying out the myriad possibilities, including just how many "family members"—a number of whom were interviewed for the series, by now familiar faces such as Diane Lake and Catherine "Gypsy" Share, but also people who have not been heard from before in this capacity—went into the making of this American tragedy, Chilcott was ready to give the subject matter the cultural deep dive that somehow hadn't been done yet in quite this way.
The true-crime classic Helter Skelter written by Vincent Bugliosi and Curt Gentry has always been considered the definitive account of the Tate-LaBianca killings, the investigation and the trial—and it is, certainly as far as the minutiae of the process that went into putting away the killers of Sharon Tate, Jay Sebring, Voytek Frykowski, Abigal Folger, Steven Parent, Leno LaBianca and Rosemary LaBianca goes.
As deputy district attorney in Los Angeles, Bugliosi successfully put Manson, Susan Atkins, Patricia Krenwinkel, Leslie Van Houten and (in a separate trial) Charles "Tex" Watson away for first-degree murder, laying out "Helter Skelter" as the underlying motive for all the carnage. Manson didn't wield the gun or knives that slaughtered the victims, Bugliosi argued, but he was the one with the purpose and the control.
"I, as a prosecutor, and you folks as members of the jury, cannot help it, we cannot help it if Manson had this wild, crazy idea about Helter Skelter. It is not our fault," the prosecutor said in his closing argument as the 11-month trial wound down. "Manson is the one that made the evidence, not we. We can only deal with the evidence that presents itself."
To be sure, Manson was a white supremacist who had crackpot theories about race, and he did tell his followers—for the most part vulnerable young women whose individualism he checked at the door, controlled with drugs and used for sex—that they were preparing for a war between white and Black people. He predicted that Black people would win but wouldn't know how to truly lead, paving the way for Manson, who planned to hide out in the desert with his followers during the fighting, to take over.
But as more recent analyses of the murders, including the new series, have been careful to emphasize, Manson's true power was his ability to get close to people, to tell them what they didn't even know they wanted to hear. To come up with a new truth for every situation, if you will.
Even Manson's ravings about a race war were just another example of him glomming onto events of greater historical importance—it was the 1960s after all, and periodic, at times violent unrest as the Civil Rights Movement started to effect real change was a reality—to sow fear and manipulate, the hallmark of so many cult leaders.
"He would hijack every single idea, mix them with a few ideas of his own and spew...these circular, philosophical abstractions that attempt to explain complex societal events in a few simple words," Chilcott explained. As she talked to former family members, the director found that some of them ate up what Manson was serving, but others didn't think much of it. "'Campfire talk,'" they recalled to her. If he had hadn't been so good at masking his true colors, they wouldn't have stuck around, they said.
He may have believed in Helter Skelter the way he believed that he was in possession of an enlightened world view that was beyond the grasp of most people, as his ravings that continued until his death in 2017 at the age of 83 would suggest. But Manson was also a career criminal—hardly a mastermind, considering his life spent mostly locked up even before he was giving a life sentence—and a frustrated musician who had tried to milk his few connections but ultimately proved too scary for people to want to hang around with for long.
Watch:
Brad Pitt Spills BTS Details on "Once Upon a Time in Hollywood"
"This desire to say that Charles Manson was a master planner—'a bearded Svengali,' [as he's been referred to]—and set about to take very deliberate steps to create a race war, that's not true," Chilcott said.
"The point was, these crimes had no motive...and the prosecution doesn't have to prove motive," she continued, "but what motive could possibly explain these crimes? The puzzle pieces don't fit, and I think that's why we're still talking about it."
Journalist and Manson biographer Ivor Davis, who appears in the series, wrote in his 2019 book Manson Exposed: A Reporter's 50-Year Journey into Madness and Murder, "Manson told the killers to stage the Tate-LaBianca murders to look like they were the work of militant Black Panthers. And not because he wanted to start a race war in America, inspired (Manson claimed) by the Beatle lyrics in songs like 'Helter Skelter,' 'Piggies' and 'Revolution.' His hope was the police would release Robert."
"Robert" was Robert Beausoleil, a friend of the "family" who had been arrested for the July 27, 1969, murder of music teacher Gary Hinman. Beausoleil, who remains in prison for the crime, had originally gone to Hinman's home to get money, having purchased what turned out to be faulty drugs on behalf of the Straight Satans, a biker gang that was hanging out with the family at Spahn Ranch. The Satans were serious about wanting their money back, but Hinman didn't have it. 
Beausoleil had been accompanied by Susan Atkins and Mary Brunner—"Mother Mary," as her matriarchal status at the ranch qualified her—who called Manson from Hinman's house. When Manson got there, he slashed Hinman in the face with a knife, and left Beausoleil there to deal with the aftermath. Beausoleil says he never would have stabbed Hinman to death if Manson hadn't cut him first. And Bobby supposes he wrote "political piggy" on the wall in blood, but he says he doesn't really remember doing so.
Davis posited in his book that Manson sent his followers to the Tate and LaBianca homes, both residences he had seen before though he had no connection to the people themselves, to commit copycat killings to make Beausoleil look innocent (though Bobby had been arrested driving the dead man's car).
Hence the scrawls of "death to pigs," "rise" and the famously misspelled "Healter Skelter" left on walls and doors in the victims' blood at the two scenes.
As Chilcott points out, it took some weeks for law enforcement to link the Hinman killing to Tate-LaBianca, and that left way too much time for conspiracy theories to take root in the void between that chilling spree of violence and the answers that people demand in the wake of such inexplicable behavior. The fact that a young, beautiful and 8 1/2-months-pregnant Hollywood actress was the victim of pure circumstance just wouldn't do.
But, eerily, that's just the way it was.
Even Bugliosi, who died in 2015, didn't claim to have all the answers, but he was well aware that Manson—who tied up Leno and Rosemary LaBianca in their home before leaving to let Tex Watson, Patricia Krenwinkel and Leslie Van Houten do their worst—could conceivably be found not guilty of first-degree murder because he didn't personally kill anybody on those nights.
So, he had to make sure that Manson's depraved theory infiltrated every move the killers made, and there were myriad circumstances at work that made "Helter Skelter" an acceptable, albeit nonsensical, motive for its time.
"What's a myth?" Chilcott said. "It's a folk tale that becomes a legend, and I think that's what happened here."
Helter Skelter: An American Myth premieres Sunday, July 26, at 10/9c on Epix.