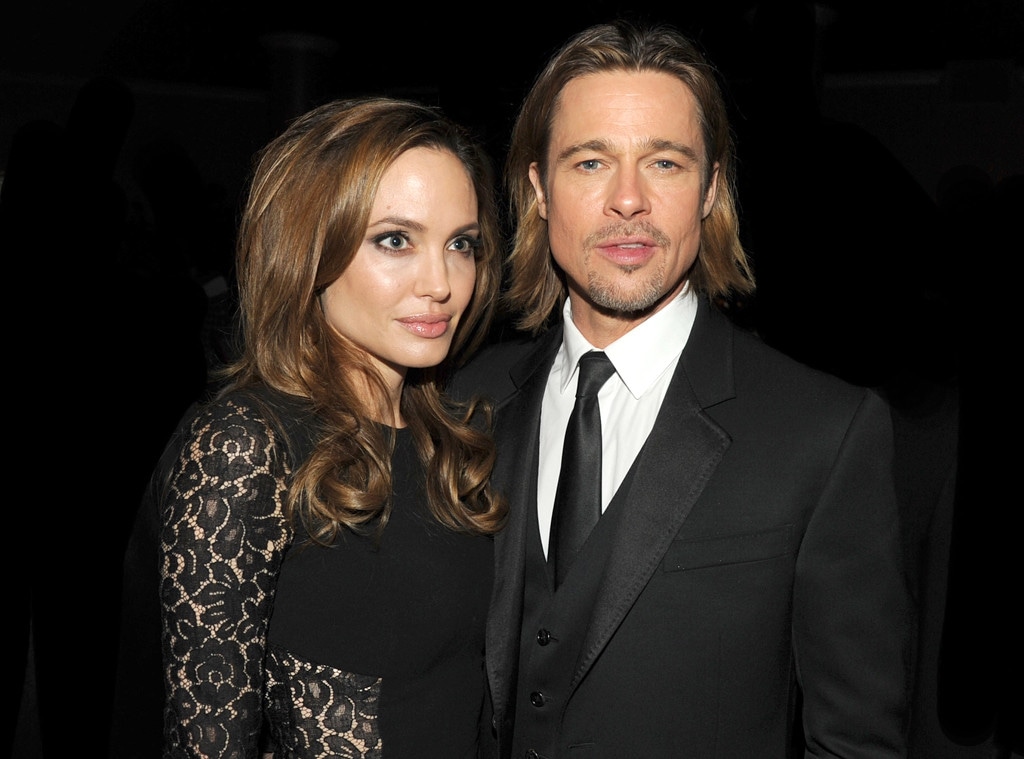 Kevin Winter/Getty Images
Three years ago, this day marked the start of an entirely different chapter for Brad Pitt and Angelina Jolie—one much happier than the pages they're currently writing.
On August 23, 2014, the famous power couple made things official by tying the knot in a secret ceremony in France, securing what was supposed to be their forever.
But instead of ringing in their third wedding anniversary with gifts of leather, they're going through a highly-publicized and messy divorce—something none of us saw coming after their incredibly special and intimate nuptials just three years ago.
"It was such a special day to share with our children and a very happy time for our family," the newlyweds shared with People shortly after saying "I do."
In fact, as we look back at what this day meant for them in 2014, here are 12 facts we've all probably forgotten:
1. The Reason: They were together for 10 years before they decided to eventually tie the knot—a decision their kids actually inspired. "We're getting a lot of pressure from the kids," Pitt told E! News months after popping the question. "We didn't realize how much it meant to them and then, in getting engaged, how much it also means to us."
2. The First Secret Wedding: The former couple actually had two weddings. They "officially" tied the knot in California because they couldn't legally wed in France. So, a few days ahead of their wedding, they filled out their paperwork and obtained a marriage license from a local judge, who also traveled to France with the family to conduct the intimate ceremony.
3. The Location: The non-denominational nuptials took place at the chapel of Château Miraval, the family's estate in the French village of Correns. "It smelt of rosemary and jasmine from the bushes outside the window and the sun streamed in the tint-stained glass windows," a source told us at the time.
4. The Guests: Only 20 people attended the intimate wedding, including their six children—Maddox, Pax, Zahara, Shiloh, and twins Knox and Vivienne—as well as Pitt's mom and dad, Bill and Jane Pitt; his brother, Doug; and his sister, Julie. Though Angelina's father Jon Voight was not in attendance, her brother James Haven was by her side. Angelina's mother, Marcheline Bertrand, lost her battle with ovarian cancer in 2007. However, Angelina explained, "Brad had a dedication to Marcheline engraved inside the chapel where we stood."
MICHEL GANGNE/AFP/Getty Images, REX Shutterstock
5. The Dress: Though Angelina's Versace gown was classic in style, it was very unique and perfect for her. Luigi Massi, the master tailor at Atelier Versace, sewed dozens of designs from her children's drawings into the dress and veil. She accessorized the gown with a flower ring that belonged to her mother as well as a small gold locket with a photo of her mother inside of it.
6. The Suit: Pitt wore a suit from his closet that he already owned. However, he had to borrow a tie from one of his sons because he accidentally forgot to pack his.
7. The Rings: Jeweler Robert Procop, who designed Jolie's engagement ring, also created the couple's wedding bands.
8. The Vows: The kids helped them hand write their vows.  "It was very sweet what they came up with," Angelina said. "They did not expect us never to fight, but they made us promise to always say, 'Sorry,' if we do. So they said, 'Do you?,' and we said, 'We do!'"
Courtesy: People Magazine
9. The Kids' Roles: Eldest sons Maddox and Pax walked Angelina down the aisle; flower girls Zahara and Vivienne tossed petals gathered from the garden; and Shiloh and Knox served as ring bearers. "I wanted the kids to be a part of everything, including the dress, because that's our family," Angelina told Hello! magazine. "That represents the way we live our life together."
10. The Kids' Outfits: Zahara's dress was designed by family friend Adama Kebe, while Maddox, Pax, Shiloh and Knox wore black suits (Shiloh's included shorts and a top hat). Vivienne wore a white dress from her closet.
11. The Reception: "They all went back to the main house into the 'Great Hall' and had a big celebration lunch with local hams, cheeses, freshly caught sea bass, Italian pastas and champagne, as well as Chateau Miraval rosé wine [Pitt and Jolie's own brand],"a source detailed shortly after the wedding.
12. The Cake: "There were three different types of cakes, all picked by the kids—one was strawberry ice cream, another was a three chocolate gateau and a third had fresh cream and raspberries," the source explained. In fact, Pax actually made one of the cakes himself!
"It was a lovely, happy day with lots of laughter and meaning that the entire family will remember for the rest of their lives," the source added.
Needless to say, the news of their divorce just a few years later was (and admittedly still is) shocking.