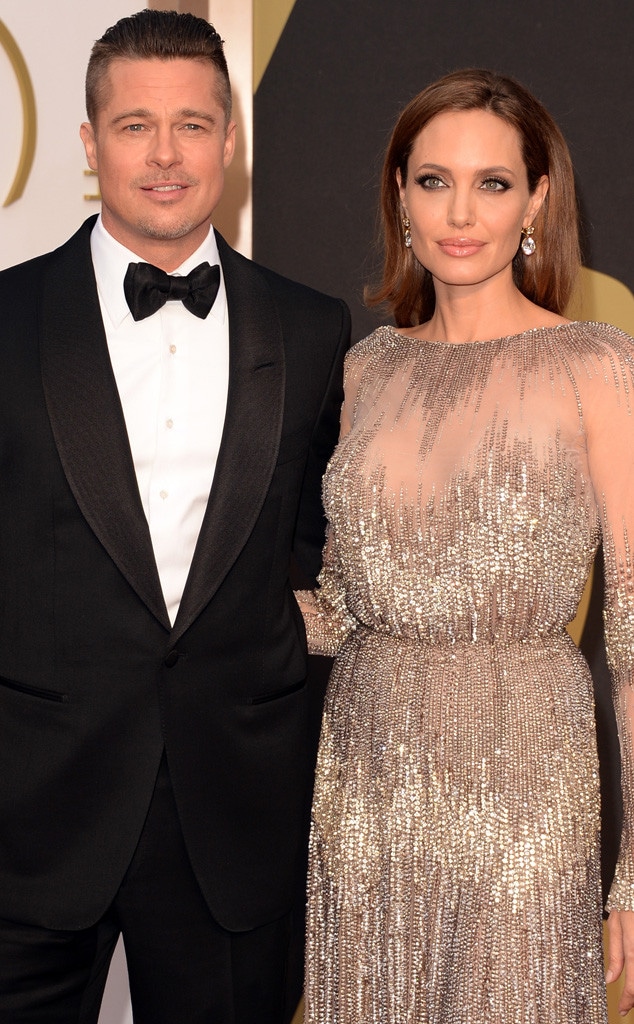 Jason Merritt/Getty Images
We've got all the exclusive details on Brad Pitt and Angelina Jolie's wedding!
If you haven't heard yet, the Oscar-winning couple tied the knot in front of family in a small ceremony last weekend at their estate in France. And now, E! has the intel on everything from Jolie's dress, the guest list and their multiple wedding cakes.
"Brad and Angie got married right before lunch local time on Saturday in the chapel in the grounds next to their house at Chateau Miraval," a source tells E! News exclusively. "Angie was given away by Maddox and Pax and Knox helped with the rings, which were designed by their good friend Robert Procop. Zahara, Shiloh and Vivienne had baskets of rose petals and other flowers they'd picked in the garden that morning and threw them in front of their mom and dad as they walked up the aisle. The chapel smelt of rosemary and jasmine from the bushes outside the window and the sun streamed in the tint-stained glass windows."
Pascal Le Segretain/Getty Images
As for the select few in attendance, the source says, "The only guests were Brad's family from the states—his mom and dad, Bill and Jane Pitt; his brother, Doug; sister Julie; and their kids, so it was no more than 22 people in total." Jolie's father Jon Voight was not in attendance.
"Brad and Angie said handwritten vows telling each other how much they love each other and their beautiful family and they both had tears in their eyes as did everyone else," the insider adds. "It was short but loaded with meaning, and it was a lovely way to start life in their new family home now that the building work is finally finished."
The source describes the 39-year-old actress' wedding dress as "very traditional, but very Angie." "It was comfortable with plain white floor length antique lace and silk," the source explains. "She had a veil but Brad lifted it and gasped because she looked so stunning. The boys all wore tiny matching cream linen suits which were just like Brad's while the girls had each chosen a dress to match their own individual style and they had them specially made."
After saying "I do," the clan celebrated at their lavish estate.
"They all went back into the main house into the 'Great Hall' and had a big celebration lunch with local hams, cheeses, freshly caught sea bass, Italian pastas and champagne, as well as Chateau Miraval rosé wine [Pitt and Jolie's own brand]," the source reveals. "There were three different types of cakes, all picked by the kids—one was a strawberry ice cream one, another was a three chocolate gateau and a third had fresh cream and raspberries."
"It was a lovely, happy day with lots of laughter and meaning that the entire family will remember for the rest of their lives," they say.
UPDATE: A rep for the couple officially tells E! News: 
"On Saturday 23rd August 2014, in the presence of family and friends, Angelina Jolie and Brad Pitt were married in a small chapel in Chateau Miraval in France. It was a non-denominational civil ceremony.
"It was very much a family affair. All their children took part. Angelina was walked down the aisle by her eldest sons Maddox and Pax. Zahara and Vivienne threw petals, gathered from the garden. Shiloh and Knox were the ring bearers.
"In the days before coming to France, and as citizens of California, Brad and Angelina filled out their paperwork and obtained a marriage licence from a local judge, who also travelled to France to conduct the ceremony at Chateau Miraval. They are therefore married under Californian law."