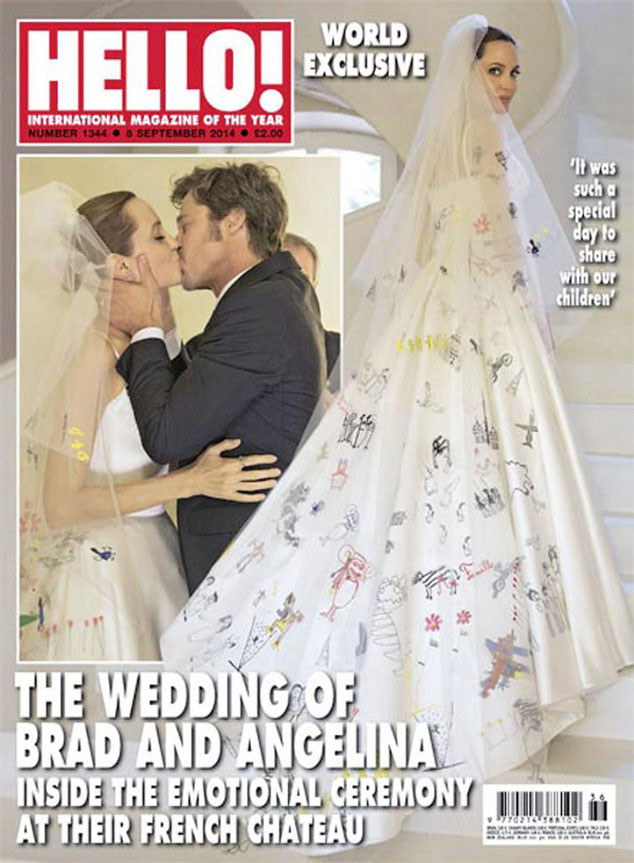 Courtesy: Hello Magazine
There's no doubt that Angelina Jolie looked breathlessly beautiful on her wedding day (even hubby Brad Pitt gasped when he lifted her veil!), but the best part about the star's custom Atelier Versace gown had to be the personal details. 
Namely, the silk veil and train which featured "embroidered drawings" created by the couple's six children—Maddox, 13, Pax, 11, Zahara, 9, Shiloh, 8, and twins Knox and Vivennne, 6.
"Luigi is like family to me and I couldn't imagine anyone else making this dress," the Oscar winner told People magazine of Luigi Massi, master tailor at Atelier Versace. "He knows and cares for the children and it was great fun putting it together." 
Of course, each unique illustration represents a special family memory, so let's take a closer look at significance of the drawings on Angie's custom dress! 
According to Hello! magazine, one illustration features the phrase "Buttock Fattock," and while we're not quite sure what that means, we can just imagine twins Knox and Vivienne scribbling the silly expression with a smile on their sweet faces. 
Upon closer examination, there are also plenty of flowers drawn on the dress (perhaps that was Zahara's doing?) as well as a zebra in addition to other animals. 
Naturally, no kiddie-inspired mural would be complete without a number of fanciful figures, which seemingly appear to be inspired by the movie Monsters, Inc. 
And as an added testament to the love in the Jolie-Pitt clan, there's not just one but two family portraits complete with the phrase "Dad" written in bright yellow ink. 
Last but certainly not least, there are a number of drawings of bikes, airplanes and stars, which presumably speak to the globe-trotting family's many travels. 
The pair familiarly known all over the world as "Brangelina" finally tied the knot Saturday at their family's main homestead, the palatial Château Miraval in southern France. Their top-secret "I do's" were attended by only 22 people and the entire event was a family affair. Jolie walked down the aisle with her elder sons, while Zahara and Vivienne threw petals as Shiloh and Knox served as ring bearers.
"They see each other as family and never even argue these days," an insider gushed to E! News of the newlyweds. "They're both serious about spending their lives together. There's talk of them both changing their names to Jolie-Pitt to match the kids. They love that idea and are very likely to go ahead and do it officially very soon."
Cheers—or shall we say—"Buttock Fattock" to that!