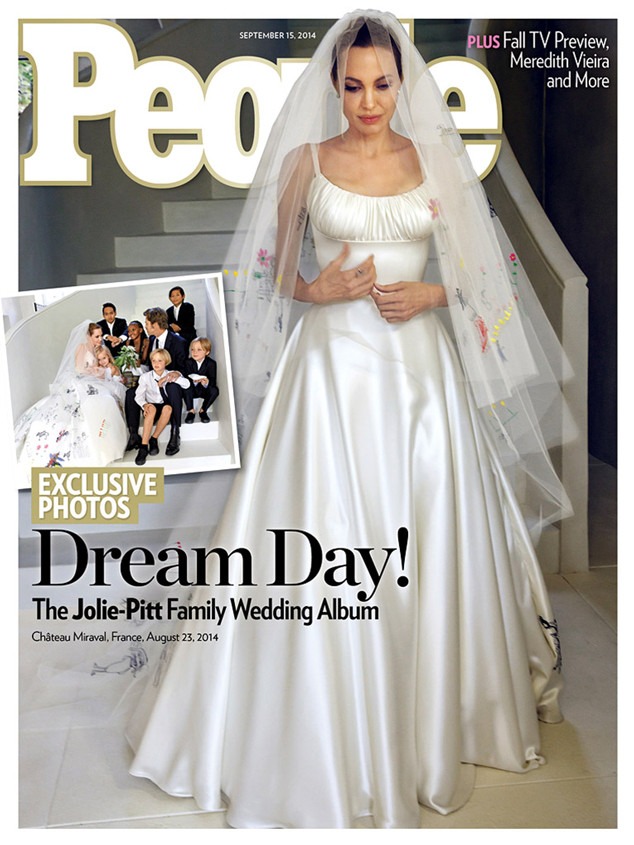 Courtesy: People Magazine
Since getting engaged in 2012, Angelina Jolie and Brad Pitt regularly told reporters that their wedding would be a small family affair. The Mr. & Mrs. Smith co-stars kept their word, as they wed on Aug. 23 inside an ancient stone chapel at Château Miraval, the Jolie-Pitt family's estate in Correns, France.
Their 20 guests, including Jolie's brother James Haven, hummed the traditional processional tune "Here Comes the Bride" as the actress made her entrance. The groom, 50, didn't get a glimpse of his bride's Atelier Versace gown until she walked down the aisle with their eldest sons, Maddox, 13, and Pax, 10.
There were other surprises, too. "Brad had a dedication to Marcheline engraved inside the chapel where we stood," Jolie says of her mom, Marcheline Bertrand, who lost her battle with ovarian cancer in 2007.
Jolie and Haven honored their late mother in other ways. "I also wore a little flower ring that was hers, and Jamie wore an angel pin from her jewelry box," she says. As E! News previously reported, Jolie also accessorized her understated gown by wearing "a small gold locket with a photo of her mom inside it."
The A-list actors' complementary wedding bands were designed by Robert Procop and carried by ring bearers Shiloh, 8, and Knox, 6. At one point in the ceremony, guests laughed when a ring was dropped.
The Jolie-Pitt children, including Zahara, 9, and Vivienne, 6, "wrote vows and asked us to make promises to each other," Jolie, 39, reveals in People's Sept. 15 issue. "It was very sweet what they came up with."
The six siblings also had a hand in creating their mother's veil, as their doodles were incorporated into the Atelier Versace design. "I wanted the kids to be a part of everything, including the dress, because that's our family," the bride told Hello! magazine. "That represents the way we live out life together."
"It was important to us that the day was relaxed and full of laughter," the blissful newlyweds said in a statement. "It was such a special day to share with our children and a very happy time for our family."