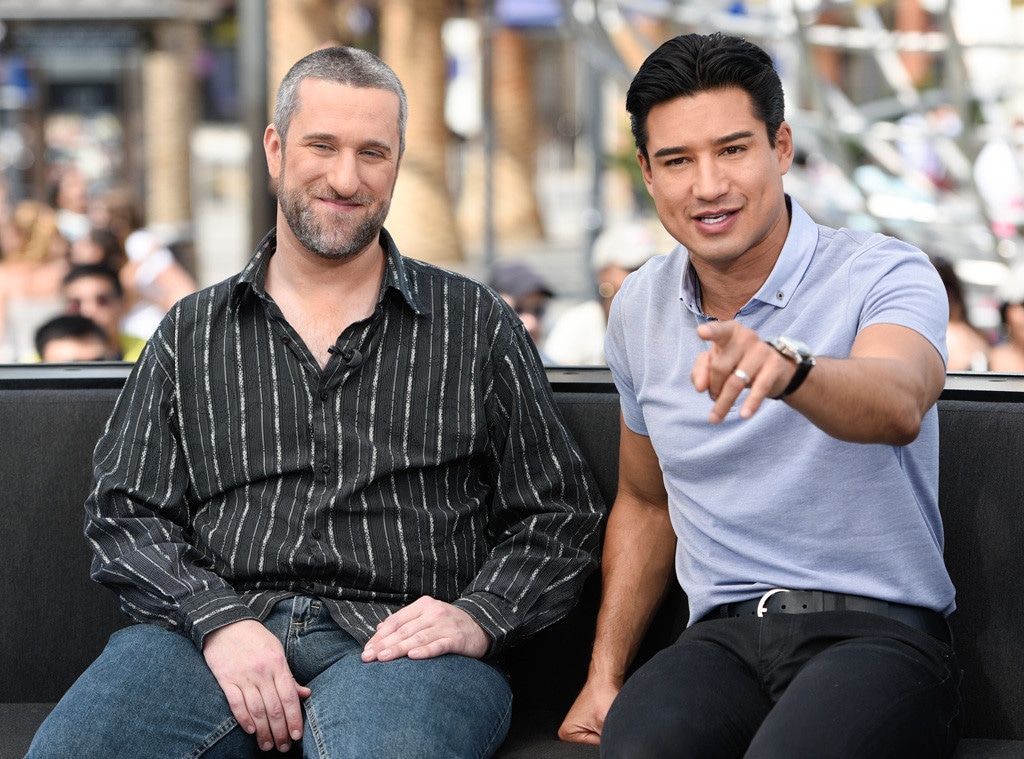 Noel Vasquez/Getty Images
So about that time Screech chatted with Slater about his time in the slammer...
Dustin Diamond, 39, was released from a Wisconsin jail in April after serving a shortened sentence of less than three months behind bars for misdemeanor charges of carrying a concealed weapon and disorderly conduct with a dangerous weapon. He was accused of stabbing a man at a bar after his fiancée, Amanda Schutz, 27, got involved in an altercation with a woman who was allegedly harassing her and the actor.
Diamond opted to give his first post-jail interview to Extra host and former Saved by the Bell co-star, Mario Lopez, 41, in an interview set to air Wednesday and Thursday.
"It's pretty daunting, it's pretty scary going into that environment," he said. "I found that as long as you follow the rules and stay with the system, it works. You can get in and out unscathed.
Noel Vasquez/Getty Images
Ozaukee County Sheriff's Office
Diamond was originally sentenced to four months in jail. He also originally faced a felony charge of recklessly endangering safety, to which he pleaded not guilty and which was later dropped. Schutz was found guilty of misdemeanor disorderly conduct and given a fine.
Diamond told Lopez that a woman Schutz was talking to at the bar sucker-punched her.
"She leaned back to me and her face was covered in blood," he said.
Diamond said a man then grabbed his fiancée by the hair. The two men then got into a physical altercation.
"I opened my pocket knife and said, 'Let my wife go immediately,' which worked,'" the actor said, adding that the man ended up "nicking" his arm on the tip of his blade.
During the interview, Diamond also talked about two other subjects that have gotten him back in the headlines over the years: A 2006 sex tape, titled Screeched – Saved by the Smell, and a tell-all book about his experiences on the hit '90s sitcom.
Diamond had said on a 2013 episode of Oprah Winfrey's show Oprah: Where Are They Now? that he was embarrassed about the sex tape, which did not actually feature him naked, but rather a stunt double.
The actor told Lopez he did it for the money, adding, "I had to take a chance. What if that thing had made $3 or 4 million?"
Chris Haston/NBCU Photo Bank
Diamond's acting career had stalled after he starred on Saved by the Bell, TV movies based on the series and two spinoffs, Saved by the Bell: The College Years and Saved by the Bell: The New Class, which ended in 2000. He had documented his experiences on the original show in a 2009 tell-all book, Behind the Bell, which was adapted into a 2014 Lifetime Television Movie, The Unauthorized Saved by the Bell Story.
Diamond told Lopez the book was written by a ghostwriter who "fabricated a whole bunch of stuff."
"Imagine how I feel, I haven't talked to Mark Paul [Gosselaar] or Elizabeth [Berkley] or Tiffani [Thiessen] in ages, so I can't imagine what they think, and I'm hoping this will clear it up," he said. "It wasn't me, I didn't write this. I was just as shocked and appalled."
Watch:
Elizabeth Berkley at "DWTS" Rehearsals