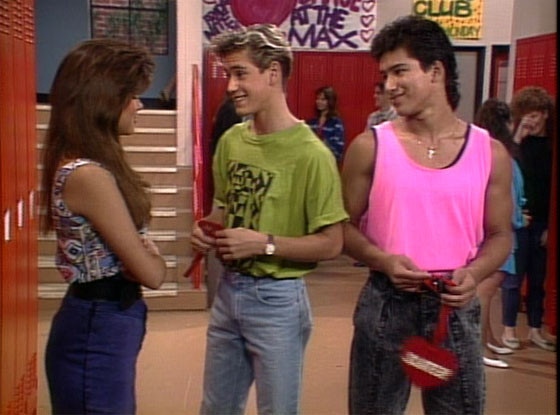 NBC
Lifetime, we want our two hours back!
Aside from figuring out how those two very hungry caterpillars landed on the kid playing Zach Morris' face (were those eyebrows?), there was so very little to hold our attention in the two-hour stinkfest that was The Unauthorized Saved By the Bell Story.
Where was the true scandal? The true drama?
Turns out, most of the juicy/awful allegations and real-life occurrences happened after Saved By the Bell went off the air in 1993, which is precisely when the movie ended.
Here are 15 things that would have made Unauthorized far more interesting...
1. 1993: In his tell-all book Behind The Bell, Dustin Diamond claimed that Mark-Paul Gosselaar had been using steroids between production on Saved By the Bell and The College Years. This rumor was helped by Mark-Paul's significant change in appearance at the time, but there is no real evidence of steroid use. Gosselaar has never spefically addressed the steroid allegations, but recently told E! News in an interview, "Everything that I've heard about his book is negative and I don't remember those things. My experience on the show was very positive and that's why when people say, 'Oh, you don't like talking about it.' It's like, No, I don't mind talking about it, I just don't really remember that time, and also everything I do remember was extremely positive."
2. 1993: According to the Los Angeles Times, Mario Lopez was accused of date rape by an 18-year-old woman. When that allegation was made public, another woman made similar claims about an incident in 1991. The case was dropped a month later due to lack of evidence for either accusation.
3. 1993: Lark Voorhies became engaged to Martin Lawrence, and according to Behind the Bell, he apparently was not so nice to her. 
4. 1994: Saved by the Bell: The College Years was cancelled after about half a season.
5. 1995: Tiffani Amber Thiessen and Brian Austin Green broke up, but not until after she got a role on his show Beverly Hills, 90210. A nice parting gift.

6. 1995: Show. Girls. Need we say more? We need a whole movie about that, Lifetime!
7. 2000: Elizabeth Berkley was the subject of a $45 million lawsuit against Leonardo DiCaprio for a 1998 alleged attack on Berkley's then-boyfriend Roger Wilson. According to ABC News, Wilson claimed that DiCaprio "incited" his friends to attack Wilson after Wilson allegedly had confronted the actor about phone calls to Berkley, who was dating and living with Wilson at the time. The case stayed open until 2004, and ultimately was dismissed.
8. 2001: Dustin Diamond filed for bankruptcy.
9. 2004: Mario Lopez married Ali Landry, and their marriage was annulled two weeks later after alleged infidelities on Lopez's part. He admitted to some cheating at his bachelor party in an interview with Howard Stern. Pictures were taken of him with another woman, and Landry's sister happened to see them.
10. 2004:  Leo DiCaprio was dropped as a defendant from the lawsuit involving Elizabeth Berkley. The case was ultimately dismissed.
11. 2006: Dustin Diamond releases his own sex tape: Screeched – Saved by the Smell. That title should tell you all you need (and never wanted) to know about said tape.
12. June 2010: Mark-Paul Gosselaar divorced Lisa Ann Russell after two kids and 14 years of marriage, and she later remarries Jeff Probst.  In a 2012 interview with Larry King, Probst revealed that Gosselaar's kids often refer to Probst as "Dad." 
13. 2011: Lark Voorhies published "True Light: A, superior, take, unto, the, premier, haloing, of, tenuation. Readily, available, True Light, provides, resource, into, time's, motifed, and, vestuved, authenticate, revelation."  The book is mostly spiritual nonsense, and every, word, is, followed, by, a, comma.
14. February 2013: Today staged the most awkward mini-reunion ever when Dennis Haskins randomly surprised Tiffani Thiessen during her appearance.
15. June 2014 :Lifetime announced The Unauthorized Saved By the Bell Story, set to air in September, to be based mostly on Behind the Bell and we had such higher hopes. Sigh..