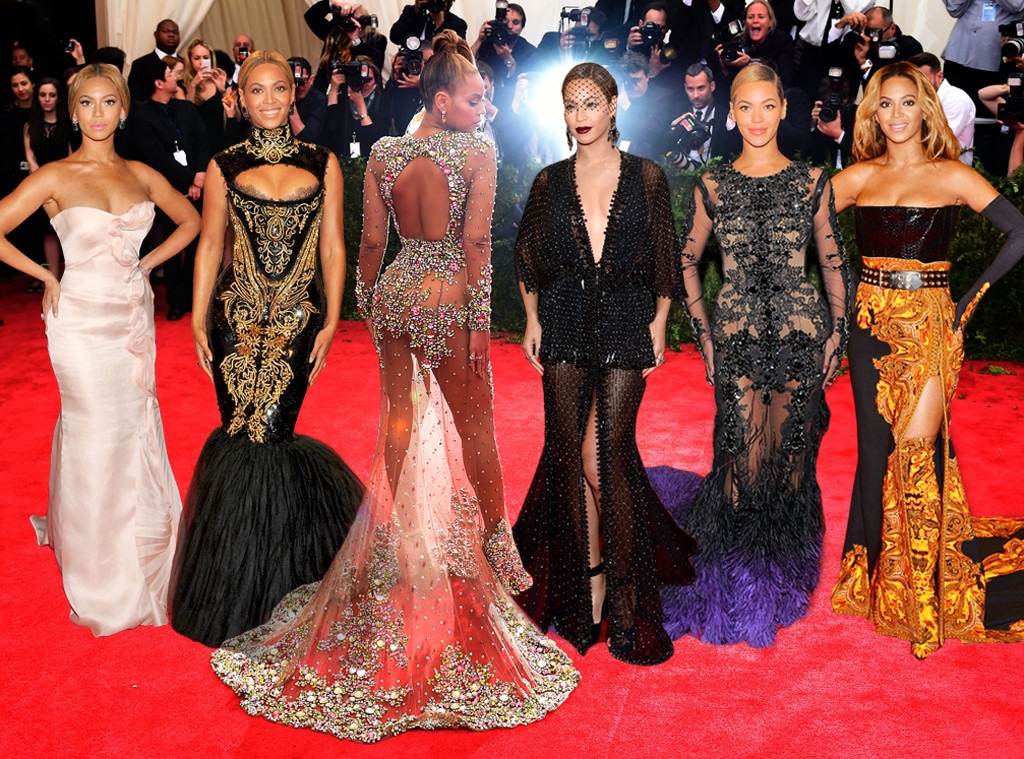 Getty Images
Beyoncé started attending the Costume Institute Gala at the Metropolitan Museum of Art just like anybody else.
Well, not just like anybody else. She's Beyoncé after all.
But back when she went to her first Met Gala, in 2008, it was just another appearance, albeit a primo A-list, black-tie, super-fabulous outing, the Anna Wintour-chaired event attracting the crème de le crème of the fashion and entertainment world to the Met year after year.
Beyoncé showed up, she took pictures, she partied, she went home.
But since then, the annual gala has turned into a Beyoncé touchstone, the innocuously timed event somehow coinciding for the last few years with major moments in Beystory (you know, history, but with Bey). And the whole history of her attendance at the Met Gala also happens to coincide with the duration of her marriage—and whether that marriage will continue to endure couldn't be a hotter topic of conversation as we are, once again, just hours away from another Met Gala.
Let us start at the beginning:
Stephen Lovekin/Getty Images
There she was on May 5, 2008, a newlywed of a month, in an almost-boring light pink strapless Armani Privé gown—all the more of a head-scratcher because that year's theme was Superheroes: Fashion and Fantasy.
Apparently she went in Clark Kent mode.
This was still Dreamgirls Beyoncé, the one who played second fiddle to Jennifer Hudson both theatrically and vocally. Five months later she would be "Single Ladies" Beyoncé and I Am...Sasha Fierce would reinvigorate her image (and then some).
Larry Busacca/Getty Images
Sure enough, she was just so darn busy that Bey didn't return to the Met Gala until 2011, happily in an Emilio Pucci dress more fitting her stature for Alexander McQueen: Savage Beauty.
And speaking of fitting her stature, the fishtail on her meticulously embroidered gown was so fitted, she needed Jay Z and stylist Ty Hunter's help getting up the stairs. Meanwhile, though no one knew it yet, she was a wee bit pregnant with Blue Ivy, who would arrive the following January.
Larry Busacca/Getty Images
In 2012, for Schiaparelli and Prada: Impossible Conversations, Beyoncé trotted out what would become two of her Met Gala signatures: A late arrival and a lot of skin. She did both, not deciding to go until the 11th hour—and when she did, it was in a striking Givenchy Haute Couture number that gave new meaning to the term "rear view." When she ascended the stairs this year, any lucky stragglers got an eyeful of her perfect butt and had to keep their distance thanks to the train of blue feathers.
Dimitrios Kambouris/Getty Images
By now it's just become old hat that Beyoncé will be at the Met Gala. Wouldn't miss it for the world!
Her second straight Givenchy ensemble was again one of the most talked-about looks of the night, the grommet-studded belt a smart little nod to the 2013 theme, Punk: Chaos to Couture, and the gloves and thigh-high boots a welcome nod to badass women everywhere.
It was all so simple then.
Dimitrios Kambouris/Getty Images
Thinking about it now, of course, Jay Z staging a mock proposal when one of Beyoncé's rings slid off on the red carpet in 2014 is downright weird.
Once again, they were the last couple of note to arrive, so they had the spotlight to themselves, Bey looking like the most glamorous femme fatale you ever did see in another strategically sheer Givenchy creation, this one with matching headpiece.
Alas, the spotlight never went away because 2014 was, of course, the year that Solange Knowles gave Jay Z a piece of her mind—using her hands and feet—in the elevator of The Standard Hotel in NYC while Beyoncé looked on.
A source told E! News after the fact that Solange was furious at her brother-in-law for looking too chummy with designer Rachel Roy—the ex-wife of Jay's Roc-a-Fella Records co-founder Damon Dash and then a friend of Solange's.
The 2014 Met Gala and its aftermath thereby became inextricably linked with the biggest mishap (at the time) to publicly mar Beyoncé and Jay Z's storied union. The Carter-Knowles family did an exquisite clean-up job, however, releasing a joint statement acknowledging the "unfortunate" incident and assuring inquiring minds that they were dealing with it and moving on. Bey and Jay's front remained united, the doting couple embarking on their On the Run Tour a month later and continuing their jet-setting ways with Blue Ivy. They all attended Solange's wedding that November.
Bey told Jay, "I love you deep," during her Grammys acceptance speech for Best R&B Performance for "Drunk in Love," featuring her husband, in 2015.
But three months later, it was time for the Met Gala again—and whether or not the couple would make an appearance ONE YEAR LATER was a secret up until the 11th hour.
Or until the Saturday beforehand, when E! News was first to report that Beyoncé would indeed be attending. And yet, the carpet began, the celebs began filing by and even as the ball was about to begin...no Bey. Whoops...
But just when we thought she had perhaps changed her mind (this guy was already eating his pizza), lo and Beyhold, there she was—first on social media, posing against a wall in true "get ready, get set, here I come" fashion. And then in person, Jay Z on her arm and not much fabric on her body.
Givenchy had once again done the honors, this time a sequined, nearly nude look that left nothing to the imagination, least of which being the platinum-selling artist's command of her own message.
Oh, you wanted to talk about last year? Talk about this instead. (As you wish...)
TIMOTHY A. CLARY/AFP/Getty Images
Fast-forward to tonight.
Once again, the Met Gala falls right in the middle of the biggest Beyontroversy since...the Met Gala two years ago!
There is no word that she is not going. Her Formation World Tour kicked off last week, but geographically—she performed last night in Atlanta and is due in Raleigh, N.C., tomorrow—it's feasible. She's on the right coast.
But is it madness this year, to go? Sure, all eyes are on her while she's performing, but that's work. With the taste of Lemonade still fresh on everybody's lips, every move she makes at the Met would just be so scrutinized, from whether she puts her wedding ring back on to, duh, whether Jay Z is there too. He hasn't always gone with her, but not going with her this year...
Or would it be just one more brilliant maneuver, right up there with her HBO special and album release, Beyoncé having the art of the reveal down to a science.
Considering the woman herself is behind the tongue-in-cheek Boycott Beyoncé merchandise, her perfect answer to those who object to the more politically minded Lemonade tracks such as "Formation" and "Freedom, " we're leaning on the side of brilliance.
Beyoncé has accepted her place in the world as an unequivocal superstar, but she insists on controlling the narrative. There's nothing that anyone can say at this point to keep her off, or compel her to, the carpet that she has owned for the past five years.
The only question is whether or not Beyoncé is in the mood. The stories will write themselves either way.