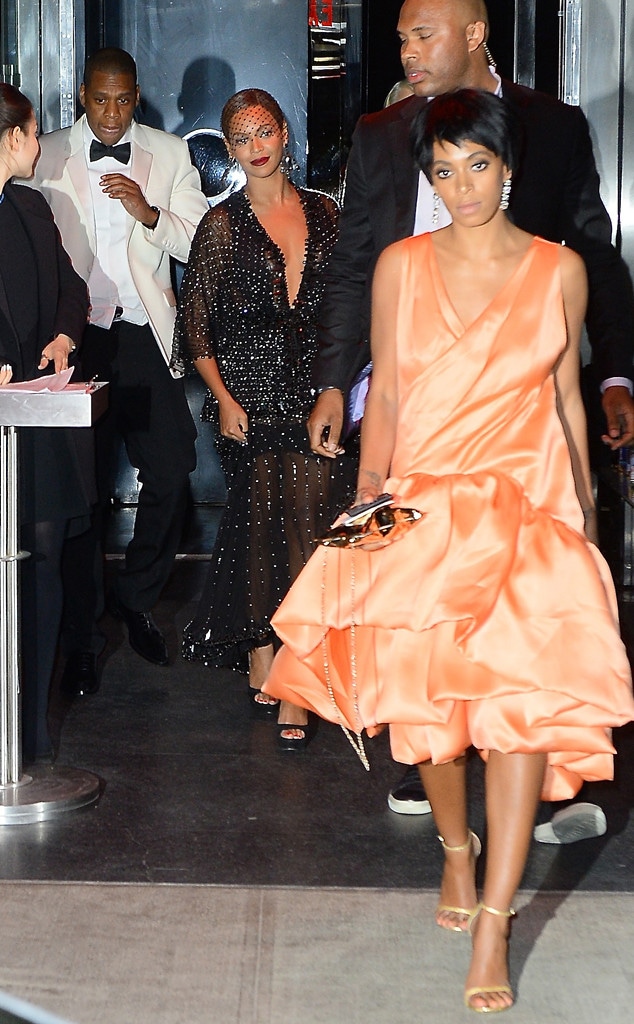 Splash News
And the fight goes on. 
Additional elevator footage, obtained by TMZ, shows what appears to be Beyoncé's younger sister, Solange Knowles, attacking Jay Z, throwing high-heeled kicks and powerful punches in a violent attack.
The shocking clip, which was recorded May 5 at the Standard Hotel after the 2014 Met Gala, shows a four people, presumably, Beyoncé, Jay Z, Solange and a bodyguard entering the elevator before the aggravated woman, who is presumed to be Solange, begins yelling at the gentleman in white (purportedly Jay Z) before launching into an attack.
She is then restrained by the larger man although she continues to try and kick and punch the man in white, while a woman who resembles Beyoncé stands motionless amidst the chaos before stepping in between the two in an attempt to intervene. 
The aggravated woman continues to yell at the man in white while the larger male appears to push the elevator stop button (presumably in an attempt to keep the nasty brawl from spilling into the lobby where onlookers could see what happened).
After the fighting subsides, the woman who is believed to be Solange appears to verbally attack the man in white while the other woman stands in between the two. The elevator doors then opens and closes a number of times before the woman dressed in black exists first and then, the two began to brawl yet again before finally leaving the elevator.
Following the video leak, the Standard Hotel has released a statement, vowing to take action for the security breach.
"We are shocked and disappointed that there was a clear breach of our security system and the confidentiality that we count on providing our guests," the hotel said in a statement obtained by E! News. "We are investigating with the utmost urgency the circumstances surrounding the situation and, as is our customary practice, will discipline and prosecute the individuals involved to our fullest capacity."
The brawl has generated endless Internet buzz and the hashtag #WhatJayZSaidtoSolange has even been trending on Twitter.
As for what went down after the fight?
The trio stayed at the hotel for a mere 45 minutes before exiting the bash. According to an eyewitness, Solange looked very upset on her way out and she was being barricaded by security to keep her away from Jay Z. She then entered a car with her sister, while Hov was taken to a different SUV.