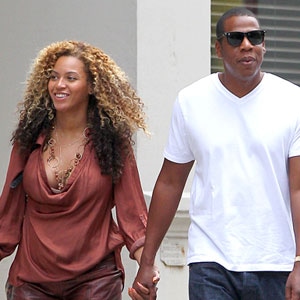 Splash News
We were so ready for this belly, and now we're so psyched to meet this baby!
Beyoncé and Jay-Z welcomed a daughter Saturday night in New York, the little one's arrival coming via scheduled C-section, mutliple sources confirm to E! News.
And the pop 'n' hip-hop princess' name? Drumroll, please...
Blue Ivy Carter! (At least that's what Jay-Z is telling pals at this point—the couple's reps have not immediately responded to calls seeking comment.)
Friend and music mogul Russell Simmons was among the first to celebrate the arrival, tweeting the new parents: "congrats to my good friends Beyonce and Jay-Z."
Rihanna gave baby Blue a warm welcome, tweeting: "Welcome to the world princess Carter! Love Aunty Rih."
Hey, we're happy to find out this much, considering Blue's parents didn't even confirm to the world that they were married until...Wait? Did they ever really confirm it? (Public records ultimately told the tale.)
Anyway, the "Crazy in Love" duo tied the knot in April 2008 after roughly six years of dating. Considering they waited another three years to have a baby, you can tell this is one couple that thinks things through!
Beyoncé memorably revealed that she was pregnant onstage at the MTV Video Music Awards in August.
And her hubby certainly seems to be in the right head space, telling E! News in November that he hoped to be the kind of father whose children could talk to him about anything.
"Your child could come to you and have any type of conversation. I always hope for that kind of open relationship," he said.
Just imagine the rap sessions father and daughter will be having a few years from now!