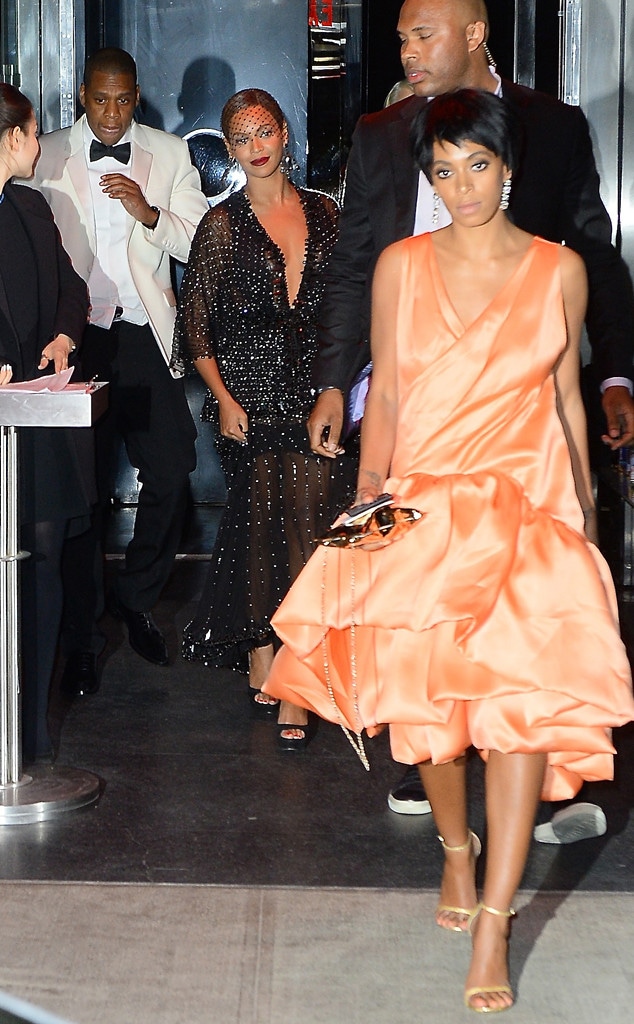 Splash News
We finally know what caused the heated elevator fight between Solange Knowles and Jay Z on the night of the 2014 Met Gala.
It turns out the family feuding, which was caught on tape and released earlier this week, occurred on the night of Monday, May 5, because Beyoncé's man got a little too close with designer Rachel Roy, who's the ex-wife of his business partner Damon Dash.
"At the gala, Rachel was being flirtatious with Jay," a source exclusively tells E! News. "Once everyone was at the Boom Boom Room for the after-party, her flirtations were elevated."
"Beyoncé approached Rachel to let her know the behavior was disrespectful and she wanted her out of their lives for good," the source goes on. "Solange came over to have her sister's back, and things got heated with her and Rachel. Jay said some disrespectful things to Beyoncé and Solange as the confrontation was going down. That's why all hell broke loose in the elevator and why Beyoncé just stood back and let Solange hit Jay."
The elevator brawl then occurred as the famous fam rode the Standard Hotel's elevator downstairs to leave. The whole shocking brawl was caught by a surveillance camera.
Regarding the aftermath, the source says, "Solange's primary residence is now in New Orleans, not Brooklyn. She is in [New Orleans] getting back to her normal life: being a mom, taking her son to school and trying to get on with it."
As for Bey and Jay, the music industry power couple was spotted just days after the fight enjoying a Brooklyn Nets game together. And this past Sunday, Bey went to a calm Mother's Day brunch with daughter Blue Ivy.
Yesterday, the Standard Hotel announced that the employee who leaked the elevator video had been fired for "breaching the security polices of the hotel and recording the confidential CCTV video."
Roy's camp didn't immediately repond to E! News' request for comment, but her ex Dash did tweet an interesting message after Solange's attack. "I am actually impressed with her independent spirit, she seems like a fighter," he wrote earlier this week.