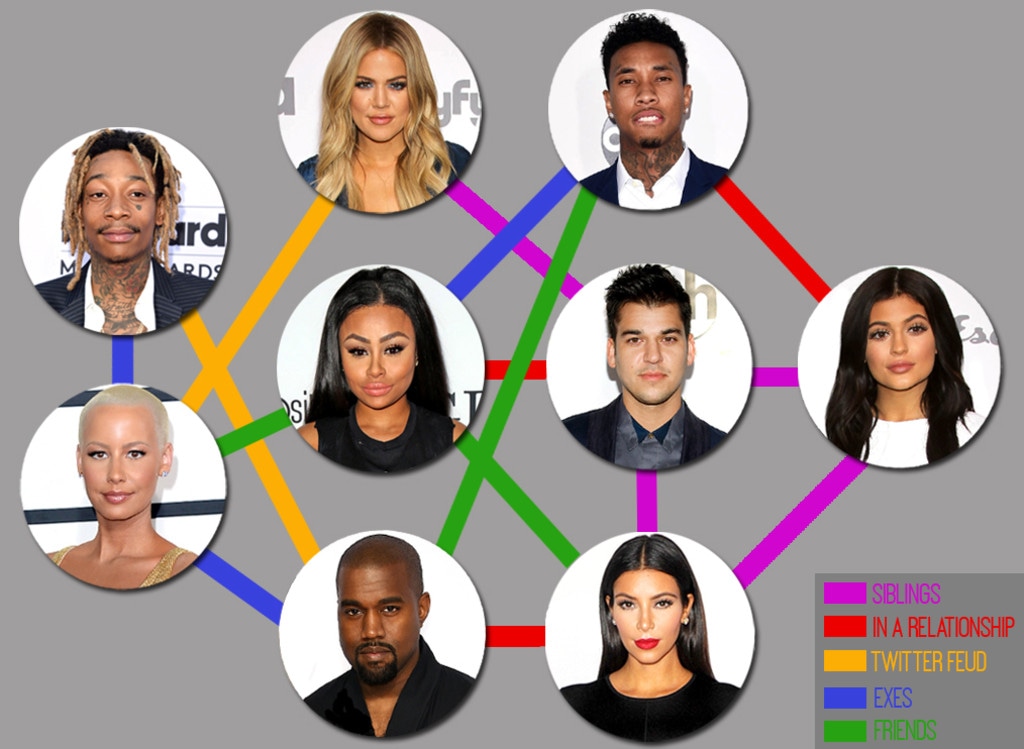 E! Illustration
You presumably have questions about this whole Amber Rose business, and why it was such a deal that she hung out with Kim Kardashian yesterday.
And it just so happens, we've got answers.
Fans of graphs and flow charts have been up their elbows these past nine days (we know, it seems like longer) in drama, ever since Blac Chyna revealed herself to be Rob Kardashian's new paramour—which would have been enough of a revelation in and of itself. But the fact that Rob is dating his sister's off-and-on boyfriend's ex didn't remain the only issue at hand for long.
Instead, a Twitter showdown between Kanye West and Wiz Khalifa that started over music ended up being too much for Wiz's (and Kanye's) ex Amber Rose not to dive into as well—which, as it has in the past, quickly devolved into more strong words between her and Kanye.
And while we don't really think there are any coincidences in this situation, the nastiness did get kicked up a notch due to a misunderstanding.
Classic rom-com stuff.
So without further adieu, here are the answers to your burning questions:
Who is Amber Rose again?
Fast-forward to now and the How to Be a Bad Bitch author is a red carpet standout (for better or worse); a mom; and, increasingly, an activist whose mission is to remind society that so-called "slut-shaming" and other forms of bullying are a foul, foul business. But before...
Thanks to her relationship with Kanye West that lasted from 2008 till 2010, the model, music-video muse and former stripper reached a new level of visibility. Once they broke up, it was up to her to keep the fame momentum going and she did just that, via social media, racy style choices and various appearances. She and rapper Wiz Khalifa started dating in 2011; got engaged in 2012; welcomed their adorable son, Sebastian, in February 2013; and tied the knot that July. Unfortunately they split up a year later and it got ugly, though more recently it appears that they're maintaining civility as co-parents.
Have Kim Kardashian and Amber ever had much interaction in person before last night's peace summit?
No. Aside from Kim having to witness the occasional Twitter feud between Amber and her sister or Amber and Kanye, she's stayed above the fray when it comes to public interaction with her hubby's ex.
Who struck the first blow in this leg of the feud?
See, Kanye thought Wiz was dissing Kim last week when Wiz referred to "kk." Wiz actually was referring to weed, but Kanye turned it up to 11 and got personal with Wiz, tweeting that the "See You Again" rapper "let a stripper trap" him and Wiz "wouldn't have a child" if not for Kanye. Enter stage left: Amber Rose, who tweeted at Kanye to never mention her baby again.
Once Kanye saw the error of his ways, however, he promised to "never speak on kids again" in such a situation. Kim's hubby also just tweeted that he and Wiz talked yesterday and had a "great convo."
Why does this have anything to do with Blac Chyna?
Well of course Blac Chyna also has a history of friendship with Amber Rose. The world is approximately made up of 16 people, after all. When Blac and Tyga's son, King, turned 3 in October, Amber Rose wasn't at the party (which was attended by Kanye West, who brought North West, and Kourtney Kardashian and her kids), "Auntie" Amber was one of those who wished King a happy birthday on social media. And she and Blac are still tight, hanging out just last night after Amber's meeting with Kim.
Meanwhile, Blac Chyna used to be close with Kim. She and Tyga attended Kim and Kanye's wedding together back in July 2014. But when she and Tyga broke up later that year, it was Amber who became Blac Chyna's fiercest supporter—which inevitably turned into Amber not being Kylie Jenner's biggest fan once Kylie and Tyga got close.
And we're hearing that Kylie's trying not to bother herself with the whole Rob-and-Blac-Chyna thing, but that the family is not happy.
But why is it such a big deal that Kim and Amber Rose hung out?

OK, from the beginning: One of Kylie Jenner's actual biggest fans, of course, is sister Khloe Kardashian. And you bet Khloe went to bat for Kylie back in February 2015, when Amber called Kylie a child on a radio show. "3 sides to EVERY story," Khloe tweeted. "His, hers and the truth. I'm not passing judgment but I wish others would do the same until they have FACTS."
Amber then launched into the whole family on Twitter, including Kim, prompting Kanye—who's also close with Tyga—to say on a morning radio show, "[Amber] is just soaking in the moment. Nobody feel compelled to do nothing. If Kim had dated me when I first wanted to be with her, there wouldn't have been an Amber Rose." He added: "It's very hard for a woman to want to be with someone that was with Amber Rose. I had to take 30 showers before I got with Kim."
Dimitrios Kambouris/Getty Images
Amber fired back on Twitter with: "After all these years I never snitched on u and I don't plan on starting now. We once loved each other so I won't do u like that. I'll leave that up to the Kartrashians to humiliate u when they're done with u." 
She later explained a few months later, "I feel like everything was extremely misunderstood. Listen, I met Kylie before, she was actually a really sweet girl, I was very surprised as to how nice she was to me. And I wasn't coming at Kylie. I was coming at Tyga on behalf of my best friend, Blac Chyna."
Starting to sense a theme here...
And why was Amber linked to Scott Disick?
Seriously, because people can't get enough, Amber hanging out a couple of times in a group that included Scott and following him on Instagram turned into rumors that they were dating—all while this business with Wiz and Kanye (and Rob and Blac Chyna) was unfolding. She set the record straight last week, saying on the Allegedly podcast, "We've never hung out together alone or nothing like that. We're not close. I don't know him like that." Moreover, she is now following both Scott and Khloe on Instagram.
So who wins?!
Well, right now, Kim's holding court. She had never waded into any of the Twitter feuds, so she pretty much swooped in and won the whole thing, inviting Amber Rose over for a chat-and-selfie session and pretty much ensuring that any future comment from Amber won't be because Kim and her family aren't willing to let bygones be bygones.