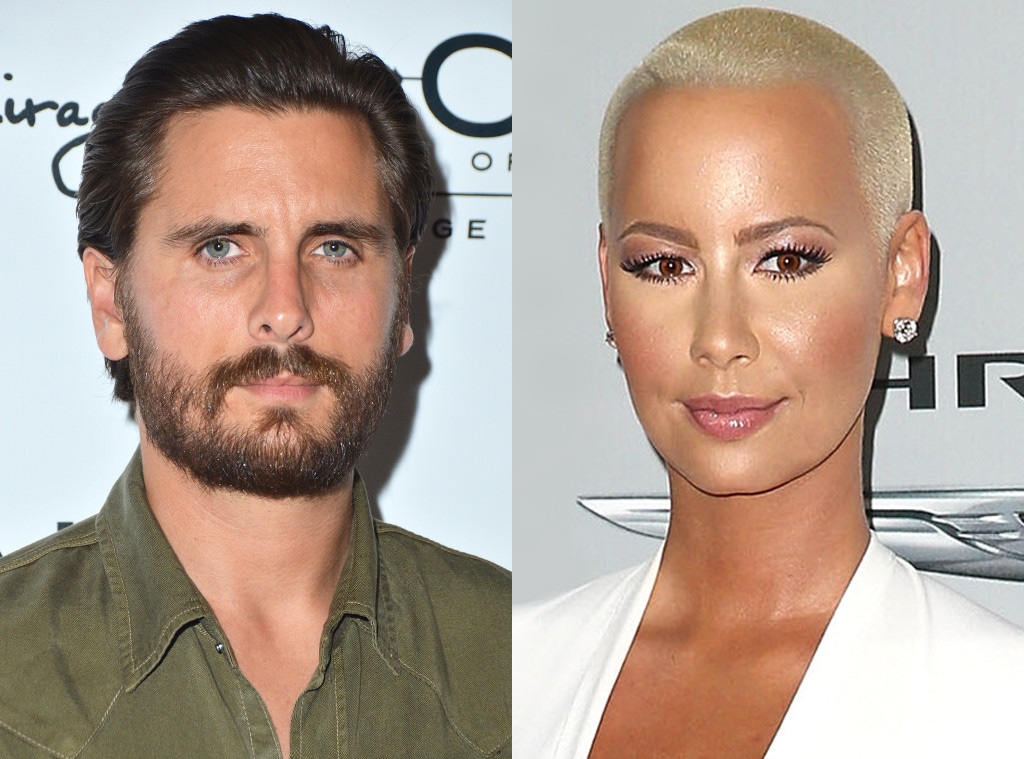 Getty Images
Amid the drama that got stirred up between Amber Rose, Kanye West and Wiz Khalifa this week, there were also a few rumors circulating that Muva Rose has been hanging out with Scott Disick…romantically.
Not only did the model start following Kourtney Kardashian's ex on Instagram, but she was also spotted hopping onto a private jet with him, Chris Brown and French Montana a few days later. Not to mention, the timing is impeccable, considering Rose's BFF, Blac Chyna, just started dating Rob Kardashian. (We'll let you untangle that web again really quick).
However, during an interview on the Allegedly podcast with Theo Von and Matthew Cole Weiss Thursday afternoon, Rose swears up and down that there's absolutely nothing going on between her and Disick.
"That is so not true," she told the hosts. "Ok, this is the thing with Scott, which is really unfortunate because I didn't want to be in that messy situation, I met him three times. He's a really cool guy. I met him through mutual friends. We've never hung out together alone or nothing like that. We're not close. I don't know him like that."
She continued, "But I was like, you know, I'm very positive. I started following Khloe [Kardashian] on Instagram, and I was like let me follow Scott, too. He's a really nice guy. [Then rumors started with] Amber's dating Scott…and then Chyna's dating Rob so then that's why Amber follows Scott."
She said she started following Scott several days before any news of Chyna and Rob even began circulating.
"No, I'm not dating Scott. I don't really know him that well. And it's f--ked up because it's like, when you try to be nice, you can't be nice. [People think] you're being petty."
Rose says she's "technically single," though she is dating and even admitted that she might have a Valentine. She also isn't set on settling down with anyone famous—especially musicians—ever again.
"I feel like I'm done with musicians because of the lifestyle—the late night studio sessions," she revealed. "I need something different. I would possibly date an actor, maybe try an athlete. I would try a normal guy, if it's the right thing. They don't have to be famous. I'm all about chemistry and feelings. If it's chemistry then I'm just going to go with it."
AP Photo/Jeff Bottari; Ser Baffo/Getty Images
Her BFF Chyna, on the other hand, has settled down. Though news of Tyga's ex-fiancé dating Rob surprised the world earlier this week, Amber can't help but just be happy for them both. 
"I think if people are happy then that's what's most important. Period," she said during the podcast, noting how Chyna has been a good influence on Rob's life. "They're working out. Chyna is cooking healthy meals for him. It's a really, really good vibe."
And it appears Rob also has the stamp of approval from Rose, too.
"Man Rob is the coolest guy you'll ever meet in your life," she gushed. "He's realistic, you know. He's an amazing person. And it's sad that people don't really get to see that. He's just down to earth… and just, just cool. Like he gets life. He gets it."
Hear her full interview on the Allegedly podcast here.