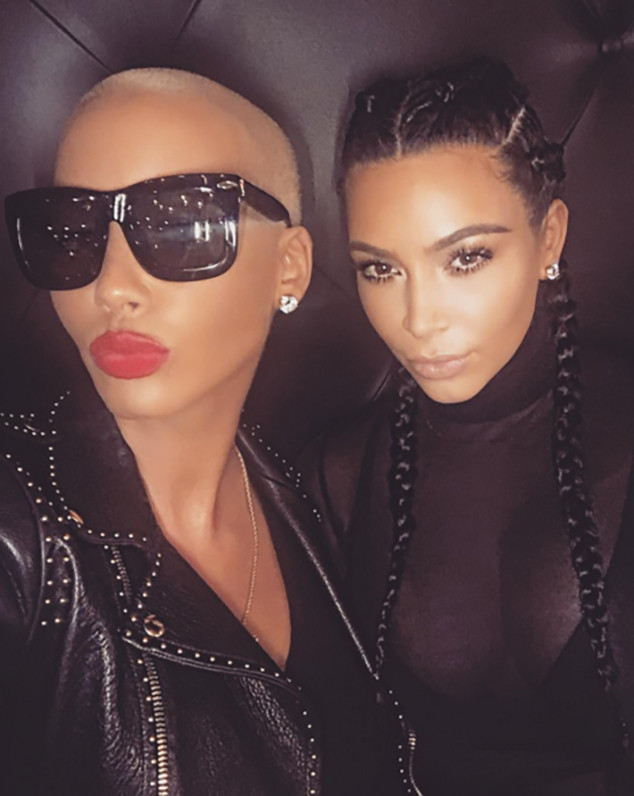 Instagram
As the adage says, you should keep your friends close and your enemies closer. But for Kim Kardashian and Amber Rose, it looks like they'd rather let bygones be bygones.
Even though Kanye West and Wiz Khalifa got into an all out Twitter battle last week over 'Ye's forthcoming album, Waves, it seems the significant others (past and present) are staying out of it. Kanye's wife and the glamour model are choosing to ignore their husbands' feud and instead are moving on with their lives.
Both Kim and Amber posted the same selfie—different filters, of course—very early Tuesday morning, proving they have no issues despite the awkward cyber war of last week. "Tea anyone?" Kim captioned her photo, while Amber simply wrote, "swingers."
"Kim called Amber directly and squashed this beef once and for all," a source close to Amber tells E! News.
Later in the evening, Amber was seen partying at AOD, where BFF Blac Chyna, who is dating Rob Kardashian, was hosting a party. As you might recall, the Kardashian sisters do not approve of Blac and Rob's relationship.
The "sisters are livid about their relationship and not supportive of it at all," another source shared with E! News.