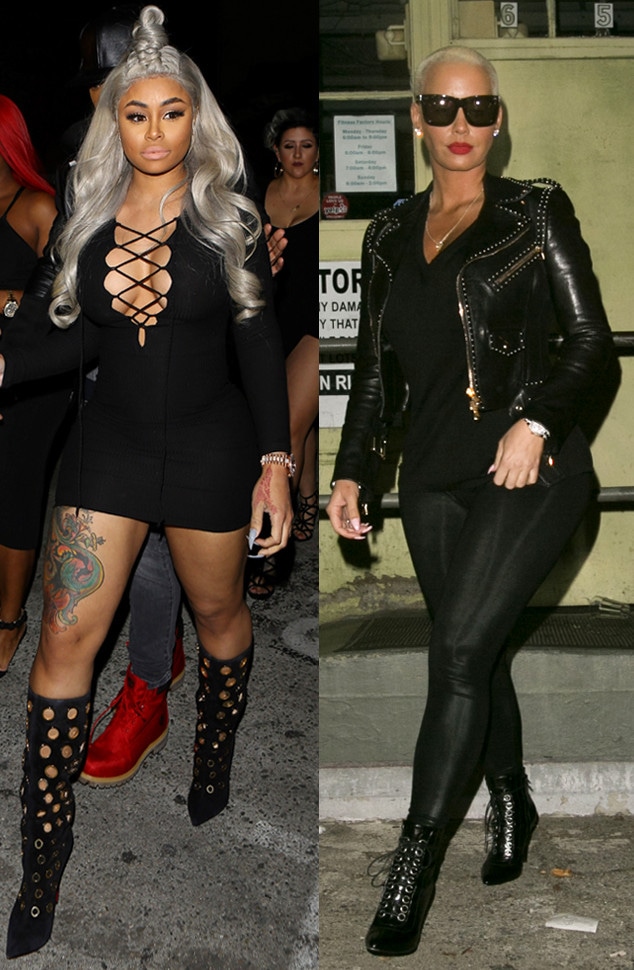 AKM-GSI; Holly Heads LLC / Splash News
Amber Rose had quite an eventful Monday night!
Not only did the model squash any beef by meeting up with Kim Kardashian (and taking an Internet-breaking selfie), she also joined her best friend Blac Chyna—aka  Rob Kardashian's new girlfriend—for a party at a strip club a few hours after.
Sources tell E! News Rose arrived at Ace of Diamonds strip club sometime around midnight and was joined by Chyna shortly thereafter. Both women "arrived with their entourage" and "sat at a private table with booze" where they threw "stacks of cash at women."
Chyna—who was arrested over the weekend for public intoxication—also shared a video from the night, dancing alongside her BFF and captioning the post with a simple heart emoji before they both eventually left the club, separately, around 2 a.m.
Though onlookers thought Rose may have showed up with Kim due to her wearing the same ensemble from their selfie together earlier in the night, there was no sign of Kanye West's wife.
However, that didn't stop Rose from discussing their meeting. Another insider tells us she was overheard talking about Kim at the club. "Amber was bragging to friends what a mature thing Kim did," the source revealed. "Kim called her up and invited her to her mom's house to talk. They squashed all beef and they really got along. Amber thinks Kim is great."
Despite the fact that Rose and Kim may have made amends, things still aren't entirely peachy between Chyna and the Kardashian-Jenner sisters after news broke last week that Tyga's ex is dating their brother.
The "sisters are livid about their relationship and not supportive of it at all," another source shared with us.
Not only do they think Chyna might be using him for all the wrong reasons, they also think Rob is betraying them. "All the sisters are united and think Rob is being disloyal. They want him to be happy, but they're just so over the whole thing."