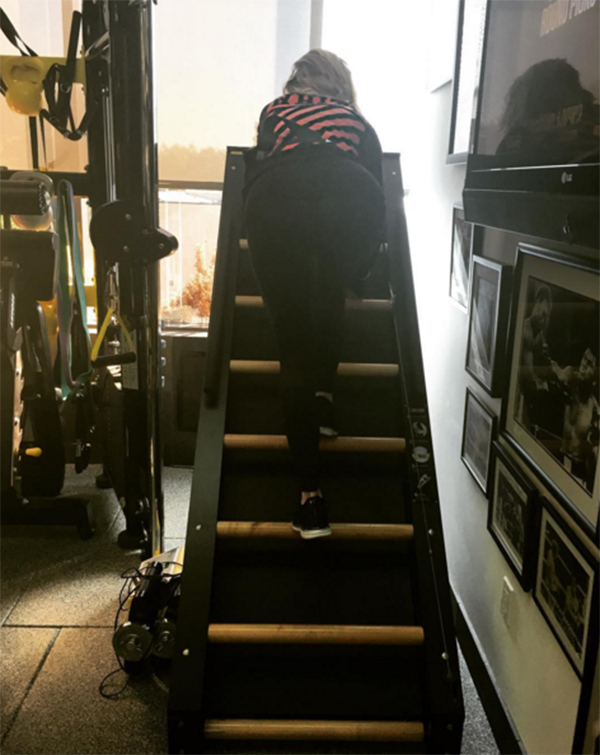 Instagram
Khloe Kardashian is determined to stay on track with her fitness regimen, no butts about it!
The 31-year-old Keeping Up With the Kardashians star had returned to the gym after vowing publicly after the Thanksgiving holiday to get back into shape. She had said she had not worked out since the beginning of October. That month, Lamar Odom was hospitalized for a drug overdose and Khloe flocked to his side. He remains in treatment and she still visits him frequently.
On Thursday, she posted on her Instagram page a photo of herself working out on a stair-climber machine in a gym, pictured from behind and showing off her black tights-covered backside.
"No elevators in the gym. Must. Climb. Stairs. (Or ladder) thanks @gunnarfitness," she wrote, referring to her personal trainer, Gunnar Peterson.
In an Instagram video, Khloe responded to a fan's question about her favorite "booty workout."
"The stairs are everything for your lower body," she said. "And you're sweating. It's a great cardio workout."
Khloe's sister Kourtney Kardashian, 36, had also posted a butt pic on her own page just a day earlier, showing her naked during a photo shoot, which is shown during this season 11 of Keeping Up With the Kardashians.