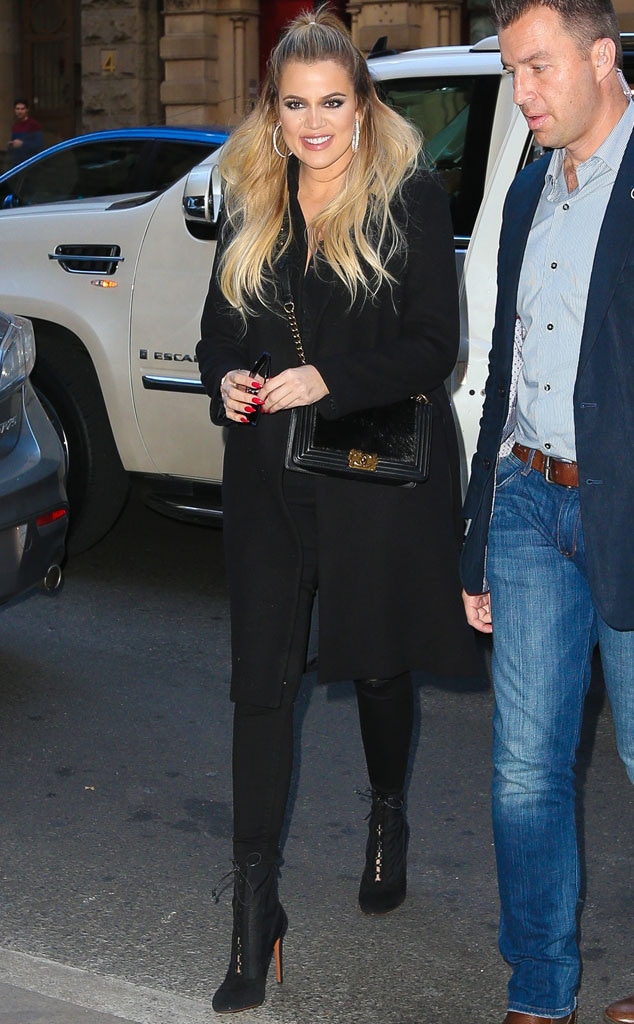 KHAPGG/AKM-GSI
Khloé Kardashian continues to shed pounds as she continues to "go hard" in the gym.
The 31-year-old Keeping Up With the Kardashians recently flew to Australia to promote the Kardashian Kids clothing collection. In radio and TV interviews, she talked about her weight loss journey and about Caitlyn Jenner's recent transition to become a woman.
On Thursday, she appeared on Nova 96.9 FM radio show Fitzy and Wippa, where she was complimented about her fitness regimen.
"When I'm in L.A., I go hard and I've lost like, 35 pounds," Khloe said. "I don't really weigh myself."
The reality star had recently showcased a trim figure while posing with a weight on a sexy cover of Complex magazine.
"It's like, I know how I want to feel in clothes," she said. "And it does become addicting—once you start losing weight and seeing results, you're like, 'I wanna see more!'"
Also this week, Khloé spoke via satellite on the Australian TV show The Project about her and her family's response to Caitlyn's transition. Caitlyn chronicles her new life as a woman on the E! docu-series I Am Cait, which also features members of her family.
Almost two months ago, the Olympian and reality star, formerly known as Bruce Jenner, had revealed her female name and look in a Vanity Fair coverbearing the headline, "Call Me Caitlyn."
"We never got that opportunity, really [to say goodbye to 'Bruce'] 'cause we were always told, you know, different pieces of information, so the whole truth of everything was never really fully, you know, disclosed," Khloé said on The Project.  I understand how hard that has to be to tell everybody, your kids, what's really happening."
"We don't like to say that Bruce is gone, per say," she added. "We, my sisters and I, we will call Caitlyn 'Bruce' and we've been told that's completely fine and she doesn't take offe- she's told us we're allowed to call her any name we want to. 'Cause on the phone, when she calls me, it's the same voice as Bruce. If I'm not physically with her, it's hard to remember in the moment that I'm talking to Caitlyn, if that makes sense."
On the next episode of I Am Cait, the Olympian demonstrates her "best feminine voice" to Kim Kardashian and family friend Malika Haqq.
Caitlyn has said that of all her kids, Khloé had had the "toughest time" dealing with the news that she was transitioning into a woman.
Caitlyn met this week with her ex and Khloé's mom Kris Jenner , 59, marking the first time the two have seen each other since the transition. Kris was the last of the family members to see Caitlyn in women's clothes, following plastic surgery to make her look more feminine. Like Khloé, the Keeping Up With the Kardashians momager had also struggled with the news of her ex's transition.
"With Caitlyn, I mean, it's a beautiful thing that she's transitioned and that she's strong enough to have her own voice and wanting to make such monumental, beautiful moves and be that crusader to do so," Khloé told The Project. "But I think there was a hard time for the entire family, that we were all transitioning with her, but in front of an audience."
"We all got through it," she said. "That's completely behind us and we're just happy for her. We just want her to be happy. But there was definitely a moment that was really tough for all of us."
I Am Cait airs Sundays at 8 p.m., only on E!