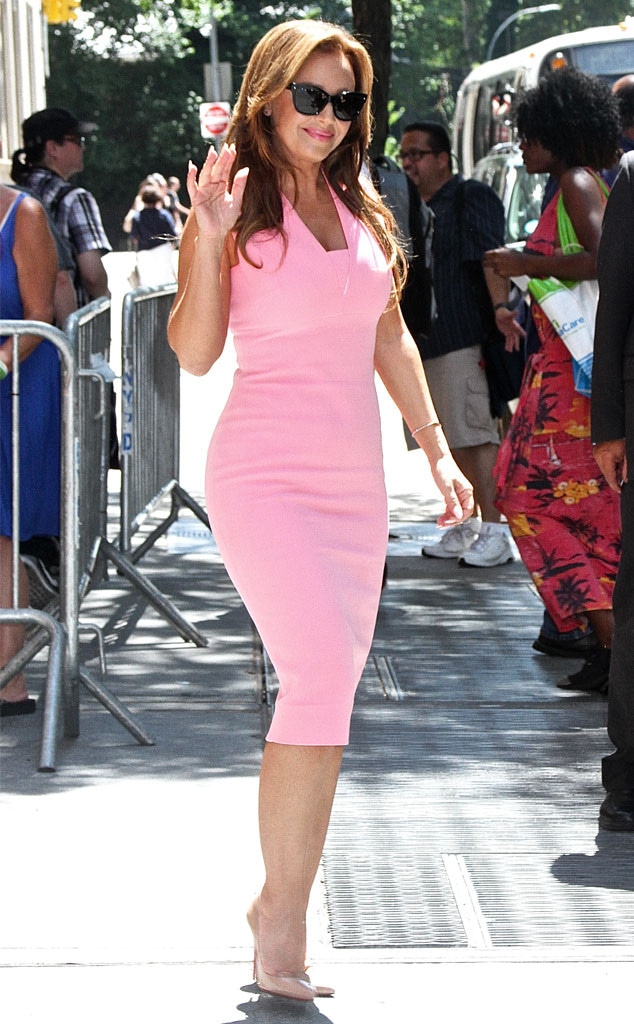 Fortunata/Splash News
There is no such thing as a famous former Scientologist penning a reminiscence of his or her experiences in the church and then...that's it.
Rather, whoever opts to open up—be it Paul Haggis or, most recently, Leah Remini—inevitably opens up a jumbo-size can of worms that invokes the names of current (often Tom Cruise) and former members and sets him or herself up for a scathing rebuke from the Church of Scientology.
Remini's memoir, Troublemaker: Surviving Hollywood and Scientology, is on shelves tomorrow. But before another person can request a comment regarding the reaction to the reaction about a comment made about the actress' interview about the book (etc.), here's a timeline of just how the latest years-in-the-making ex-Scientologist vs. Scientology feud came about:
• Leah Remini was born a Catholic but, from the age of 9, was raised a Scientologist.
• In July 2013, the King of Queens star publicly left the church. The major life change coincided with her appearance on the 17th season of Dancing With the Stars and she talked about her struggle while competing on the ABC reality competition. 
• Haggis, who prominently chronicled his own break from the religion in 2009 and would later be interviewed for Alex Gibney's 2015 HBO documentary Going Clear, called Remini "incredibly strong."
• In August 2013, she filed a missing person report inquiring into the whereabouts of Scientology leader David Miscavige's wife, Shelly. The church called Remini's move "harassment," telling E! News at the time, "It is a publicity stunt cooked up by a small band of unemployed  fanatics who live on the fringe of the Internet. The Church and the attorney for Mrs. Miscavige have already responded to this ludicrous claim." The LAPD investigated and subsequently closed the case.
• "We lost friends who can no longer talk to us who are still in the organization," Remini told Ellen DeGeneres in September 2013 about her and husband Angelo Pagán's exit. "But we have other friends, who are not in the church, who have stood by us and that's all we can ask for."
Denise Truscello/WireImage
• In February 2014, after Remini discussed wanting to leave Scientology so that her daughter would no longer be exposed to it, the church said in a statement, "It comes as no surprise that someone as self-absorbed as Leah Remini with an insatiable craving for attention would exploit her former faith as a publicity stunt by rewriting her history with it, including omitting that she was participating in a program to remain a Scientologist by her own choice, as she was on the verge of being expelled for her ethical lapses."
Jesse Grant / Getty Images for Life is Good
• In July 2015, the second season premiere of the TLC series Leah Remini: It's All Relative delved further into her break from the church. "If you make a stink in the public world, they call you a suppressive person, which means the church has put a stamp on you that says you are bad," Remini, whose daughter Sofia was born in 2004, says in the episode. "They then go to all your family and friends and say you have to disconnect from this suppressive person...I decided I didn't want to raise my daughter in the church because from what I've experienced and what I saw was the church becomes your everything. It becomes your mother, your father, your everything. You are dependent on the church."
• The church again touched on Remini's supposed self-absorbing ways in a statement responding to the episode: "It comes as no surprise that someone as self-absorbed as Leah Remini continues to rewrite history and exploit her former religion in a pathetic attempt to get ratings for her cable show and seem relevant again."
• Doing press for her book in October, Remini opened up to 20/20 about her decision to leave the church after 30 years, and for the first time talked about her experience with Cruise and his then-significant other Katie Holmes (who reportedly embraced some of the church's teachings during her marriage but then cut ties after she and Cruise divorced). "I know what my former Church...how they deal with people who tell their story," the former co-host on The Talk and occasional DWTS guest co-host said in the interview. "And so I wanted to be the one to say it."
Rogers & Cowan/Robert Evans
"It was some galactic confederation," Remini summed up the church's philosophy in her own words. "There was a war and there was a volcano and they bodied, you know, they took the spirits of people and they encased them into something, into a volcano, blew them up and then those spirits are now inside of you, on you, in you, like you are made up of these things.
Recalling how she and her salsa-dancing-expert husband were invited to Cruise's home to teach him some salsa steps, the actress told 20/20 that the Mission: Impossible star was "like forcibly kissing Katie and I said, 'Hey, get a fricking room.' And well, I was written up for that, and I had to go into session for it."
She also said in the interview that she was asked to invite her close friend Jennifer Lopez to Cruise and Holmes' 2006 wedding to bump up the Hollywood-star power.
Jeffrey Mayer/Getty Images
• Before Remini's interview aired, when ABC News reached out to the church for a statement, they reiterated their litany of issues with the "self-absorbed" star. A portion of the lengthy statement read: "Leah Remini knows the truth she conveniently rewrites in her revisionist history. The real story is that she desperately tried to remain a Scientologist in 2013, knowing full well she was on the verge of being expelled for refusing to abide by the high level of ethics and decency Scientologists are expected to maintain."
• Cruise, who tends to never comment on these Scientology issues as they bubble up from time to time, has once again not offered any comment.
• Katie Holmes, however, did break her silence via a statement first released to ABC News and then shared with other outlets: "I regret having upset Leah in the past and wish her only the best in the future."
• Remini has since responded to Holmes' response, recalling on Good Morning America today, "At the time, I was fighting with her. Now, I know really what she was going through...It's really because we both left that we're able to have this kind of grace towards each other because we're back to being human."