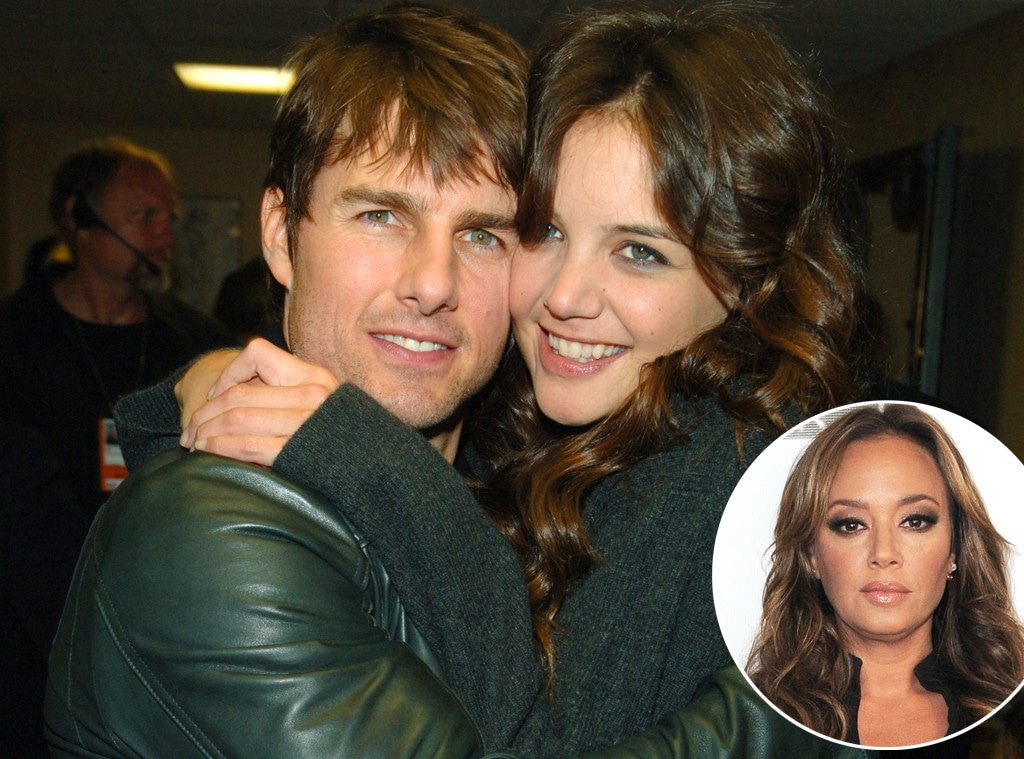 Getty Images
Leah Remini is continuing to open up about her time as a member of the Church of Scientology and recently revealed what sounds like an awkward moment between Tom Cruise, the organization's most famous member, and then-girlfriend Katie Holmes.
The 45-year-old New York City-born actress, best known for her role on The King of Queens, was raised within the church when she was a child, years before she moved to Hollywood. She made headlines when she left the religion in 2013. She has been talking more about her experiences recently, as she promotes her new memoir, Troublemaker: Surviving Hollywood and Scientology, which is set for release on Nov. 3.
In an interview on ABC News' 20/20, which airs on Friday at 10 p.m., Remini said an official from the Church of Scientology called her one night and told her, "Tom wants you to come over and teach him salsa dancing."
She said she and her husband Angelo Pagán, a fellow actor who used to be in a salsa band, traveled to Cruise's home, where they saw the actor with two high-ranking church officials and Holmes, his new girlfriend at the time.
"He was like, forcibly kissing Kate," Remini said. "I said, 'Hey, get a frickin' room,' and I was written up for that." 
Remini told 20/20 that Church of Scientology members regularly write "knowledge reports" about fellow members, even relatives, if they supposedly break a rule, and these people must then be "audited."
"I wrote Angelo up all the time," she said.
Remini, who remained friendly with Cruise for years during her time in the church, also told 20/20 that being critical of the actor is "being critical of Scientology itself," adding, "You are a person who is 'anti' the aims and goals of Scientology. You are 'evil.'" 
Cruise, 53 has not commented about Remini's remarks. A rep for Holmes, 36, said in a statement the actress regrets "having upset Leah in the past and wish her only the best in the future."
The Church of Scientology International said in a statement Remini "needs to move on with her life instead of pathetically exploiting her former religion, her former friends and other celebrities for money and attention to appear relevant again."
"I wish I too could get over 30 years of this quickly," Remini said. "Unfortunately, it's going to take some time."
Rogers & Cowan/Robert Evans
Cruise and Holmes began dating in 2005, during which he famously declared his love for her on The Oprah Winfrey Show, in which he jumped on her couch with excitement. Holmes, who like Cruise was raised Catholic, became a Scientologist shortly after the two began their relationship. They welcomed daughter Suri in April 2006 and wed seven months later. Remini attended their star-studded Scientologist wedding in Italy.
The couple divorced in 2012. Holmes has since left the Church of Scientology and rejoined the Catholic Church.
Remini and her husband, who were also both raised Catholic, share an 11-year-old daughter, Sofia. Remini has said her child is the main reason she left Scientology after some 30 years. This summer, Sofia got baptized in the Catholic Church, where the family celebrated "new beginnings."