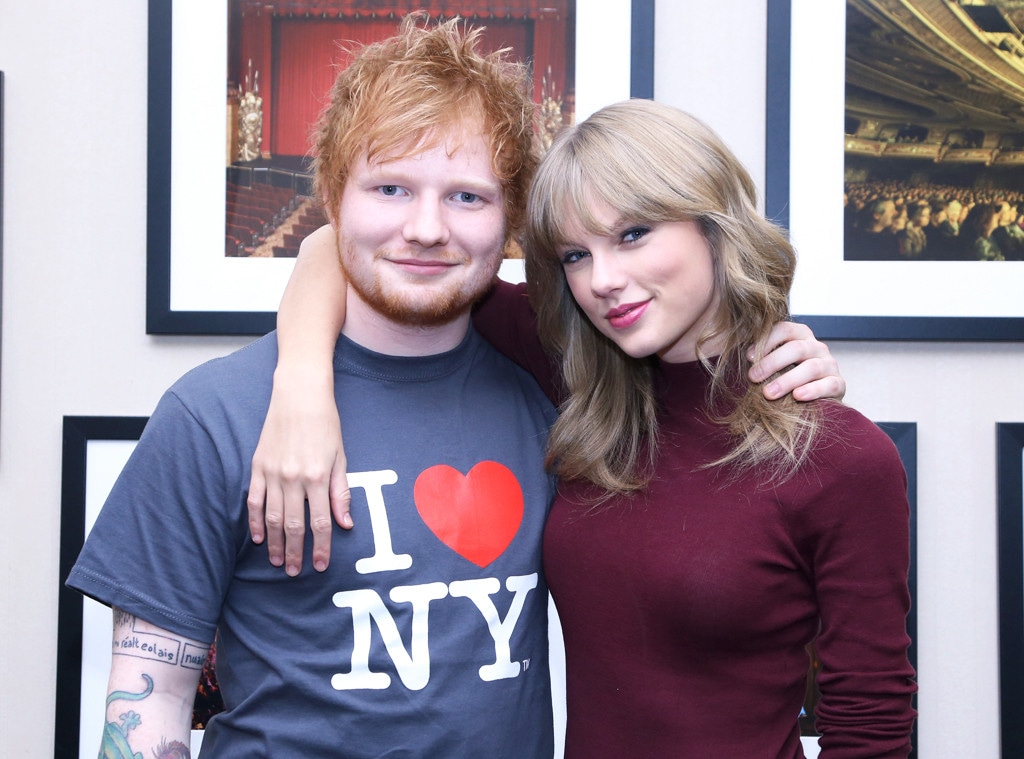 Anna Webber/Getty Images for Atlantic Records
Ed Sheeran is officially on Taylor Swift's team.
(Like that was even in question!)
In an interview with Australia's The Daily Telegraph Thursday, the singer-songwriter commented on his friend and former tour mate's recent Twitter misunderstanding with Nicki Minaj over the rapper's apparent snub in the Video of the Year category at the MTV VMAs. "I think everyone knows that Taylor has done nothing wrong in that situation. She didn't nominate herself for the awards. It's not her fault," Sheeran said. "She just made some good videos and people think they're good."
Sheeran's "Thinking Out Loud" is nominated for Video of the Year at the MTV Video Music Awards. Contenders include Beyoncé ("7/11"); Kendrick Lamar ("Alright"); Mark Ronson and Bruno Mars ("Uptown Funk"); and Swift ("Bad Blood").
In her initial tweets Tuesday afternoon, Minaj wrote, "If your video celebrates women with very slim bodies, you will be nominated for vid of the year. Oh but trust me. I'll be on that stage to collect my awards for vid of the year. Feeling Myself & Anaconda." She never named Swift specifically, but the pop star assumed the rapper's rage was directed at her. In an Instagram caption Wednesday, Minaj once again said her rant had "nothing to do" with Swift or "any of the women" nominated, "but everything to do with a system that doesn't credit black women for their contributions to pop culture as freely/quickly as they reward others. We are huge trendsetters, not second class citizens that get thrown crumbs."
Larry Busacca/Getty Images
It's a good thing she clarified her tweets, as Sheeran didn't quite understand. "I think the Minaj point is a bit redundant. Her point is that you have to be skinny and white to get a video of the year nomination, but Beyoncé's '7/11' is in there and that is celebrating the female figure in every form," the singer said.
Long before Katy Perry inserted herself into the Twitter war, Mars jokingly started a feud with Sheeran to lighten the mood after Minaj and Swift's misunderstanding. "I've been wanting to do that for ages with someone but there isn't any one that I know that I cannot have to text them to tell them that this is actually a joke," he said. "When I saw Bruno do that, I knew he was joking and I know if I say anything I won't have to text him and ask him if he's offended by it with the short jokes."