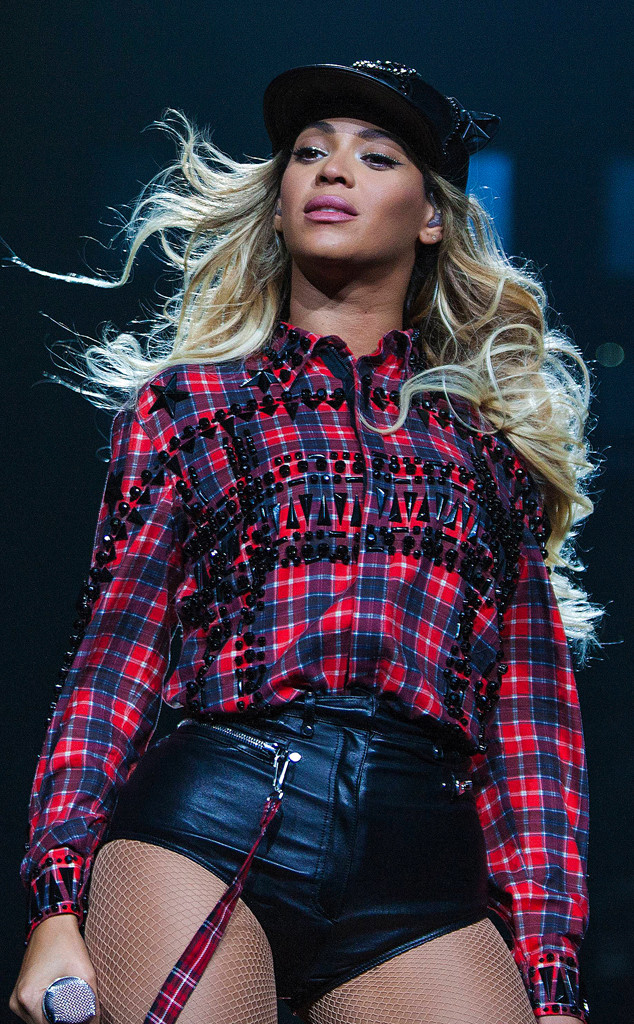 Rob Hoffman/Invision for Parkwood Entertainment/AP Images
She may have dropped her über-successful, self-titled album out of the blue in late 2013, but Beyoncé was at the top of her game in 2014.
The Grammy winner was all over the headlines left and right over the last eleven months, and she even managed to balance her impressive career with her personal life all while traipsing around the globe for her world tour with her handsome hubby Jay Z.
So without any further ado, let's all take a look at some of Queen Bey's biggest moments of this past year... 
Kevork Djansezian/Getty Images
1. A Drunk Debut: Bey made her first performance post-album release a special one: opening up the 2014 Grammy Awards alongside Jay Z and making made the Bey Hive (and everyone else, let's be honest) go nuts. Who could forget the first time we saw Jay grabbing his wife's booty up on stage? Or the singer's seriously sexy getup and dance moves? Correct answer: no one. 
2. Who Run the World? The music power couple took their romance on the road with their joint On the Run tour earlier this year. With multiple dates at arenas around the country, the concerts saw them performing all throughout the summer and well into the fall. The two even traveled to Paris to finish out their sold-out tour.
3. Cut It Out: Before Kim Kardashian was breaking the Internet, Bey was shutting down social media platforms across the board over her coif. Blue Ivy's mama showed off her closely-cropped 'do on Instagram and everyone went nuts. Truth be told, no one really saw much of the haircut in action, since she debuted several different hairstyles following the chop. But those pictures were worth a thousand words.
4. Say, What?! Even though the two were performing on stage together nearly every night for the better part of the year, the media still couldn't help but speculate over whether the Carters were heading towards Splitsville. But between the onstage PDA and love songs, these two just laughed the rumors off straight in the face without actually addressing anything directly.
5. What Goes Up, Must Come Down: You didn't think we'd go on making an entire list and just ignore that whole elevator situation, did you? Let's rewind to the Met Gala after party at the Boom Boom Room at the Standard Hotel in NYC, where Jay, Bey and Solange Knowles all headed into an elevator to make their way home. Their 18-floor descent was chaotic, to say the least, and video footage of the ride made its way online shortly after. The clip showed Solange hitting the rapper, while Bey stood and did her best to look the other way chill everyone out. The video was shocking, and gave insight into the family's off-stage versus their public image, but they smoothed things over days later with plenty of lovey-dovey pics and even a statement. Phew.
6. Missing in Action: Oddly enough, one of Bey's most talked about moments stems from her being completely absent at Kim and Kanye West's wedding in May. Neither she nor Jay made their way to Italy to celebrate their pal's nuptials, even though sources confirmed that they had been invited. Was there drama between the two couples? Was it shade? Or were they really just too busy to fit the lavish wedding into their schedules? Maybe we'll never know…
Mark Davis/Getty Images for MTV
7. 16 Minutes in Heaven: Remember when there was a Super Bowl at the Beyoncé concert? Yeah, that same kind of thing happened during this year's MTV VMAs. The songstress gave the performance of her career with a 16-minute medley of songs all before accepting the prestigious Video Vanguard Award—which was presented by Jay and Blue, obviously. Bey was overcome with emotion as her daughter clapped for her mama and congratulated her on the high honors. The entire production reminded us why our girl is in a league of her own!
8. If You Say So: Time magazine released their annual 100 Most Influential People issue earlier this year and gave their highest praise to none other than Yoncé. Other notable nominees on the list included Benedict Cumberbatch, Late Night's Seth Meyers, Oscar nominee Amy Adams, Oscar winner Matthew McConaughey, singer/producer extraordinaire Pharrell Williams, Scandal star Kerry Washington and former Disney darling Miley Cyrus.
9. Red Room Dance Party: Sure, everyone was hyped up about the Fifty Shades of Grey trailer release, but few were expecting a Beyoncé cameo! The singer's recorded a breathy version of her hit "Crazy in Love" for the soundtrack and played throughout the world's first glimpse at Anastasia Steele and Christian Grey. Uh oh, uh oh…
10. Lucky Number Seven: Just days before dropping the platinum box set version of her self-titled album, Bey shared a video with fans of her showing off her best dance moves to her new track "7/11." There's endless amounts of booty shaking, hip swiveling, 'tude and even a little appearance by miss BIC herself.
So there you have it, folks! Let's see if she can top 2014 next year!