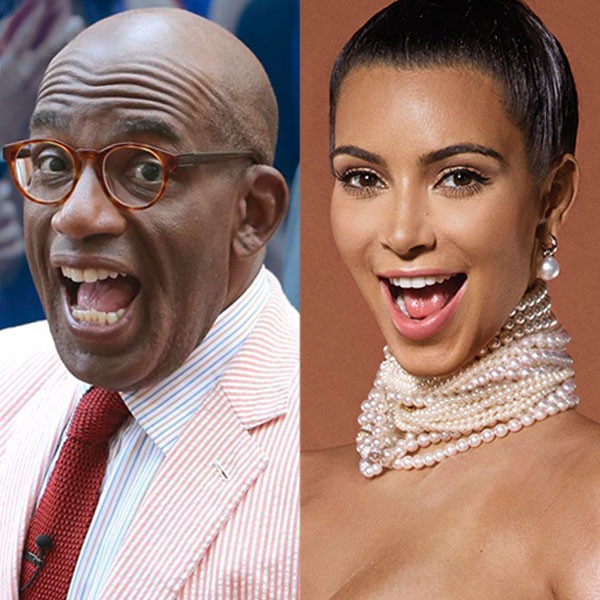 Twitter, Jean-Paul Goude/Paper Magazine
Kim Kardashian's naked butt tried to #BreakTheInternet, but Al Roker's 34-hour live weather report broadcast is trying to break a world record!
#Rokerthon is well underway, and as of Thursday morning, the Today show co-anchor's Guinness World Records Day attempt had ousted Kim's full-frontal Paper magazine pics as the top trending topic on Twitter.
Mr. Roker—who is fully clothed, mind you—began his live weather coverage at 10:05 p.m. E.T. Wednesday, and he'll be continuing non-stop until just after 8 a.m. E.T. Friday. He gets five minutes of break time every hour, which he can choose to bank (i.e., if he doesn't rest at all for four hours, he then has 20 minutes he can use consecutively to rest). He has to talk about weather for the entirety of #Rokerthon—this can be current weather conditions or weather seven days in the past or future, and two witnesses must be present at all times.
#Rokerthon is for a good cause—Al is asking his supporters to pledge their support via his CrowdRise campaign, which benefits our armed forces and United States Service Organizations (USO). Already, he's raised over $25,000.
Now, like Kim, Al is a big fan of the selfie. He's been tweeting out new ones after each hour of #Rokerthon, and he's showing no signs of slowing down!
Mrs. Kanye West's bod is still getting its fair share of attention, of course. #BreakTheInternet is currently the No. 2 trending topic on Twitter, and #FixTheInternet (obviously inspired by Kim's nude spread) is right on its tail.
Jean-Paul Goude/Paper Magazine
Show your support for #Rokerthon by donating to Al's Crowdrise campaign. Plus, make sure to watch Kourtney & Khloé Take the Hamptons Sundays at 9 p.m., only on E!
(E! and NBC are both part of the NBCUniversal family.)