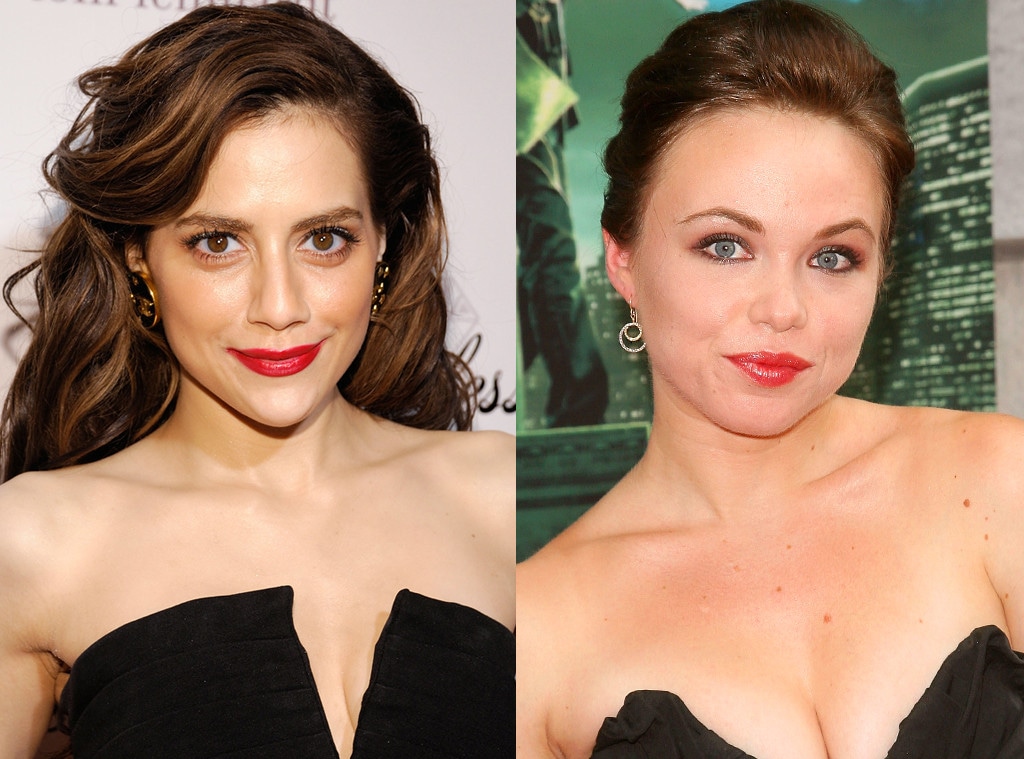 Michael Tullberg/Getty Images; Jim Spellman/WireImage
The father of Brittany Murphy is not happy about his late daughter being the subject of a Lifetime movie or about the actress chosen to play her.
The film, The Brittany Murphy Story, stars Amanda Fuller as the Clueless and 8 Mile star, who died at age 32 in 2009. The movie focuses on Brittany's personal struggles and circumstances surrounding her death and will show how her "Hollywood dream turned into a nightmare," according to the cable network. The casting of Fuller, who also plays one of Tim Allen's character's daughters on the sitcom Last Man Standing, was announced in August. 
"My daughter #brittanymurphy would be horrified to know who they chose to play her and how cheap it all is," tweeted the actress's dad, Angelo Bertolotti, whose Twitter username is @BrittMurphyDad, on Monday.
Lifetime and Fuller have not commented about his remarks. Bertolotti has also retweeted scores of users who have posted negative messages about Fuller's casting as well as photos showing her in sexual scenes, including a topless screenshot of her in the 2011 movie Creature. Bertolotti also paraphrased an article's headline in one tweet, which read, "Brittany Murphy defiled by @amandafuller27."
"I am disgusted and outraged that Lifetime decided to produce such a trashy project, defiling the memory of my beautiful, talented daughter, Brittany Murphy," he said in a statement posted in a story on Examiner.com, which he linked to in a tweet. "Frankly, I am amazed at their audacity of calling it 'a true story' without conducting any research or consulting with any members of the family. The Brittany Murphy Story is an affront to everything my daughter was in real life. It's hideous, unauthorized and completely untrue."
Brittany, a native of Georgia, began her on-screen acting career in 1991 with a guest role on Murphy Brown. Her breakout performance came several years later, when she who played Tai in the 1995 cult teen film Clueless. She would go on to star opposite Winona Ryder and Angelina Jolie as a fellow mental hospital patient in the 1999 movie Girl, Interrupted and also played Eminem's love interest in the 2002 film 8 Mile.
Brittany died in the master bathroom of her Los Angeles home in 2009 after suffering a cardiac arrest. Following an autopsy, authorities determined the cause of her death to be pneumonia, combined with iron-deficiency anemia and "multiple drug intoxication" from several prescription and over-the-counter medications. They also said it was accidental.
Two years later, Brittany's husband, screenwriter Simon Monjack, was also found dead at home. The 40-year-old passed away after battling pneumonia and anemia—just like his wife.
Last year, the actress's father, who was estranged from Murphy at the time of her death, commissioned additional forensic tests. The results did not rule out the possibility that the actress may have been poisoned while her mother dismissed suggestions of any foul play.
Brittany's final movie was the thriller Something Wicked. It is set for release in September. 
The Brittany Murphy Story is set to premiere on Lifetime on Saturday, Sept. 6, and also stars Twin Peaks alum and Ray Donovan actress Sherilyn Fenn as the actress's mother Sharon Murphy, and Karyn Moore of Twisted and Jane by Design fame as Clueless alum Alicia Silverstone. Watch a preview below.