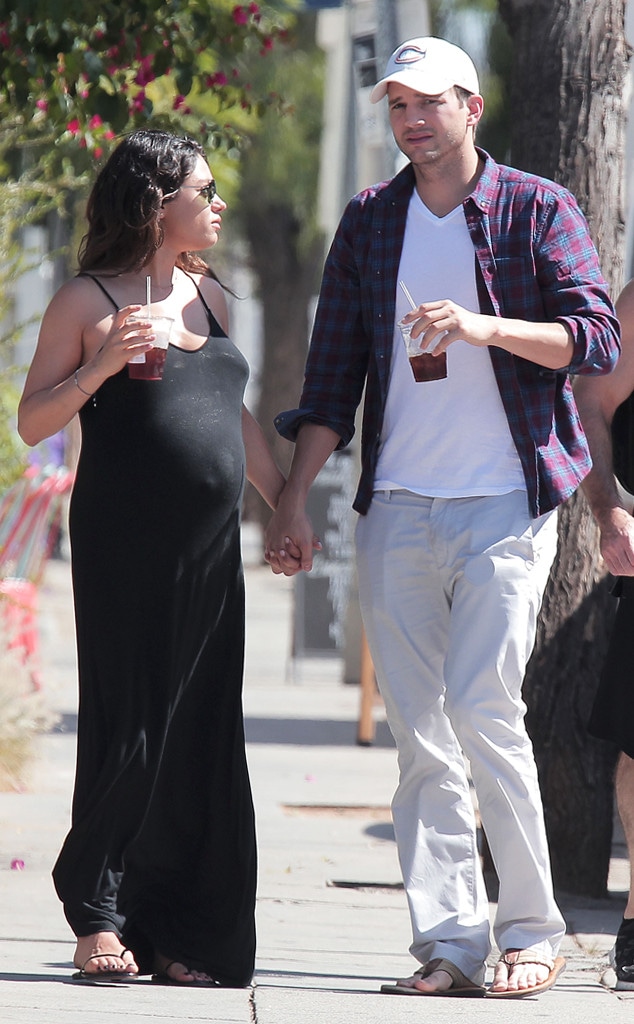 Gaz Shirley/PacificCoastNews
Mila Kunis and Ashton Kutcher are officially parents! 
The engaged couple and former That '70s Show co-stars have welcomed a baby girl, a source confirms to E! News.
Their daughter arrived early Wednesday morning at Los Angeles' Cedars-Sinai Medical Center. 
The two were most recently spotted walking their dog on an afternoon hike near their home in Los Angeles on Sept. 27, with a very pregnant Kunis holding hands with her husband-to-be.
And earlier this month, Kutcher revealed on Twitter that he was anxiously awaiting the arrival of his little girl, saying, "Nervous is excited's victim sister."
In the days and weeks leading up to the birth, Kunis had been spending some extra one-on-one time with her fiancé.
From late-night dinner dates to afternoon trips at the dog park, the couple truly savored the final weeks of pregnancy. 
"Ashton is not letting Mila out of sight. They are spending every moment together," a source told E! News shortly before the brunette beauty gave birth. "He can't wait."
The source added, "Mila is so excited about the baby. She's been really calm and chill about it all."
Her peaceful mindset may partly come from her regular yoga sessions she attended throughout her pregnancy. Days before she gave birth, Kunis was spotted at her regular class ready to get physically fit.
Research has suggested that prenatal yoga helps alleviate expecting mothers' pain and stress. Makes sense, right?
When she wasn't working on her fitness, Kunis was at home checking off items on her busy to-do list.
"She is making sure the house is prepared and the nursery is stocked," a source told E! News. "She's been very involved in everything. She really wants to be a hands-on mom."
Now that she has given birth, Kunis has one wish for her child.
"I just don't want my kids to be a--holes. I feel like so many kids nowadays are," she told Marie Claire. "Both of us just want to have well-behaved, honest, nice children who people meet and say, 'That's a good kid.'"
Big congratulations to the new parents! 
TMZ was first to report on the birth.