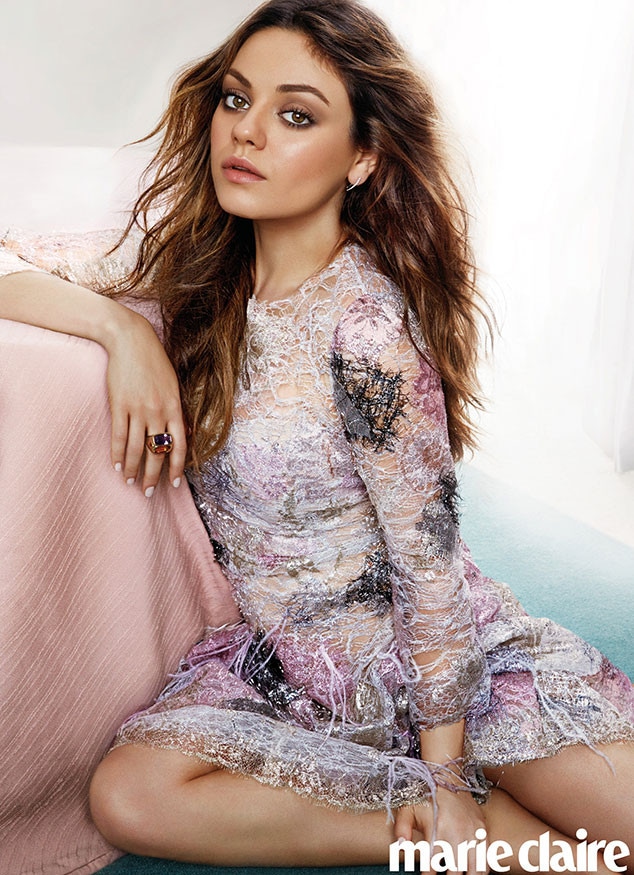 Tesh/Marie Claire
With a wedding in the works and a baby on the way, Mila Kunis is feeling chattier than ever.
Though she's been notoriously private about her personal life in the past, the Jupiter Ascending star opens up about her friendship-turned-romance with Ashton Kutcher in Marie Claire's July 2014 issue.
"One day, it just changed. All of a sudden, it wasn't the same," Kunis, 30, tells the magazine of her former That '70s Show co-star, 36. "And I was really proud of myself for acknowledging that."
After a two-year courtship, Kutcher decided to ask Kunis to be his wife a few months ago. "The best day of my life so far was the proposal," the Friends With Benefits star says proudly. "I cried. I was a mess."
"Not to discredit any relationships in my past," Kunis continues, "but this relationship is different."
Prior to this year, she says, "I was really good at saying no." Now, Kunis tells Marie Claire, "I decided I was just going to say yes to any opportunity that came, no matter how crazy. And it changed my life."
Kunis' life will change soon again when she welcomes her firstborn son or daughter with Kutcher. Rest assured, the Third Person star has already given her fiancé a few ground rules when she goes into labor.
"Two people are allowed in my delivery room: my doctor and my significant other," she reveals. "And [my future husband] is staying above the action. He'll be head to head. Not head to vag. Unless he wants to risk his life and see. But I wouldn't if I were him." Kunis graphically adds, "I highly doubt he wants to see that being ripped apart and shredded. Because it will be shredded. It's just a matter of how badly."
Until that day comes, Kunis is enjoying the perks of being pregnant—like having bigger boobs. "They're amazing! They've tripled in size. I was a 34A; now I'm a 36C. I'm so excited! I'm telling everyone I know, 'Go ahead, touch them!'" she says. "Without being an a--hole, I have to say, I love being pregnant."
What do Kunis and Kutcher hope for their future children?
"I just don't want my kids to be a—holes," she says. "I feel like so many kids nowadays are. Both of us just want to have well-behaved, honest, nice children who people meet and say, 'That's a good kid.'"