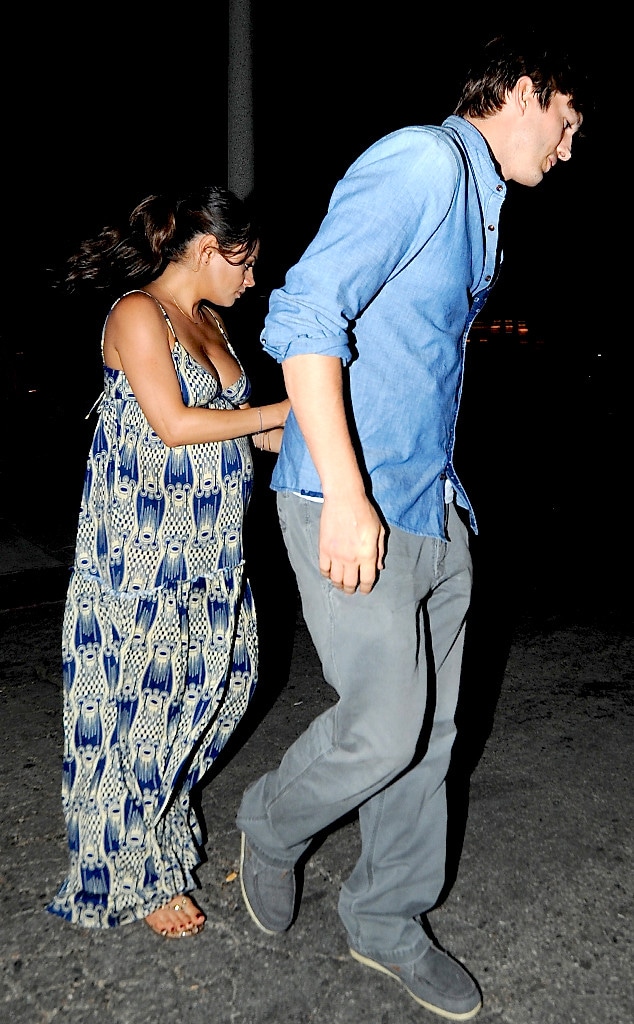 Vladimir Labissiere/Splash News
A little pre-baby romance never hurt anyone, right?
Ashton Kutcher and Mila Kunis stepped out Saturday night for a relaxing date night where they enjoyed a tasty dinner in Los Angeles.
Kunis had a true pregnancy glow while wearing a long, comfortable dress with flats. She also sported some bright nail polish and jewelry pieces. Kutcher also looked casual with pants, a denim button-down and sneakers.
The actor held his fiancé's hand tight as they headed to their designated car with photographers approaching nearby.
It's just one of the many ways Kutcher is caring for his leading lady as they gear up for baby No. 1.
"Ashton is not letting Mila out of his sight," a source recently told E! News. "They are spending every moment together. He can't wait!"
The That '70s Show co-stars have remained tight throughout the pregnancy. Whether enjoying late-night ice cream runs or some retail therapy for their baby girl, the couple is closer than ever.
It's definitely helped Mila remain so serene in the days leading up to the big delivery.
"Mila is so excited about the baby," an insider revealed to E! News. "She's not nervous at all. She's been really calm and chill about it all."
She's so chill that she continues to attend prenatal yoga sessions with her friends even though her due date is sooner rather than later. Her last session? Friday morning!
You go, Mila!