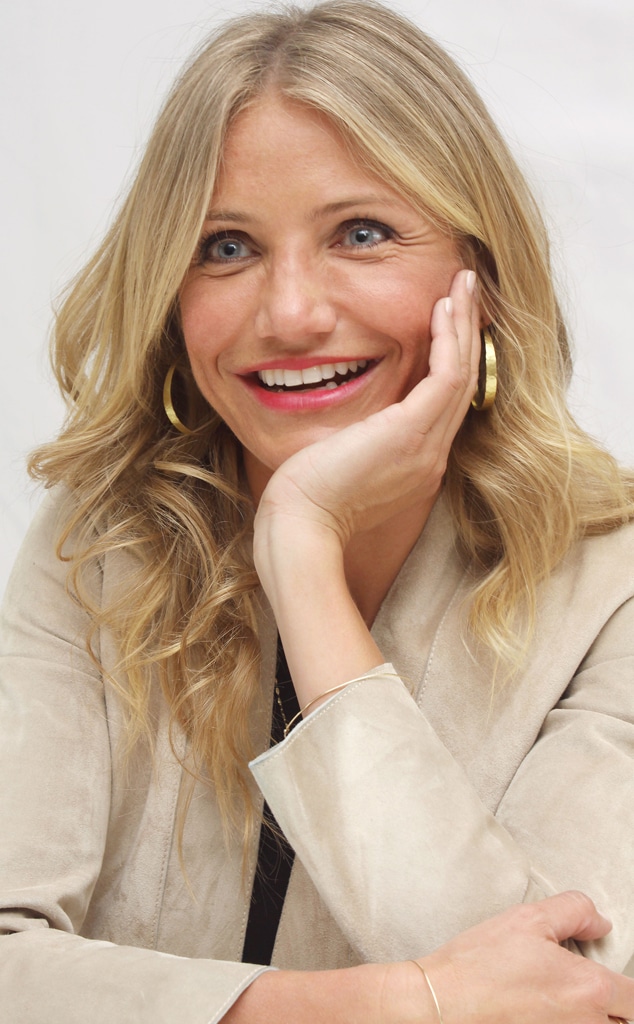 MUNAWAR HOSAIN /startraksphoto.com
The world's most famous bachelorette is off the market!
Cameron Diaz married Good Charlotte rocker Benji Madden at their home in Beverly Hills Monday. For years, she vowed that her happiness wasn't dependent upon whether she got married or became a mom. Thanks to Madden, Diaz changed her mind about the former—but will she reconsider the former?
Here, E! News revisits the Sex Tape star's quotes about motherhood, marriage and more:
Cosmopolitan U.K., July 2009
"I think women are afraid to say that they don't want children because they're going to get shunned. But I think that's changing too now. I have more girlfriends who don't have kids than those that do. And honestly? We don't need any more kids. We have plenty of people on this planet," Diaz said. Asked if she ever wanted to have kids, she replied, "I never say never. I don't know what's going to happen. I could end up adopting half a dozen kids, or I could end up being the next Octo-mom—who frickin' knows?"
Parade, May 2010
"I am a romantic. I love romance. I'm not afraid of commitment. I commit to everything I'm doing and I am hopelessly loyal. But I hate predicting the future, I really do, because you just don't know. I can't even make up my mind what I'm going to do this weekend," the Bad Teacher star said. "The mystique and the romance of a big wedding are lost on me. I don't think that I could ever do something that extravagant. I am not much of a planner. I would probably make the phone call 20 minutes before the bus leaves for the chapel and ask if anyone is available to come. That's probably how my wedding is going to end up."
Dimitrios Kambouris/Getty Images
Stylist, July 2010
"True love finds you. It's destiny, fate. There is someone out there you are meant to be loved by and you are meant to love, but I think the big misconception in our society is that we're supposed to meet [The One] when we're 18 and we're supposed to get married to them and love them for the rest of our lives. Bulls--t," said the star, whose exes include Jared Leto, Alex Rodriguez and Justin Timberlake. "Who would want to be with the same person for 80 years? Why not break it up a little bit? I think people get freaked out about getting married and spending 20 or 30 years sleeping with the same person but if that's the case, don't do it. Have someone for five years and another person for another five years. Life is long and lucky and yes, love might last forever, but you don't always live with the person you love forever."
Elle U.K., June 2011
"I think a lot of people are married to people that they're not romantic with anymore," the Shrek star said. "I just didn't ever marry anybody that I then had to get divorced from. We break up. We move on."
Maxim, June 2011
In regards to marriage, Diaz told the magazine, "I think we have to make our own rules. I don't think we should live our lives in relationships based off of old traditions that don't suit our world any longer."
Chelsea Lately, May 2012
"I just kind of like how things unravel and life kind of reveals itself to you. And I've just never been in the place where I was like, 'Right now is the time I'm supposed to have a baby,'" Diaz said. "But I do want my own family eventually, however that comes to me, whether it's through adoption or [some other way]."
Stephen Lovekin/Getty Images
Harper's Bazaar U.K., May 2012
"I'm not sitting there going, 'Oh my god, when am I going to get married? When am I going to have a baby?' I would be remiss if I was living my life wishing I had something other than what I have," the What to Expect When You're Expecting star said. "If one day I am blessed with the experience of having a child, I would be overjoyed, but I am not sitting here feeling empty because I haven't yet, or that I may not."
InStyle, May 2012
"Society definitely puts pressure on women to make them think their lives should go a certain way. I've never said I don't want children—I just haven't had children yet," Diaz said. "I don't know what's going to happen in my life! I could end up adopting children. I could end up with a partner who already has children. Who knows? I'm not trying to fit into anyone's box about how I should be. I just fit in my own box."
Anthony Harvey/Getty Images
Redbook, May 2012
"I thought I was going to be married and have two children by the time I was 21. I think I felt I had to model my life after my mother's. But then my career was starting to take off and there were still so many things I wanted to do," says Diaz, whose movies have earned more than $3 billion in total. "So that dream for me was shattered early on. After that I never put another time line on anything in my life."
The Telegraph, April 2014
"I've never said never to anything in life. If I wanted kids, at any point in life, I would have them. But I'm certain that if at any point I wanted a child, that child would find its way into my life, whether through adoption, or through being in a relationship with somebody who has a child. I can't see the future, but one thing I do know is that I'm not childless," the Charlie's Angels star said. "I have a ton of children in my life. I can have a kid any second, if I want. All my friends would be like, 'Sure, come and get them.'"
Jason Merritt/Getty Images
InStyle, May 2014
According to Diaz, marriage doesn't guarantee glee. "A lot of people chase after it because they've been told, 'This equals happiness.' They chase it, they get it, and they find out, 'Why did I think this was going to make me happy? I'm miserable!' I don't know if anyone is really naturally monogamous," she said. "We all have the same instincts as animals. But we live in a society where it's been ingrained in us to do these things."
Esquire, August 2014
"It's so much more work to have children. To have lives besides your own that you are responsible for, I didn't take that on. That did make things easier for me. A baby, that's all day, every day for 18 years. Not having a baby might really make things easier, but that doesn't make it an easy decision," the movie star said. "I like protecting people, but I was never drawn to being a mother. I have it much easier than any of them. That's just what it is. Doesn't mean life isn't sometimes hard. I'm just what I am. I work on what I am. Right now, I think, things are good for me. I've done a lot. And I don't care anymore."
Jamie McCarthy/Getty Images
Marie Claire, November 2014
"I'm not looking for a husband or marriage or not not looking for that stuff. I'm living, not thinking what I should or shouldn't be doing with my life."
E! News, December 2014
"I've never said never to anything. Believe me, I'll try anything once or twice or maybe even three times."
(Originally published on Wed., Jul. 2, 2014 10:05 a.m. PDT.)