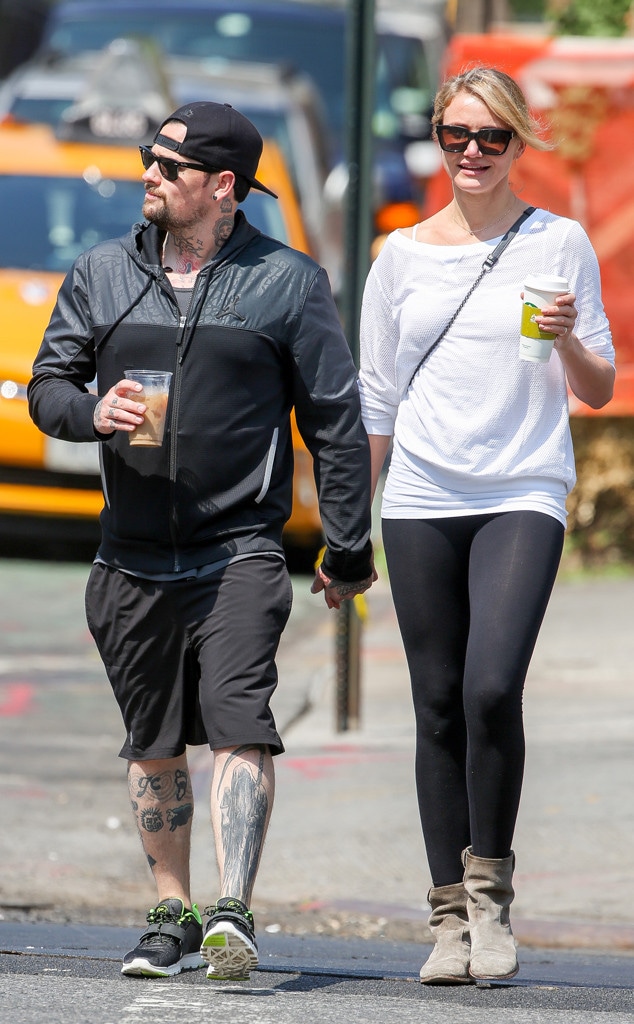 Dave Spencer/Splash News
Cameron Diaz and Benji Madden are married!
The couple tied the knot Monday night at Diaz's Beverly Hills home after a whirlwind courtship and blink-and-you-missed-it engagement. 
 All told, we hear that about 100 guests were in attendance and, while a massive tent was set up in the yard, the ceremony took place inside the house. Friends and family filed into the reception tent after the I-dos.
Word just got out today that the super-stealth duo were planning on taking the plunge, boggling more than a few minds since Diaz, 42, and Madden, 35, just stepped out as a couple (and an unconfirmed couple at that) last May. The Good Charlotte rocker popped the question a few days before Christmas.
But maybe they started planning when they met, because the big celebration didn't have the look of an 11th-hour affair. A source told E! News that Benji's sister-in-law, Nicole Richie, and Diaz BFF Drew Barrymore would be serving as bridesmaids, and Gwyneth Paltrow and producer Jeffrey Katzenberg were among the guests who were spotted arriving. Drew's hubby, Will Kopelman, arrived separately—which would make sense if his missus was busy getting ready with the bridal party.
So it sounds as though Diaz finally happened upon the right relationship, having lamented less than a year ago how people "chase" marriage because of the lofty ideal that it leads to automatic happiness. In hindsight, however, it certainly sounds as though Diaz's stance on the possibility of finding the Mr. Right was softening.
About  her own storied romantic history, the Sex Tape star told InStyle last spring that she was "grateful for all of it—whether it was something quick and passing or something that lingered too long.
"There is not one thing I've been through that hasn't been a lesson that led me to this moment, and I can't believe how great life keeps getting," she said.
And just last month, she reminded us that she had never said "I won't" when it came to saying "I do."
"You can just tell when people are good partners to one another and are kind to one another and compassionate and generous and thoughtful," she told E! News during the Annie junket just weeks before getting engaged, all warm and fuzzy when talking about couplehood in general.
"I think that's a really nice thing and you can see that," Diaz added. "Because you can also see what people don't think about their partners [laughs] and aren't kind, aren't generous. I think it's obvious. Those things are obvious."
As for her own future plans, whether she had any idea of what was coming or not, the actress said, "I stay right present, in the moment. I'm not the person, for whatever reason, I'm never projecting myself too far forward. I don't live in the past. I try to stay really present, right in the moment where I'm at...And so, I've never said 'never' to anything. Believe me, I'll try anything once or twice or maybe even three times."
And yet all it takes is once. Congratulations to the newlyweds!
—Reporting by Ken Baker and Baker Machado