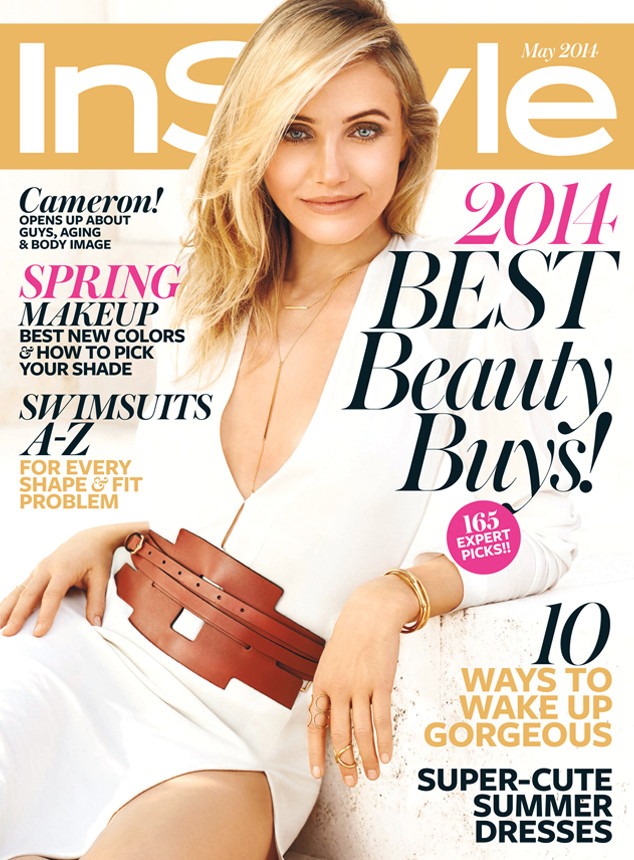 InStyle
Cameron Diaz has a message for all the single ladies: Don't get fixated on marriage.
"A lot of people chase after it because they've been told, 'This equals happiness.' They chase it, they get it, and they find out, 'Why did I think this was going to make me happy? I'm miserable!'" she shares in the May issue of InStyle magazine, adding: "I don't know if anyone is really naturally monogamous. We all have the same instincts as animals. But we live in a society where it's been ingrained in us to do these things."
Barry Wetcher TM and © 2014 Twentieth Century Fox Film Corporation
It's not that she's bitter, in fact, the actress tells the publication she is on good terms with all of her exes—which includes Justin Timberlake, Jared Leto, and Alex Rodriguez. "I'm grateful for all of it—whether it was something quick and passing or something that lingered too long. There is not one thing I've been through that hasn't been a lesson that led me to this moment, and I can't believe how great life keeps getting."
Life lessons seem to be the star's main focus at the moment. She just released The Body Book and has been promoting it around the country. "I truly believe when you don't understand your body, you forget how to be kind to yourself," she explained.
No topic is off limits for the 41-year-old and she has been very vocal about one in particular: Her avid dislike of laser hair removal. "Dye it blue if you want to. I'm just doing, like, a call to my ladies out there, saying keep your options open. Don't do it forever," she explains. "Besides, what happens when the new guy you're dating is like, 'Where'd it all go!?' Maybe he prefers a woman with some hair rather than a women who looks like a little girl."
Diaz seems to be thinking about the future a lot and not just when considering the effects of hair removal. "I'd love to go to space—it really is the next frontier," she tells the magazine and then goes on to say: "I swear to God this is why I love getting older, just being in the moment. Women are told if they don't defy nature and stay 25 for the rest of their lives, it's a personal failure. But I don't want to stay where I was. I don't' want to be stagnant.'"