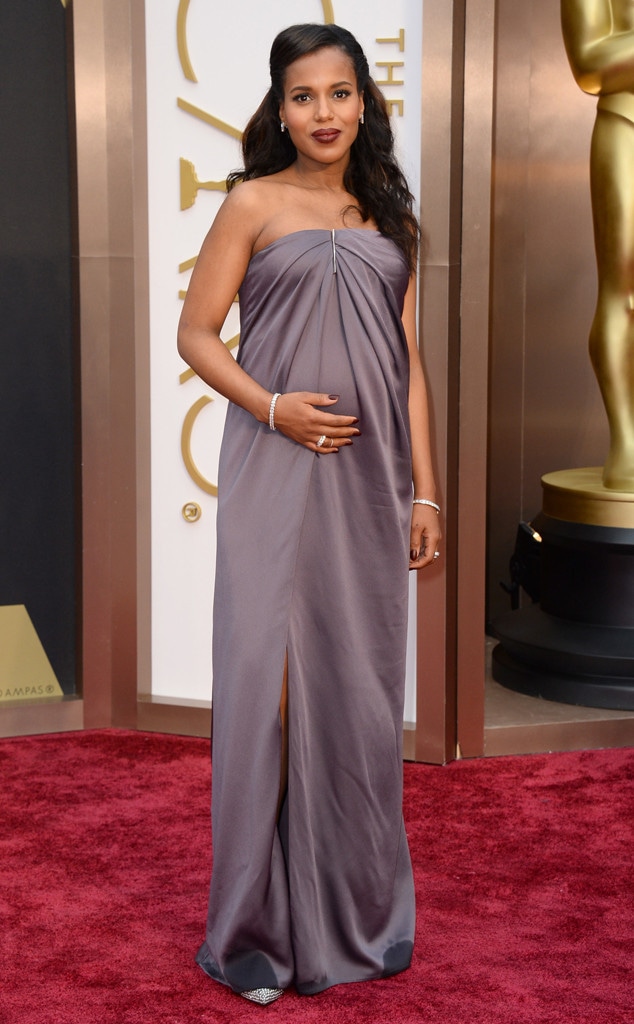 Jordan Strauss/Invision/AP
It's a girl for Kerry Washington and Nnamdi Asomugha!
The couple have welcomed daughter Isabelle Amarachi Asomugha, TMZ reported Friday. She is the first child for the Emmy-nominated Scandal star, 37, and the retired NFL player, 32.
And, vintage Washington: Her baby was born April 21 at Los Angeles' Cedars-Sinai Medical Center and no one was the wiser until now!
E! News was first to report that the couple had secretly tied the knot on June 24, 2013, in Hailey, Idaho. Washington's pregnancy was confirmed in October, but she declined to comment on it until January's Golden Globe Awards. Speaking to Ryan Seacrest on the red carpet, the Balenciaga-clad beauty pointed to her baby bump and said, "I also feel like I have the best date of the night, my little accessory here."
Jonathan Leibson/Getty Images for The Weinstein Company
In the coming months, Washington became slightly more forthcoming about her baby-to-be. "I look for that things that fit," the TV star said dressing her pregnancy curves. "That's the first rule—what fits."
Asked if she was experiencing any unusual food cravings, Washington politely declined to give any details. "You know, it's sort of like the rest of my private life: I'm not talking about it that much, but I feel really, really blessed," the SAG Award nominee told E! News. "It just feels like a really good time."
In February, Scandal creator Shonda Rhimes hosted a baby shower for Washington at her home in L.A.'s Hancock Park. Celebrity guests included the Washington's Scandal co-star Darby Stanchfield, plus fellow actresses Jane Fonda, Tracee Ellis Ross and Cicely Tyson. The garden party started at 11 a.m., with the guest of honor arriving shortly after, wearing a light blue dress and modest heels.
"She looked beautiful and had very little makeup on," a source said. "She was with her mom, Valerie, and was met by several family members inside." Fonda blogged about the event, writing, "I hadn't seen Kerry since she was pregnant and as soon as I saw her with her gorgeous belly I starting crying."
Washington continued to work on Scandal throughout her pregnancy. Because her character, Olivia Pope, is not pregnant, the actress concealed her baby bump with large purses, oversize coats, etc.
Season three's episode order was cut from 22 to 18, likely to accommodate her pregnancy.
After production wrapped, the Django Unchained star eschewed the spotlight to privately prepare for the arrival of her firstborn. What kind of parent will Washington be?
"She's already a mom. She already mothers all of us. She's very Olivia Pope to us, making sure we're all taken care of and happy," Stanchfield told E! News in January.
One can only assume that Washington's little girl will also inherit her sense of style!