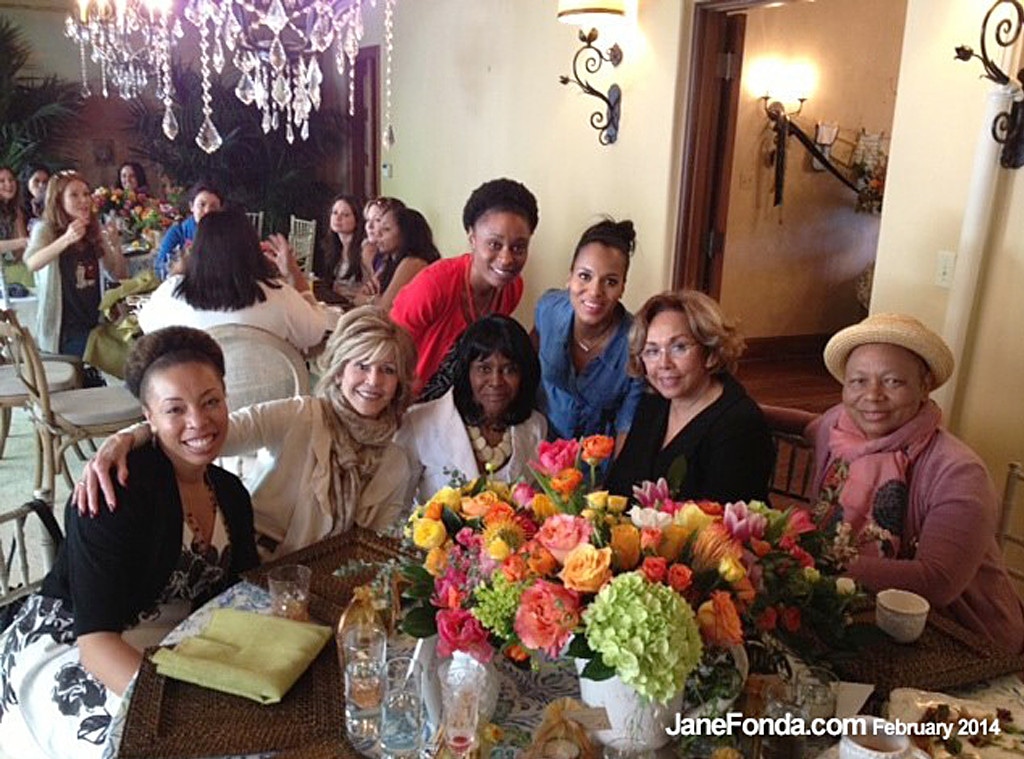 janefonda.com
Kerry Washington celebrated her baby shower with a star-studded bash.
The Scandal star's party was held in the backyard of Shonda Rhimes's Hancock Park home Sunday, with about 50 guests in attendance, including Washington's celeb pals Jane Fonda and Scandal costar Darby Stanchfield.
According to an eyewitness, guests with gifts in tow started arriving to the ladies-only shower at 11 a.m. and were greeted by valets and security guards with a guest list. The presents were wrapped in pastel colors including blue, yellow, green and pink, and there were a ton of baby clothes, stuffed plush animals, potted flowers and gift baskets in the mix.
The mom-to-be arrived around 11:15 a.m. in her black Mercedes, wearing a light blue dress with a tie at the waist.
"She looked beautiful and had very little makeup on," the source continued. "She was with her mom Valerie and was met by several family members inside."
Inside of the festive bash, there was a beautiful garden party on the sprawling back lawn set up under a tent next to the pool.
Frazer Harrison/Getty Images
While the ladies chatted about work and life on the set of Scandal, bartenders served up drinks, including lemonade and wine, and guests clapped and cheered for Washington as people gave toasts and talked about the excitement of welcoming a new baby.
"Kerry looked ecstatic to be surrounded by so many family members and friends," the source said. "She loved mixing her work friends with her family and having everyone get to know each other. Shonda was very gracious to host everyone and Kerry was very appreciative."
The party wrapped up around 3 p.m., but Washington stuck around and chatted with Rhimes and her extended family.
"She felt so loved she didn't want the day to end," the source continued. "She gave Shonda a huge hug and kiss before thanking her and leaving with her mom."
Washington was later joined by several other family members and continued the afternoon together.
Alberto E. Rodriguez/Getty Images for NAACP Image Awards
Following the baby shower, Fonda blogged about the event, saying Washington looked "radiant" at the fete, and that seeing the star seven months pregnant brought her to tears.
"I hadn't seen Kerry since she was pregnant and as soon as I saw her with her gorgeous belly I starting crying," she said. "Then Kerry's mother spoke, giving words of wisdom to Kerry and the rest of us about how to raise a baby to be a happy, fully realized, person."
"I started crying again (and it wasn't because I wanted to go back and do my own raising of my own kids all over again with more wisdom, though that did press in on me)...it was because her words moved me."
A source confirmed to E! News in October that Washington and husband Nnamdi Asomugha were expecting their first child together.
"She had planned to wait longer because the pregnancy is being well hidden on Scandal with her trademark coats, but it will be pretty obvious on Saturday Night Live this Saturday," the source explained at the time. "So she decided to start telling people now."
Washington, 36, and Asomugha, 32, tied the knot in Blaine County, Idaho, last June. The Emmy-nominated actress has remained tight-lipped about their intimate nuptials since then. "I hate keeping secrets; that is the worst thing for me, because I always want to talk about it," the Django Unchained star told reporters on Oct. 2. "I am really private about my personal life."