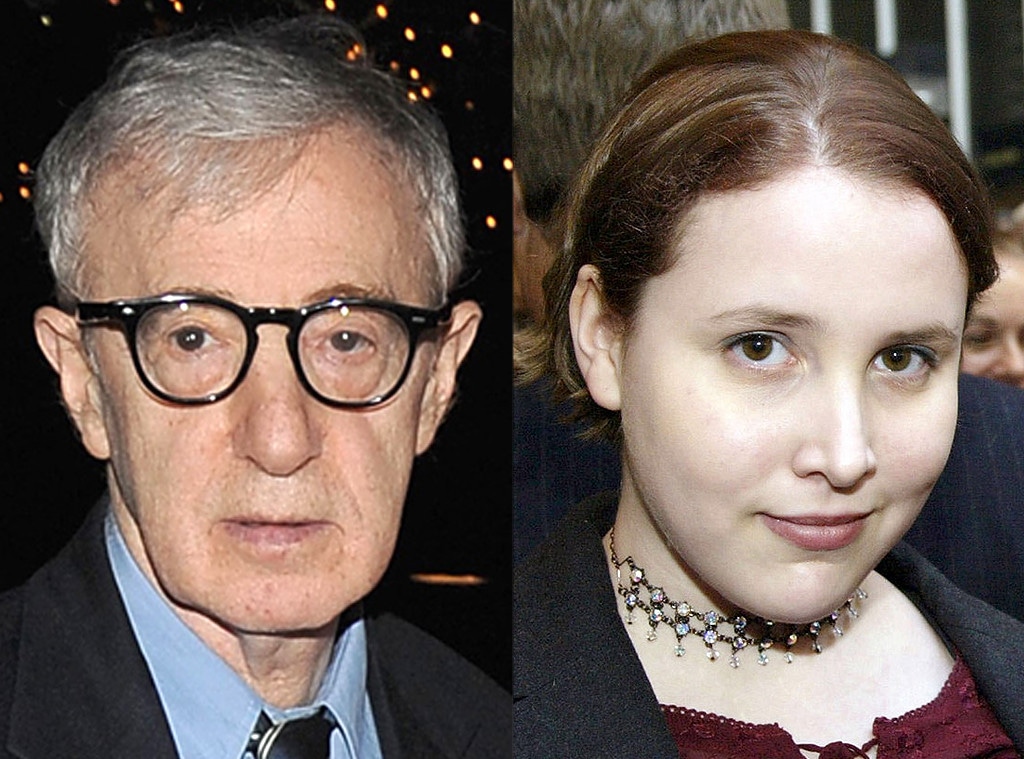 Getty Images, Jamie McCarthy/WireImage.com
Woody Allen has now told his side of the story—and he vows that it's the last time he or anyone on his behalf will be speaking about it. 
"Of course, I did not molest Dylan," the filmmaker writes in an op-ed for the New York Times in response to Dylan Farrow's column, posted a week ago, in which she resurfaced decades-old allegations that Allen, her adoptive father, sexually molested her when she was 7.
Authorities investigated and Allen was never charged, but Dylan's piece triggered a massive uproar, coming on the heels of Ronan Farrow's explosive tweet about his dad receiving the Golden Globes' lifetime achievement award: "Missed the Woody Allen tribute - did they put the part where a woman publicly confirmed he molested her at age 7 before or after Annie Hall?"
In his op-ed, Allen does not direct any animosity at Dylan for accusing him. Rather, he appears to fully blame ex-partner Mia Farrow. During their 12-year relationship they adopted Dylan and her brother Moses, and Ronan is their biological child (though his patrilineage has come into question recently.)
He writes that when Mia first accused him 21 years ago of child molestation during their "terribly acrimonious" breakup, he found the idea so "ludicrous" he didn't even get himself a lawyer.
"The self-serving transparency of her malevolence seemed so obvious I didn't even hire a lawyer to defend myself," Allen writes. "It was my show business attorney who told me she was bringing the accusation to the police and I would need a criminal lawyer."
He continued: "I naïvely thought the accusation would be dismissed out of hand because of course, I hadn't molested Dylan and any rational person would see the ploy for what it was. Common sense would prevail. After all, I was a 56-year-old man who had never before (or after) been accused of child molestation."
Dylan's brother Moses came to Allen's defense this week, telling People that it was their mother who poisoned them against their dad because she was angry that Allen was pursuing a relationship with Soon-Yi Previn, one of Mia's adopted children with ex-husband André Previn. Soon-Yi was reportedly around 19 at the time.
Dylan then responded, also telling People that Moses' defense of their father was akin to "the lowest form of evil."
In the Times, Allen frames Mia's accusation like this: "...when I was in the blissful early stages of a happy new relationship with the woman I'd go on to marry—that I would pick this moment in time to embark on a career as a child molester should seem to the most skeptical mind highly unlikely. The sheer illogic of such a crazy scenario seemed to me dispositive."
Mike Coppola/Getty Images for Hugo Boss
Allen goes on to note that another ex-girlfriend of his, Stacey Nelkin, told the press this past week that Mia had approached her 21 years ago, asking her to testify that she had been underage when Allen and she started dating, and Nelkin refused.
"I include this anecdote so we all know what kind of character we are dealing with here," Allen writes. "One can imagine in learning this why [Mia] wouldn't take a lie-detector test."
The Oscar-winning director and screenwriter also quotes the Child Sexual Abuse Clinic of the Yale-New Haven Hospital's conclusion regarding his case at the time, that while they couldn't say for certain whether Dylan was lying or had been coached, "'Dylan was not sexually abused.'"
He writes that Justice Elliott Wilk, who awarded Mia sole custody of Dylan, Moses and Ronan afterward, "never approved" of Allen's relationship with Soon-Yi, calling the judge's feelings "the same dismay" that the public felt about their infamous May-December relationship.
Allen states that he and Soon-Yi made multiple attempts to contact Dylan, but claims that Mia blocked them all.
"Not that I doubt Dylan hasn't come to believe she's been molested, but if from the age of 7 a vulnerable child is taught by a strong mother to hate her father because he is a monster who abused her, is it so inconceivable that after many years of this indoctrination the image of me Mia wanted to establish had taken root?" he questions.
Allen calls the location Dylan pinpoints where first instance of molestation allegedly occurred—the attic of Mia's country house—"poorly chosen but interesting" because he is a "major claustrophobe."
He adds: "There is even a lame attempt to do professional damage by trying to involve movie stars, which smells a lot more like Mia than Dylan."
"Of course, I did not molest Dylan," Allen reiterates in his conclusion.
"I loved her and hope one day she will grasp how she has been cheated out of having a loving father and exploited by a mother more interested in her own festering anger than her daughter's well-being. Being taught to hate your father and made to believe he molested you has already taken a psychological toll on this lovely young woman, and Soon-Yi and I are both hoping that one day she will understand who has really made her a victim and reconnect with us, as Moses has, in a loving, productive way. No one wants to discourage abuse victims from speaking out, but one must bear in mind that sometimes there are people who are falsely accused and that is also a terribly destructive thing. (This piece will be my final word on this entire matter and no one will be responding on my behalf to any further comments on it by any party. Enough people have been hurt.)"