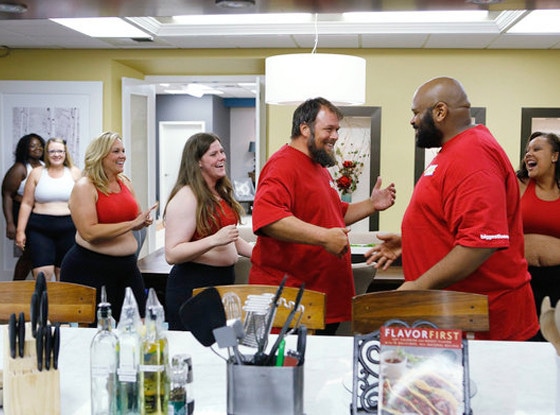 Trae Patton/NBC
Ruben Studdard was eliminated again from The Biggest Loser on Tuesday night, but it doesn't seem like Jillian Michaels will be breaking any more rules, thus resulting in the American Idol alum's triumphant return.
During a conference call with reporters, Studdard insisted that there was no conspiracy to bring him back to boost ratings, even if he was considered the fan favorite. When asked if he thinks Michaels breaking the rules and his return was all a ploy dreamed up by producers, Studdard shut the notion down.
"I don't think that happened. I have no control over what people decide to do. My only concern was my health and coming back to the show, so I don't think at all it was a conspiracy to bring me back because they were all sad that I had to leave," he reasoned. "I don't think they wanted me back any more or any less, it was just something that happened. And because of fairness issues, they brought me back."
Michaels begs to differ. After she was reprimanded on air for breaking the rules, Michaels told a follower on Twitter that they were "spot on" for suggesting it was all for ratings. However, Craig Arrington, who was eliminated after Studdard was brought back, agrees with his fellow contestant that there was no conspiracy.
"I don't see Ruben coming back as being a ploy or anything, it was just about being fair. It just so happened to be Ruben at the time," he said of the supposed stunt. "Ruben's a great friend of mine, and production decided that the person that was eliminated the week before should be brought back to ensure the contest was fair to all contestants, and that's exactly what they did."
Since this was his second time being sent home from The Biggest Loser ranch, Studdard was asked if being kicked off previously made this elimination easier or harder on him. Turns out, it was still hard, but no more or less than before.
"Honestly, I guess I can say [it felt] the same," Studdard said. "It was leaving the same people with the exception of Craig. Everybody was still there, so it was still kind of difficult leaving the friends that I had made. I knew in the back of mind I had a lot of work waiting for me when I left the ranch. I had an album that I had to work on and I had to continue to work on myself. So that brief moment when I walked away from them when I was leaving the ranch was difficult, but as soon as the next day started, my work started."
Despite the double elimination and the controversy surrounding his time on the show, Studdard told reporters that it was a great experience and that he's leaving the show with less pounds but more friends. 
"I really appreciate everything that I learned on the ranch. It was a wonderful experience," he said. "I met wonderful people that I'll probably be friends with for the rest of my life. I had no intentions of going there and making these new friends and I did and it was a great experience for me."
(E! and NBC are both part of the NBCUniversal family.)
What do you think of Ruben Studdard's double elimination? Ratings ploy or fair play?