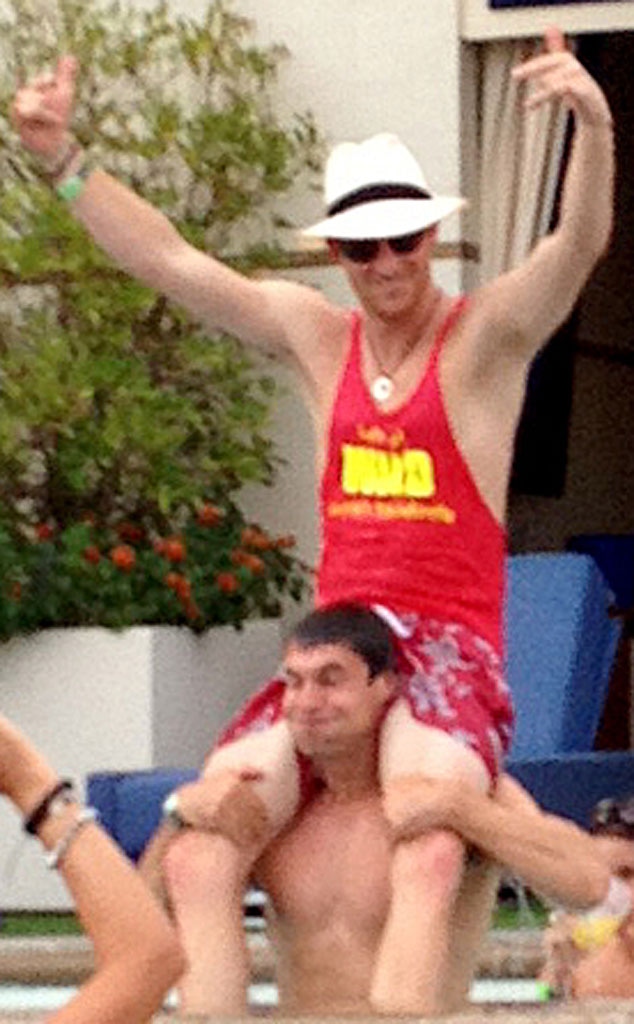 Coleman-Rayner
What Kate Middleton is to fashion, Prince Harry is to scandal. Year in, year out, they can be counted on to deliver the goods. The golden royal standards, if you will.
So, while Prince William's rugged rogue of a little brother is no stranger to a hidden camera lens or the unflattering pen of a tabloid journalist (to be fair, they've had ample time to hone their crafts thanks to Harry's nearly annual antics), but his lost weekend in Las Vegas has proven almost too much for even them to bear.
Harry, on the other hand, had no such problems baring all. Ahem. So, let's take a look back at how the naked truth about Harry became public fodder.
Aug. 17, 2012: The regal has landed. Harry checks into the Wynn Encore Tower ahead of the night that will live in infamy. Though the world won't know it for a few days yet...

Aug. 18, 2012: Prince Harry is first spotted in Sin City, getting his feet wet at a star-studded pool party held at MGM Grand's Wet Republic. The royal kicks off the boys' weekend (he had about six or seven hangers-on in tow) dancing, joking and drinking. Counted among the other klieg light-worthy attendees: Jennifer Lopez, though by all reports, the famous pair never crossed paths. He does, however, cross paths with a bachelorette party (of course he did), and two of the revelers, Lauren and Monica Martirano, tell Inside Edition that the prince was a "gentleman."
"We were speechless," Lauren says. "We just stood there with our jaws dropped." Monica adds, "How many people can say they met and spoke to Prince Harry? This story can't be topped." Oh, but it could and did...
Later that night, he hits up another pool party, this time for a little more harmless fun. While at the Wynn Hotel's XS nightclub, he meets up with none other than Olympian Ryan Lochte. And seeing as how it was 2 a.m. and Harry is no doubt feeling slightly, um, emboldened, he takes it upon himself to challenge the gold medalist to an impromptu swimming race.
Speaking later in the week, Lochte recounts his version of events on the Today show, saying that the duo—then both fully clothed, he stressed—went their separate ways after their duel in the pool. Though that wasn't the end of Harry's night, as the world now knows.
Aug. 21, 2012: Sometime in the evening the following day, the full extent of Harry's party weekend is revealed via grainy presumptive cell phone photos of the royal showing off his crown jewels while in the confines of his private hotel suite leaked online. Cue worldwide giddiness. The photos show Harry completely naked, but for one modest hand over, well, that, during a game of strip billiards. Which, judging by the state of his clothes-eschewing self, is not his game.
Aug. 22, 2012: what happens in Vegas in no way stays in Vegas, but it does somehow stay out of the U.K. The royal family gave their best puppy dog eyes and pretty-pleases to the British media, specifically requesting that they not run Harry's naked self in their pages or online due to the implied privacy violation that yielded the photos in the first place. They comply, to hilarious and creative results.
Meanwhile, celebs come out in support (and appreciation) of Harry and his physique, with Lady Gaga leading the online fray. "HOLY MOTHER HARRY LOOKS FIT," she tweeted. "Hope no ones mad at him for that, I'm certainly not." So speaketh Mother Monster, so speaketh the world.
Aug. 23, 2012: Bullet-dodging party pal Ryan Lochte sits down with Matt Lauer and reveals his thoughts on Harry's hairy situation—specifically as they pertained to him avoiding being painted by the same scandalous brush. "Kinda happy," Ryan says. "I don't need that."
In the least surprising development yet, Playgirl tells E! News that, however unlikely, it would love to feature the au naturel Harry in its pages. And how much could such a spread cost? "A million dollars is not out of the question," the mag's publisher says.
Aug. 24, 2012: British tabloid The Sun decides to run the Harry photo after all in its Friday edition with headline "Heir It Is!" headline and subtitle "Pic of naked Harry you've already seen on the Internet." Managing editor David Dinsmore explains to E! News, "For us, this is about the freedom of the press. This is about the ludicrous situation where a picture can be seen by hundreds of millions of people around the world on the Internet, but can't be seen in the nation's favorite paper."
Though he made his way out of Las Vegas the morning after his naked partying ways (he was reportedly spotted in Los Angeles hours later, though a layover may explain that), E! News confirmed that the prince finally returned to London and was gearing up for quite a showdown.
Today, he could make his way up to Balmoral and get some face time (and likely a scolding for the record books) from Queen Elizabeth II and his dad Prince Charles before resuming his military service in the U.K.
Rank aside, we think he might find himself getting saluted a whole lot more these days.