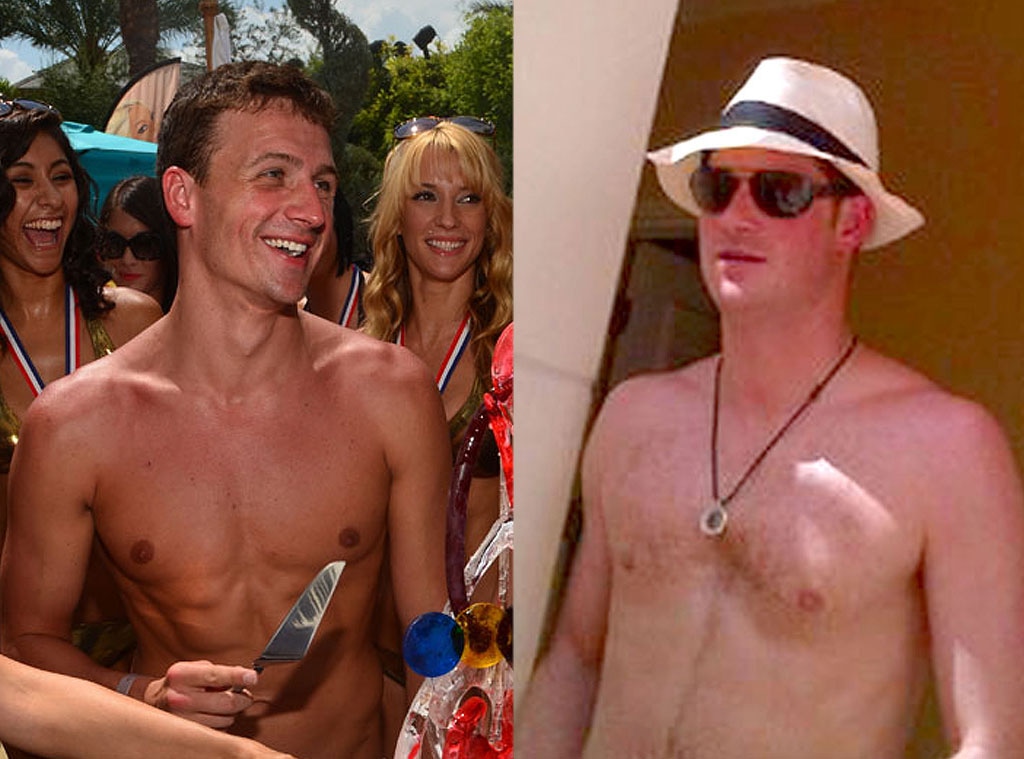 Jeremy Womack, Womack Photography; BAUER-GRIFFIN.COM
Look out Ryan Lochte, you've got some royal competition.
The Olympic hottie and potential Bachelor was partying in Las Vegas Monday night when he ended up agreeing to an impromptu race with Prince Harry!
Lochte, who's been in Sin City since Thursday celebrating his 28th birthday, ended up crossing paths with the prince at the Wynn Hotel's XS nightclub and, after a few drinks, the latter challenged him to a friendly meet—at 2 in the morning!
"It was really fun swimming against Prince Harry. He's a great guy, and it was an huge honor to meet him!" the gold medalist said in a statement to E! News about the face-off, which took place in the pool of XS' Encore Beach Club. "I was surprised that he challenged me actually. I didn't know if he had any skills in the pool, but I definitely wasn't going to take it easy on him!"
Given Lochte's logged more hours in the water, you can probably guess who won, but Ryan was very gracious to His Highness—the New York Daily News shared a video of the showdown. 
"He was a great competitor but in the end it was Team USA all the way to the wall!" added Lochte. "Next time I'm in the UK it'd be fun to challenge him to something on his own turf ! Maybe Motocross? I heard he's pretty good but I'm a competitor so…Prince Harry whenever you're ready!"
An eyewitness who watched the encounter from start to finish tells E! News how it all went down.
"Harry was at a table with his friends. He was having a laugh and really enjoying himself," said the witness. "I think they had been drinking a bit all day. Harry was popping in and out of the pool—he was wearing jeans and no top—he would get in, float around on one of the inflatables."
As for Lochte, the bystander said Ryan was topless on the dance floor, surrounded by a bevy of beauties. Afterward, he and his entourage noticed Prince Harry and went up and introduced themselves and both parties got on—um—swimmingly.
"Then someone thought it would be a good idea for the boys to race one another," added the witness. "Their friends cleared a path in the pool of the scantily clad girls who were hanging around and Ryan, Harry and a couple of their friends competed in around three 10-meter races. Someone would say, 'Ready, set, go,' and then they would be off."
Per the eyewitness account, the duo did the breast stroke and front crawl, but weren't taking themselves all that seriously.
"After three races, Ryan seemed to win as he got out of the pool and jumped up and down with jubilation and then Harry got out and Ryan hugged him. I am not quite sure where the finish line was—there didn't seem to be one, [but] I think it was a girl in a bikini."
Sounds about right for these gents.
Harry left the pool area first with bodyguards in tow about 4 a.m. and Ryan departed about a half-hour later.