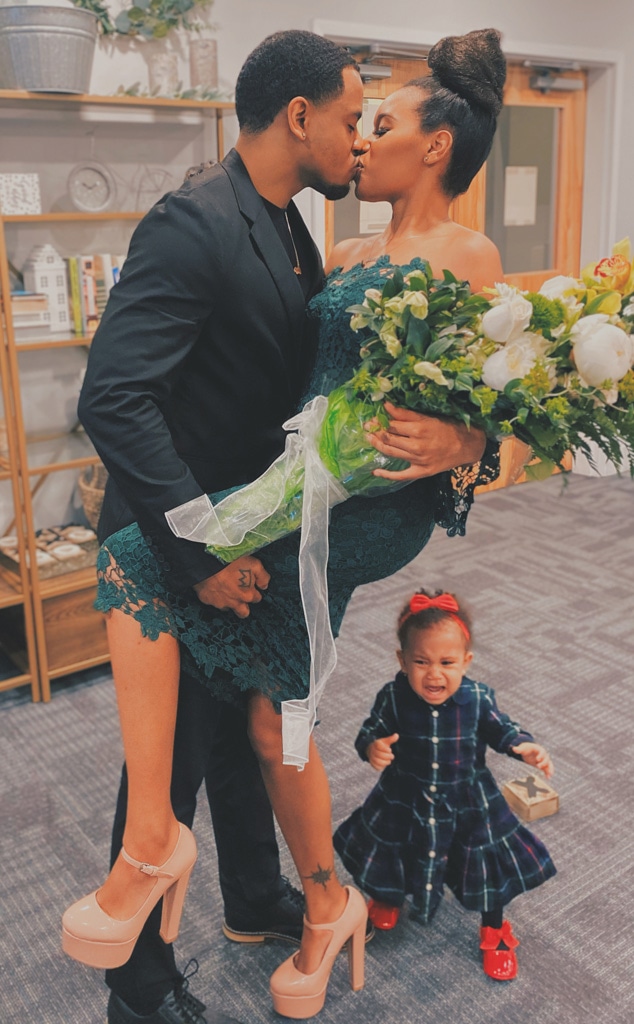 Tristan "Mack" Wilds
Tristan "Mack" Wilds is a married man!
The 90210 alum and Christina Hammond have officially taken their romance to the next level, which comes a year after they welcomed their first child together, a baby girl named Tristyn Naomi Wilds. 
According to the newlyweds, who secretly tied the knot on Dec. 17, they couldn't have asked for a more special day.
"Our wedding was perfect," Christina exclusively tells E! News. "We wanted an intimate ceremony and so it was just us, Tristyn and our parents on Zoom. I couldn't have asked for a better wedding day."
The Wire alum adds, "We got married, in a way, akin to how we started—just us. Never needed much else. With the addition of our parents and our baby, it really made for a magical moment."
The two are certainly the definition of relationship goals, as they've been together since they were 15 years old.
Of their one-of-a-kind romance, Tristan shares, "At different times in our lives, we're shown fairy tales don't come true. This one came true for me."
"Our love story," Christina adds, "is my favorite love story. I am living out my dream of being married to the love of my life."
Days before becoming husband and wife, the couple celebrated their daughter's first birthday. The 31-year-old star gushed over his little one, writing on Instagram, "one year. happy birthday mama."
Watch:
Wedding Bells Are Ringing & This Couple Is Live Streaming
A year prior, Tristan announced he was going to be a father in a candid Instagram post.
"Aight, serious moment...," he began his caption on Dec. 19, 2019, "Earlier this year, I was in a really dark place. S--t, honestly? I'd been there for a while. I dunno, i was just letting life take me wherever she may. But I told God I needed a light. I needed a sign that I was supposed to be here, and that my presence here on earth was needed...Heard ju, God. Thank you for this. Merry Christmas."
In May 2020, the actor opened up about his parenthood journey, telling Essence, "It just made me feel like I had to be a lot stronger. I had a lot of growing up and strengthening to do to be ready to take care of this little one."
From getting hitched to becoming a father, Tristan has a lot to celebrate. Of course, he isn't the only 90210 star to embark on these exciting new chapters. See what the cast is up to now in our gallery below.