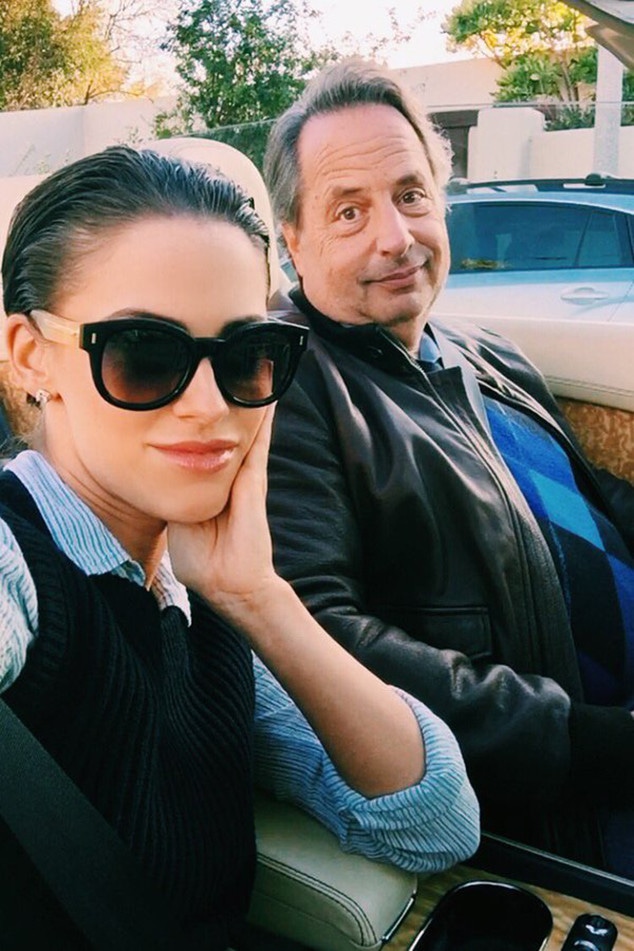 Twitter
UPDATE: Jessica Lowndes took to Instagram to confirm that the photo of an engagement ring was for an "early" April Fool's joke. The whole thing was to help promote the new music video for her song, "Deja Vu."
________
Lowndes has found love...with Jon Lovitz!
The 90210 actress, 27, revealed she and The Stepford Wives actor, 58, are in a "secret relationship" with the help of several social media posts over the weekend. In one photo Lowndes teased that there was a "new man" in her life, zooming in on a man's hands gripping her thigh. "His hands are wise and tell a thousand stories… #smitten #hatersgonnahate," she wrote.
If you're stunned, you're not alone. Lowndes had to follow up with a video in which she assured she hadn't been hacked. Then she shared a close-up pic of a massive engagement ring. "No, I haven't been hacked. I'm just really excited to be able to finally share this secret with you guys," she said in the video.
Lovitz also tweeted a pic with Lowndes, and one Twitter user sarcastically commented, "nice daughter." Letting it roll off his back, Lovitz responded, "nice jealousy!" All the signs point to their relationship being real, but there are also many who are suspicious of the whole arrangement, including Chrissy Teigen.
"I smell April fools on this lowndes/lovitz relationship but if I'm wrong whoops jk screw everyone f the haters do you, you two," Teigen tweeted Monday. "All the smarties know to start f--kin with people now for a successful April fool. Hell I started months ago."
Here are three more reasons why this relationship might be one big trick:
1) The signs came out of nowhere. Prior to this influx of social media posts, there has been zero indications that these two could be anything more than friends. Although they did work on an episode of Hawaii Five-0 together, it doesn't appear that it blossomed into anything more than that.
2) The fake roses. Fans were quick to point out that an Instagram photo of roses with the caption "lucky lady" was a fake. If you Google "roses wallpaper" the same image appears.
3) Her white manicured nails. While she definitely paints her nails from time to time, her nails are more often than not without nail polish, which makes us question why she decided to not only get them done, but get them done in such a bold way. Sure, she might have wanted to put her ring on display in the best possible way, but considering she rarely has them done, this seems like a staged picture.
Do you think they're engaged? Sound off in the comments!
(Originally published on Monday, March 28 at 12:57 p.m.)