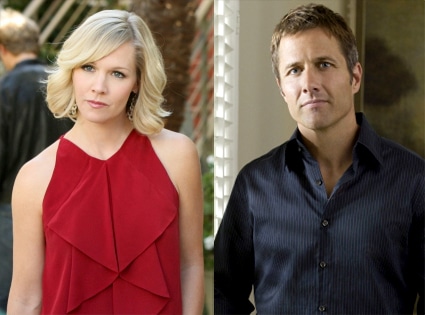 Jaimie Trueblood/The CW; Patrick Ecclesine/The CW
He's a goner.
The CW confirms that Rob Estes will no longer be a part of 90210 as of next season.
Though widespread reports have it that Rob Estes has "quit" the CW's remake, I'm hearing there's more to the story, which also may explain Jennie Garth's departure...
According to insiders close to the negotiations, Estes is leaving the series because he could not agree on compensation for the upcoming season with the CW. I'm told the show's producers ultimately were willing to let Rob go because executive producer Rebecca Sinclair and her creative team would like to focus more on the younger castmembers (AnnaLynne McCord, we're looking at you) and less on the older—particularly those who starred on the original 90210 and Melrose Place series (such as Jennie and Rob).
"They just don't want the old people on the new show anymore," one CW insider tells me of the show's bosses, while another source adds that producers are simply "trying to establish a separate identity for the new show."
The CW has no official comment on Estes' exit yet, but is expected to release a statement later today.
As for what's next for Jennie, whose 90210 departure was confirmed last week, Jennie herself tells me that she has "lots of irons in the fire," including a children's book, work with the American Heart Association and a new small-screen project with a certain Twilight star with whom she just so happens to be married.
"My husband [Peter Facinelli] is writing a script we're developing for television," Jennie tells me.
Who needs that silly ol' ZIP code after all?
UPDATE: A rep for 90210 tells us: "This is Rob's last season on 90210. He's a talented actor and we couldn't have asked for a better Harry Wilson. But if fans tune in, they'll understand why Rob's character is leaving."
And Rob Estes himself has just given us this statement: "This is my final season on 90210 and I wish the show, cast and crew nothing but the best. I am looking forward to spending time with my kids and exploring other opportunities."
________

Will you miss Jennie and Rob on 90210, or do you think the producers are doing the right thing?