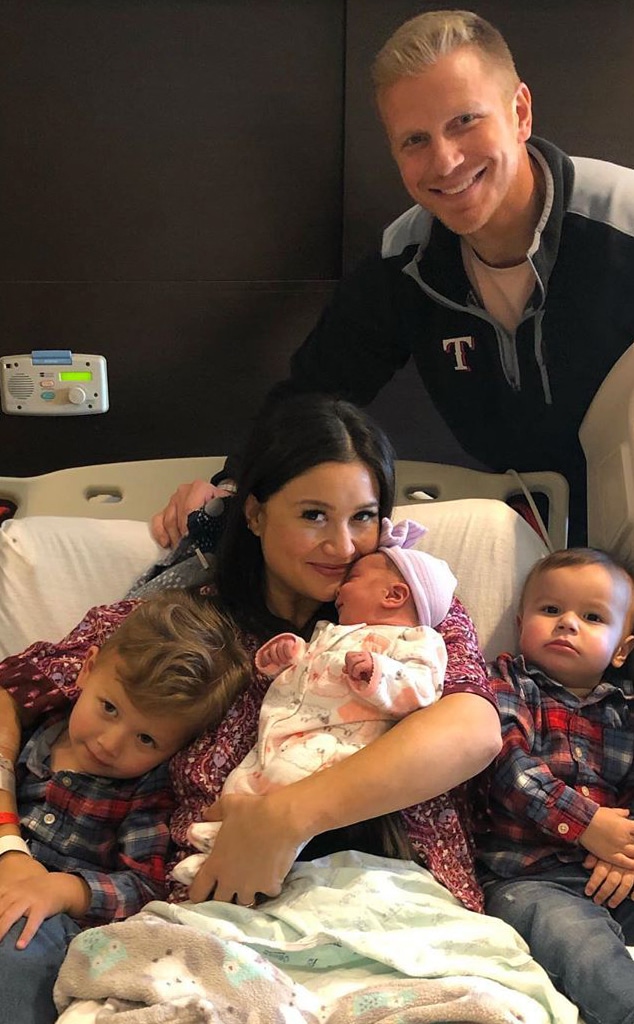 Instagram
Baby Mia Lowe is already feeling the love!
Sean Lowe and Catherine Giudici's newborn daughter was adorably showered with love from her brothers Samuel, 3, and Isaiah, 19 months, which Sean captured and shared on Instagram. Donning matching Christmas jammies, the duo can be seen playing with the newest member of the Lowe family. 
"They love her," the former Bachelor captioned the sweet picture. "And like her daddy, she's unsure about them." 
The Bachelor nation couple, who met on season 17 of the fan-favorite show, welcomed their baby girl on Monday, December 23, making baby Mia their family's greatest Christmas gift. Taking to Instagram after announcing her arrival, Catherine shared a picture with her three children, writing, "Christmas this year didn't have us unwrapping gifts under the tree or leaving milk and cookies out for Santa, but we wouldn't have changed a thing." For another sweet snap of the new family of five, she captioned the picture, "We were all on Santa's Nice List this year."
Knowing that they'd be in the hospital this Christmas, the Lowe family had their celebrations a day early. Complete with candy and more matching pajamas, the family opened presents and spread holiday cheer. "To ensure that I don't have serious FOMO while spending it in the hospital on actual Christmas, we had our Christmas early," Catherine wrote on Instagram. "Plus, what do these kids know anyway. (Answer: Nothin')." 
After revealing that baby no. 3 was on the way in June, Sean and Catherine were adamant about keeping the baby's sex a secret. Despite not knowing they were having a girl, Catherine decided to throw a pink-themed baby shower because she wanted a "girly party."
"The reason I'm throwing myself a pink baby shower is because gender currently is ambiguous," Catherine shared. "If it turns out that it's a boy, I will have to wait a very long time to have another girly party. So I'm doing obnoxious pink, girly, feminine because I've never gotten to do girly and I thought why not do it for the ambiguous gender that is my third child?"
She added, "It's not a gender reveal. It is not a girl baby shower. It's just a girly baby shower."
Watch:
Sean Lowe and Catherine's Love Story
In fact, Sean admitted that he wanted a baby girl last year before finding out that his wife of five years was expecting. Speaking to E! News, he said that the couple already had plans to expand their family.
"We know we want to adopt at least one child, but, at the same time I would love to see what a biological daughter would look like because hopefully it would look like mama," he shared. "But, I don't know 'cause that means if we had one more, there's a chance it could be another boy and then if we adopted another one, that's four kids. That's a lot of kids."