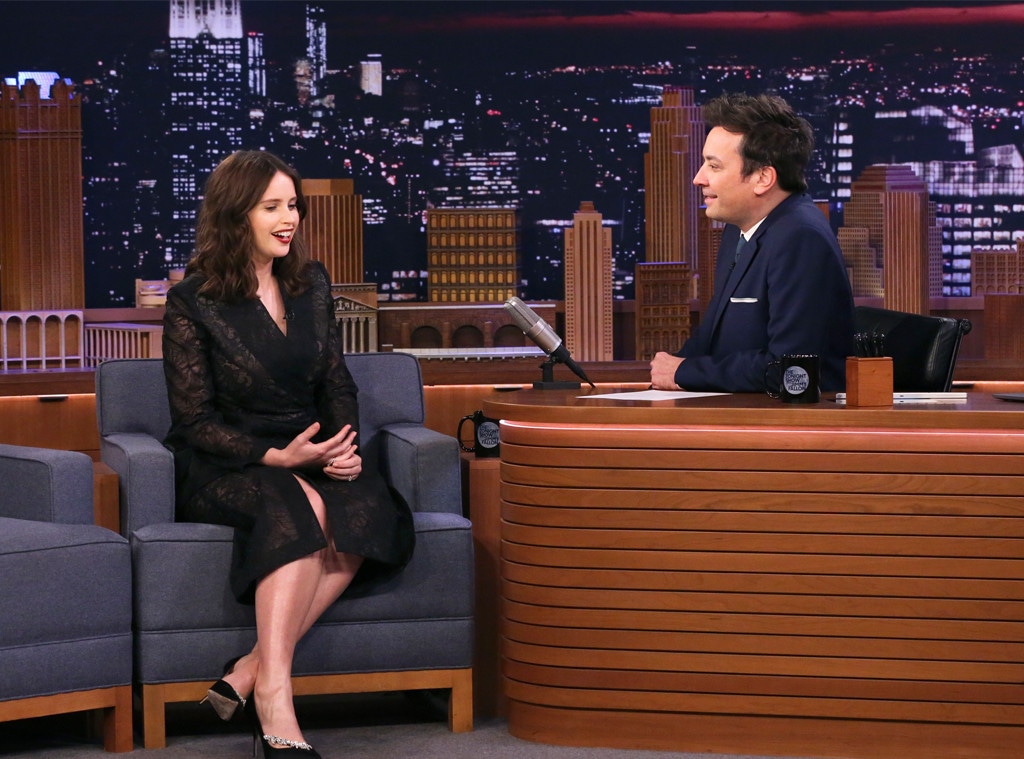 Andrew Lipovsky/NBC
Hey, whatever works!
On Tuesday, Felicity Jones broke down her acting process on The Tonight Show Starring Jimmy Fallon. While discussing her upcoming Amazon Original film The Aeronauts, the Academy Award nominee said that she works best after being insulted. In fact, her co-star Eddie Redmayne, who also starred alongside her in 2014's The Theory of Everything, also thrives under the same circumstances as well.
"We've definitely, I think over the years, we've developed some strange practices," she told host Jimmy Fallon. "Well, it's sort of—it happened when we did a film called The Theory of Everything together…We found this method where if the camera is on one of us, then the other person will hurl insults, which sounds terrible but the main idea is that you get a really good reaction, you know, that they might be able to use in the edit. And then you get something really spontaneous or unexpected."
Much to our surprise, Felicity said that Eddie's quite the insult master. "So, you'd never know this about Eddie Redmayne, but there is a whole other side of him," she continued, explaining that the duo's method often results in a fiery competition to see who can produce the better insult.
An insult war wasn't the only way that the Felicity and Eddie prepped themselves for their scenes. The On The Basis of Sex star and the Fantastic Beasts actor had another bizarre method when it came to their cold weather scenes.
"We wanted it to feel as naturalistic as possible," she began. "So we had this idea that in these cold scenes, we would plunge our hands into freezing cold water—ice-cold water—before the scene. So that we would then be as convincing as possible doing our cold acting."
Felicity joked that they also pulled inspiration from Leonardo DiCaprio's character in The Revenant to channel the proper cold energy, too!
Watch:
Eddie Redmayne on "The Theory of Everything" Dream Role
Switching gears, the Rogue One actress opened up about the grueling shoots for the film, which tells the story of two adventurers that have to fight for their lives while exploring the world via gas balloon. After explaining the movie's premise, Felicity admitted that the experience has left her with a fear of heights.
"Well, actually, I didn't [fear heights] before the film, and then now I'm actually—I'm petrified," she said. "It's totally ruined by ballooning experiences…but it's a great film to see and enjoy…It's really feel-good despite the sort of near-death experiences that we had on it."
Watch Felicity explain her and Eddie's strange acting methods in the video above!
(E! and NBC are both part of the NBCUniversal Family.)