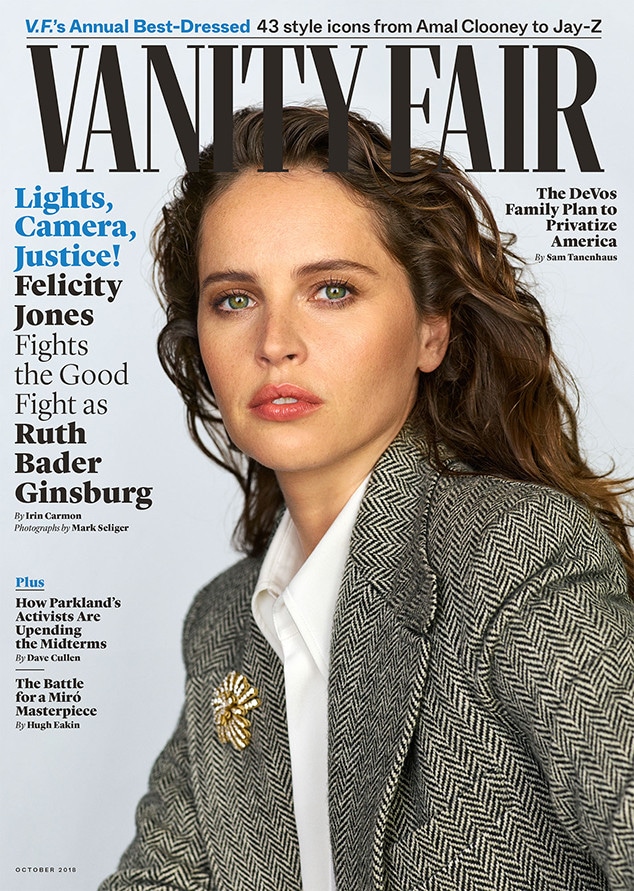 Mark Seliger/Vanity Fair
Felicity Jones had to talk the talk and walk the walk to become Ruth Bader Ginsburg.
The 34-year-old British actress plays a younger version of the 85-year-old Supreme Court Justice in Mimi Leder's film On the Basis of Sex, which hits theaters Dec. 25.
Vanity Fair reported in its October 2018 issue that the two had last year had together at a restaurant in Washington, D.C., along with the director and co-star Armie Hammer, who plays Ginsburg's husband, Marty. After Jones went to the restroom, Ginsburg told Leder that the actress was "great," adding, "But can she do the Brooklyn accent?"
Jones used a dialect coach and the two studied old audio recordings of Ginsburg in order to mimic the accent.
"There were certain sounds that she remained committed to her entire life. Like 'cawt,'" Jones told Vanity Fair.
J Wenk/Focus Features/Kobal/Shutterstoc
She also, obviously, underwent a physical transformation. She changed her eye color; She wore gray contact lenses over her green eyes, Vanity Fair said. She also emulated Ginsburg's mouth movements by capping her own "terrible British gnarly teeth." She copied her style; she wore Towncliffe suits.
Jones mimicked the justice's walk, which she described as "sort of ladylike dancing, steady and careful," by putting one foot in front of the other as if she was walking on a tightrope.
"I really admire in Ruth the carefulness with which she has gone through her life and career," Jones told the magazine. "She's taken her time, and that really gave me a lot of confidence. That it's OK to think like that, and to be judicious."
Vanity Fair said Ginsburg watched On the Basis of Sex with her friends and family in July.
"Felicity Jones speaks the Queen's English," she told the magazine. "Yet in the film, she managed to sound very much like me, a girl born and bred in Brooklyn, NYC."